Marina Spironetti picks a selection of the best activities and events to get involved with during a stay in Cremona…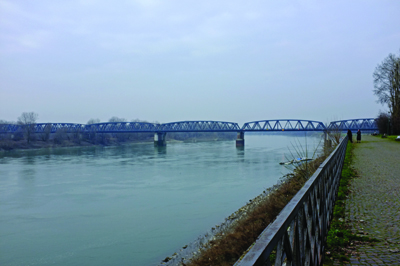 NOUGAT FESTIVAL
The annual Festa del Torrone is dedicated to Cremona's other claim to fame, nougat, which is said to have been occasioned by the marriage of Bianca Maria Visconti to Francesco Sforza, back in 1441. The festival is held in the main piazza in October. See www.festadeltorronecremona.it for information.
…………………………………………
OLD VIOLINS
The Civica collezione di violini, in the town hall, is a room filled with coveted instruments such as a 1715 Stradivari, a 1734 Guarnieri del Gesù and one of the world's oldest violins, an Amati from 1566, commissioned by Charles IX. Every morning the curator plays on them to keep them ticking over. Entry €6.
…………………………………………
NEW TRADITIONS
The new Stradivariazioni Festival has brought a breath of fresh air to the city's cultural scene. Exhibitions, talks and plenty of classical music are revisited over two weeks, with a modern twist. The second edition of the festival will take place in October 2013. For the exact dates check their website, www.stradivariazioni.com.
…………………………………………
CELEBRATE TORRONE
Of course there is a festival dedicated to the famous torrone, and if you have a sweet tooth it's more than worth visiting during November. Large creations made from the sticky nougat are made especially for it – including, one year, a replica of the city's Duomo, which weighed a massive 800 kilos. Great fun to see, and eat.
…………………………………………
WHAT TO SEE & DO
Museo del Violino
Piazza Marconi
Housed in the modern Palazzo dell'Arte, this museum is due to open in the spring and it will cover the history of the violin from its origins to present day. The museum will also house a 450-seat auditorium projected by Yasuhisa Toyota. Its acoustic is said to be so perfect that the auditorium will be used as a recording studio as well.
 …………………………………………
Climb the Torrazzo

Piazza del Comune

Enjoy an eye-popping view of the city from the top of the Torrazzo, open 10am-1pm and 2.30pm-6pm, €5. Only for those who don't mind a bit of exercise, as there are almost 502 steps to climb. It is one of Italy's highest bell towers, after all.
 …………………………………………
Pasticceria Duomo
Via Boccaccino 6
Stock up on local sweets from torrone to torta sbrisolosa, and from torta di Sant'Omobono – a mouthwatering cake with chestnut, cocoa, honey, raisins and spices, dedicated to the city's patron saint – to torta Cremona, with diamond-shaped icing made from apricot jam and sugar. The wonderful Pasticceria Duomo has them all. The place is worth a visit in itself: at over 100 years old, it still features the original furniture designed by Cremona-born cabinet maker Luigi Guastalli.
 …………………………………………
Consortium of Violin Makers
 Piazza Stradivardi 1
+39 0372 463 503
Take a tour of the violin maker workshops with these organised one-hour itineraries allowing you to watch the liutai at work. English-speaking tours are available, but strictly upon reservation via email (info@cremonaviolins.com). You need to book a week in advance; €60 for up to 15 people or €80 on Sundays and bank holidays.
 …………………………………………
Parco al Po
If visiting in the summer, why not join locals as they relax among the trees on the banks of the river Po. This park has sports facilities and picnic areas – during June you can enjoy watching the traditional regatta that starts from Cremona.
 …………………………………………
Send a postcard
 Send a postcard home to your friends and family. Look out for the famous 'TTT' one. The city is famous for three Ts: Torrazzo, torrone and tettazze. The Torrazzo tower, nougat and, well, tits – as Cremonese women enjoy a reputation for being quite curvaceous, apparently!
 …………………………………………
WHERE TO STAY
DELLE ARTI DESIGN HOTEL
Via Bonomelli 8
+39 0372 23131
A design hotel in the heart of the city, located just 50m from the Torrazzo. You can expect stylish, minimalistic rooms, with plenty of added value such as a gym, jacuzzi and sauna. The owners pride themselves on its artistic value and style.
Double room from €99
…………………………………………
HOTEL CONTINENTAL
Piazza Libertà 26
+39 0372 434 141
www.hotelcontinentalcremona.it
A ten-minute walk from the centre, this recently renovated four-star hotel features 63 stylish, modern rooms. Ask for one with a view over the Torrazzo. Its newly opened restaurant is also a good option if you are too tired after a day of sightseeing. The only downside is the internet, which is available at an extra charge.
Double room from €65
…………………………………………
HOTEL ASTORIA
Via Bordigallo 19
+39 0372 461 616
This popular hotel is located in a quiet street near the Duomo. It boasts simply furnished but clean rooms, free wifi and pets are allowed. Dotted around are relics of the violin makers that have made Cremona so famous. Good value for money, with a useful location for exploring on foot.
Double room from €80
…………………………………………
IL VIOLINO
Via Francesco Arisi 3
+39 0372 462 030
Two stylish, fully equipped holiday apartments located right in the city centre. Each one can fit up to four people and comes with a range of home comforts such as a kitchen, dining room, private bathroom and more. You can also use this as a bed and breakfast accommodation, with all cleaning and linen included.
Double occupancy from €110
…………………………………………
LA COMMENDA
Via Montegrappa 30, Gadesco
+39 0372 838 318
A B&B with spacious, beautifully furnished rooms in the peaceful settings of the Lombard countryside (7km from Cremona). The suite on the first floor, complete with a wrought-iron bed, is perfect for those on a romantic break. The price includes breakfast or the use of the kitchenette, and there is also a well-kept garden.
Double room from €60
…………………………………………
WHERE TO EAT
Ristorante il Violino
Via Sicardo 3
+39 0372 461 010
Located right behind the Baptistery, this elegant restaurant enjoys a good reputation for traditional dishes. Make sure you try tortelli di zucca (pumpkin ravioli). It is advisable to book in advance.
Price range more than €50
…………………………………………
Osteria del Melograno
Via Aporti 23
+39 0372 31863
Here you can expect a great choice of local dishes with a modern, creative twist. It's renowned especially for its home-made pasta and desserts. Every Thursday is risotto evening, where you get a chance to taste several types of risotto.
Price range €26-€50
…………………………………………
Osteria il Foppone
Via del Foppone 1
+39 0372 412 088
A no-frills osteria which won't disappoint those in search of authentic Lombard cuisine. The menu features a few tasty traditional dishes, but changes regularly. A favourite with locals and those in the know, it is better to book a table in advance. Excellent value for money.
Price range up to €25
…………………………………………
Pizzeria La Pendola
Via Voghera Luigi 5
+39 0372 27707
Affordable and delicious pizza made the authentic Italian way – you always need a place like this on a trip, and for Cremona it's here at Pizzeria la Pendola.
Price range up to €25
…………………………………………
Il 21 w.a.y.
Piazza Stradivari 20/21
+39 0372 34988
www.il21way.com
With a great location, just below the medieval Torre del Capitano, this trendy place offers Cremonese dishes reinvented in a contemporary way. A good place to taste the Mostarda di Cremona, accompanied by a selection of cheeses. Excellent choice also for an aperitivo or for an after-dinner drink.
Price range €26-€50
…………………………………………
Metropolitan Caffe
Via Gonfalonieri 19
Opposite the cathedral, this place is good for just about anything from breakfast to the Italian-style aperitivo. Stylish and minimalistic décor, with large mirrors and chic black and white pictures adorning the walls. A great place to meet with friends.
Price range €26-€50
Tags:
Cremona
,
Holidays
,
Tours
,
Travel