Emilia-Romagna has a reputation for food which is unsurpassed in all of Italy. Mario Matassa looks at the excellent produce that comes from Parma, with plenty of ideas on how best to enjoy its famous prosciutto…
The range and quality of products that stem from the region of Emilia-Romagna is staggering and it is little wonder that many visitors that travel to the area do so specifically for the food. Parma is no exception. It is a city, a province, whose reputation precedes itself, synonymous throughout the world with la buona tavola. The names Parmigiano Reggiano and Prosciutto di Parma conjure an ideal of good food, products that have stood the test of time and are testament to the gustatory principles of tradition, provenance and healthy eating.
But there's more to Parma than just ham and cheese – lots more. Think Culatello di Zibello (widely considered the king of hams), Felino salami, the black truffles of Fragno and the porcini mushrooms of Borgotaro and you'll begin to understand why true gastronomes make a regular pilgrimage to the so-called 'Italian Food Valley'. So important is the food to the locals, there's a saying in Parma: a Parma si mangia due volte. Prima si mangia, poi si parla. That is, in Parma one eats twice. First, you eat, then you talk.
And it is not just cured meats and cheese for which the area is famed. The region is widely considered the home of fresh egg pasta. Filled pastas are very popular and can contain meat, cheese or vegetables. In restaurants the pasta is so prized that it is often served as a tris – which is to say that the customer is served a sampling of three different pasta dishes. This takes some of the pain out of having to choose only one.
Naturally the cuisine of the area is based almost entirely around the rich resource of foodstuffs available. The cured meats, cheeses and other assorted dairy products all invariably find their way into a repertoire of dishes. In short, Parma's cuisine is an expression of a province with a proud and outstanding food heritage and an amalgamation of the very best Italian food has to offer.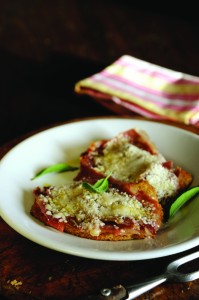 Veal escalopes with Parma ham and Parmesan
Scaloppine con prosciutto di Parma e Parmigiano Reggiano
serves 4 I Preparation 10 mins I Cooking 15 mins
4 veal escalopes
1 free range egg
100g fresh breadcrumbs
4 slices of Parma ham
80g Parmesan
A few tbsp olive oil
Salt and pepper
Place the egg in a bowl and beat lightly. Place the breadcrumbs on a plate. Dip the veal escalopes into the beaten egg and then onto the breadcrumbs. Press down slightly to ensure that the escalopes are evenly coated.
Add a few tablespoons of olive oil into a large heavy based pan and heat. When hot, but not smoking, add the breaded escalopes. Cook for 3 minutes on each side until crispy. Remove the escalopes from the pan and place onto a baking tray. Place a slice of Parma ham on each escalope and the grated Parmesan cheese. Place under a hot grill until the cheese is melted. Serve immediately.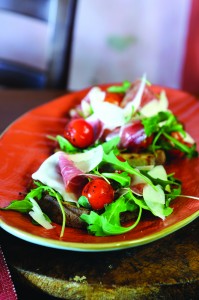 Parma ham, rocket and Parmesan bruschetta
Bruschetta con prosciutto di Parma, rucola e Parmigiano Reggiano
serves 4 I Preparation 15 mins I Cooking 5 mins
4 slices of rustic style bread
A few tbsp olive oil
Large clove of garlic
4 large slices of Parma ham
A large handful of rocket leaves
8 cherry tomatoes
Parmesan shavings
Preheat a griddle pan and brush the slices of bread with olive oil. When the pan is hot add the slices of bread and cook on both sides until crispy. Remove the bread from the pan and rub with the garlic clove. Set aside until needed. Place the cherry tomatoes on the griddle and cook for 5 minutes. To assemble the bruschetta place a small amount of rocket on the bruschetta, top with a slice of Parma ham and the cherry tomatoes. Add another handful of rocket and finish with shavings of Parmesan cheese and a drizzle of olive oil.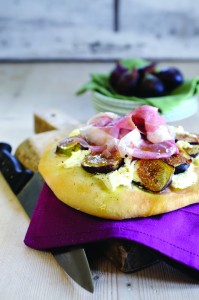 Parma ham, mascarpone cheese and fig pizza
Pizza con prosciutto, mascarpone e fichi
serves 4 I Preparation 1 hour 20 mins I Cooking 15 mins
750g plain flour
450ml lukewarm water
25g fresh yeast or 15g dried yeast
1 tsp sea salt
Extra flour for dusting
200g Parma ham
2 figs sliced
1 packet mascarpone cheese
Honey for drizzling
If using fresh yeast, dissolve the yeast in 100ml of warm water. Place the flour in a large bowl, add the salt and stir. Then add the dissolved yeast (sprinkle in the dried yeast if using) and the rest of the water. Beginning with a wooden spoon, stir in the water and once it has absorbed, empty the contents of the bowl onto a well-floured work surface. Knead until the dough is smooth, dusting with flour if necessary (this will take 5-10 minutes). Alternatively, you can place everything into a food processor with a dough hook and knead for 3-5 minutes.
Once the dough has been kneaded sufficiently, place in a large bowl and cover with a clean tea towel. Allow the dough to rest until doubled in volume. This will take about an hour. Once the dough has doubled in size
it is ready to use.
Divide the pizza dough into four equal pieces and roll out into rounds ½ to 1cm thick. Place the dough into pizza pans. Drizzle over a little olive oil and leave to rest for 10 minutes.
Place the pizzas into a preheated oven at 180ºC/350ºF/Gas Mark 4 and cook for 15 minutes. Remove the pizzas from the oven and spread evenly with mascarpone cheese and slices of fig. Add the couple of slices of Parma ham and drizzle with honey. Serve immediately.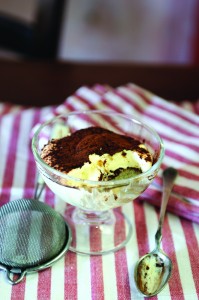 Tiramisu
Tiramisu
serves 4-6 I Preparation 15 mins + chilling time
250g mascarpone cheese
4 fresh free range eggs
4 heaped tbsp caster sugar
8 savoiardi biscuits
6 tbsp espresso coffee
3 tbsp dark cocoa powder
Begin by separating the eggs. Place the egg whites into a large bowl and whisk until stiff peaks have formed. Set aside until needed. Place the egg yolks into a separate bowl with the sugar and whisk with an electric whisk until thick and foamy. This will take about 5 minutes. Next add the mascarpone cheese and whisk together well. Finally, gently fold in the whisked egg whites. Place a tablespoon of the mascarpone mixture into 4 or 6 serving bowls (depending on the size of the serving). Soak one or two savoiardi biscuits in the espresso by dipping it and turning quickly, break into two pieces and place on top of the mascarpone mixture. Equally distribute the mascarpone mixture over the savoiardi biscuits and sieve cocoa powder on the top. Chill in the fridge for at least 3 hours before serving.
Tags:
Recipes