Luxury B&B owner Maureen Scheda moved to the quiet rural town of Casperia from Rome in order to set up her own business, and 17 years later it?s still going strong?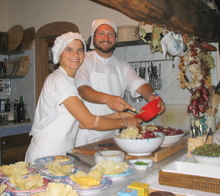 What first persuaded you to move to Italy?
I left Wales for Rome in the Sixties as Italy with its art history and wonderful language was my dream. After living in Rome for ten years my husband Roberto and I decided to leave the hectic city life and experience an alternative lifestyle in a beautiful medieval hilltop village ? totally undiscovered but just one hour from Rome. We found Casperia, the perfect place. ?Peaceful, charming, authentic, an hour from Rome but not a world away, which was important for Roberto as an architect. He had grown up passing the Pantheon everyday, and touching base with it from time to time was a need.
How did you craft your life in Casperia?
We never looked back one minute on our decision to leave Rome to live in the little village of Casperia, and we brought our three children up here. We lived the real village life and enjoyed the beauty of the surroundings, the walks through the Sabine hills, the peace, serenity and simplicity of life. As I was ?a professional tour director I often took visitors to see special places in Italy, but my dream was to be able one day to bring them here to my home and show them what a real Italian village not inundated with tourists was like.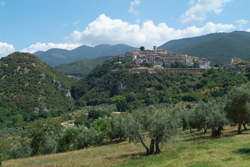 What do you love most about Casperia, and why would you recommend it?
It is so great to be able to live in a tiny medieval village and for the visitor to experience such a different scene, while also being able to reach Rome within one hour. That?s the difference between other villages which are miles away from anywhere. It is great to come here after having visited Rome and chill out after the exhaustion of the city, or come here straight from the airport, (there is a direct train from Fiumicino airport to our local station), chill out here and enjoy the beauty, then when revitalised carry on to Rome or Florence. Of course, for the traveller who has done the major cities, a great holiday then is to discover the small unknown places, take a cookery course and immerse yourself in the genuine real and slow Italian life.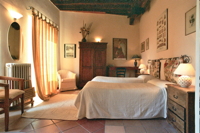 Can you tell us more about your project to run your own B&B?
In 1996 we thought about La Torretta, a 15th-century building right in the heart of the village, in need of extensive renovation. We decided to buy, restore and create a beautiful bed and breakfast where visitors would be surrounded by beauty and history and not be in those crowds of tourist. I don?t think the project would have been possible if my husband Roberto hadn?t been an architect, because he project managed the whole thing and also physically created some of the features like our modern design chairs.
We used local labour ? all very skilled ? builders, plumbers, glass cutter, electricians, blacksmiths, carpenters, and a restoration artist for the 15th-century frescoes we found beneath the plaster. Finally, La Torretta became our home and our business and I am now a tour director here. My guests get to enjoy the peace and beauty of the village, take a cooking lesson or an olive oil tour in the mountains, or just pop into Rome for the day where can you find such amazing choices. My talented daughters help in the business, while my son and his wife founded their own company, bringing visitors and life to our village.
Find out more about Maureen?s B&B at www.latorrettabandb.com.
Tags:
Holidays
,
Travel