Take a look at the latest Italian products that have caught our eye…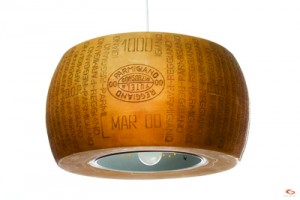 For food lovers who want to take their passion to the next level, designers have come up with this unusual Parmesan cheese lamp.
Yes, that would be a hanging ceiling lamp that looks exactly like a wheel of Parmesan. It is rendered from plastic rather than cheese, and is available at the luxurious price of €200.
The website claims it can make your kitchen, dining room or office space seem "just like a cheese shop – but without the smell".
Want one? See www.parmesancheeselamp.com.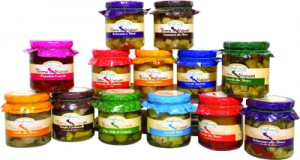 A range of antipasti inspired by the need to preserve authentic seasonal flavours have set our taste buds tingling this month.
Puma Conserve now produce artichokes, chillis, mushrooms, onions, tomatoes and more in these handy and colourful jars.
Available from www.something-italian.com for £5.50/280g – perfect for a picnic.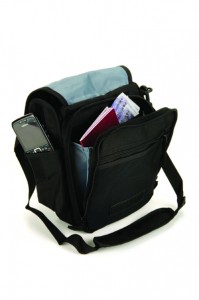 Heading away on holiday, it can be hard to find a bag that has enough compartments for all those essential items – and perhaps a couple of non- essential items, too, that we just have to keep nearby.
This Utility Bag from Snugpak fits the bill pretty nicely, with plenty of pockets, zips, document storage space and even a lanyard to attach keys to.
Plus, a padded shoulder strap to make it easier to carry everything you need.
A reasonable price, too – just £14.95. Visit the website (www.snugpak.com) for details of your nearest stockist.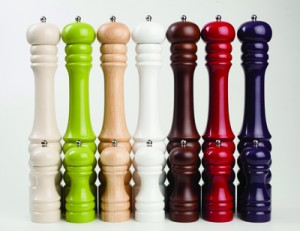 With a style to suit any kitchen and home, these funky pepper grinders and salt mills from TG Woodware have gone straight to the top of our wish list.
Finished in either sleek purple, red, green, white, cream and brown – or natural wood – they come with traditional grinding mechanisms that last well over time, making it a sound investment.
Search www.tg-woodware.com for stockists (including John Lewis).
Large mills are £40 and small ones £20.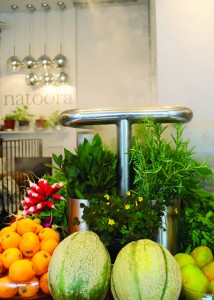 NATOORA LAUNCH THEIR FIRST SHOP
Popular online retailers Natoora, often featured in our Buy Italia! reviews, have opened their first store in London.
We're delighted to hear that the shop will be continuing their ethos of fresh, seasonal products – plus many authentic Italian goods that are hard to find elsewhere. Its opening gambit included Lincolnshire asparagus, Cornish wild garlic flowers and Ligurian trumpet courgettes.
Natoora, who also deliver their products through Ocado, have in recent years become increasingly popular with professional chefs, supplying esteemed restaurants such as the River Café, Hibiscus and Dinner by Heston Blumenthal.
If you want a slice of the action, head to Turnham Green Terrace in Chiswick or order from www.natoora.co.uk.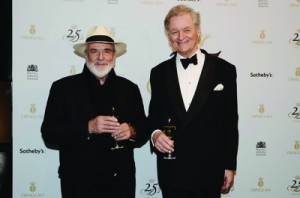 SINGLE BOTTLE OF ITALIAN WINE SOLD FOR RECORD €105,000
There has been a charitable auction of collectable wines to celebrate the 25th anniversary of prestigious Tuscan producer Ornellaia.
The record-breaking auction took place on 16 May at the Royal Opera House in London, with all proceeds donated to the Royal Opera House Foundation.
The exclusive bottles of Ornellaia 2010 vintage were decorated with a specially commissioned design by Italian artist Michelangelo Pistoletto (left in the picture, with Ornellaia CEO Giovanni Geddes on the right).
Eight bottles were sold on the night including double magnums, imperials and a unique Salmanazar, which has broken the record for the price of a single bottle of Italian wine at €105,000.
The total proceeds reached a worthy €282,695.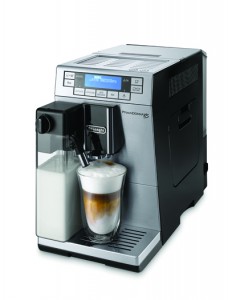 LATEST BEAN-TO-CUP MACHINE TESTED
The Italia! team have been lucky enough to test drive one of De'Longhi's new Primadonna XS coffee machines, the ultra sleek bean-to-cup aid that does all the hard work for you.
Aside from making us far more productive, we loved the thin design (which managed to slot neatly into our busy office kitchen) and especially admired the self-regulating milk carafe.
This simple little box, pictured above, made us the perfect cappuccino every time. The clever machine can also adapt the strength, length and temperature of your drink depending on individual preference.
What a treat. Available from Harrods and John Lewis stores – see www.seriousaboutcoffee.com for stockists and more info.