Get your palette in the mood for summer flavours with recipes from The Vegetarian Society accompanied by coffee matching ideas from the experts at De'Longhi…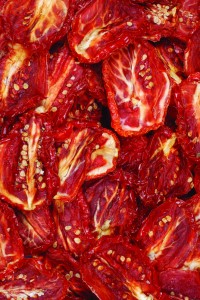 Aubergine, pesto & mozzarella rolls with spinach and pine nut salad
With the lingering flavour of fresh, creamy mozzarella, a classic Italian take on the espresso is the macchiato, meaning 'stained'. Simply add a dash of full-fat warm milk to a shot of espresso. Select a good 100 per cent Arabica from South America – the hints of rich hazelnut will complement the pine nuts.
Sun-dried tomato-filled toasted bagels
For this mid-morning Mediterranean brunch, a smooth breakfast coffee is required. Italians will drink cappuccino or caffé latte before midday. Using an Ethiopian coffee – with its light, pleasant citrus acidity to complement the sun-dried tomatoes – make an espresso in a large glass. Top this up with hot, freshly-frothed milk.
Olive and sun-dried tomato palmiers
To finish off a lazy light lunch in the sun, what could be more refreshing than an iced espresso:
a cool yet invigorating hit. Fill an espresso glass with crushed ice and deliver an espresso on top. Choose a coffee blended with more Robusta to help the flavour come through.
Peppers stuffed with tomatoes and feta cheese
A well-known way to make the espresso that little bit special is the corretto. Translated as 'adjusted', simply add a shot of your choice of spirit. Traditionally this is Grappa, but in this case a good quality Amaretto – a popular liquor made with almonds – would be a delicious treat and match well with the flavours.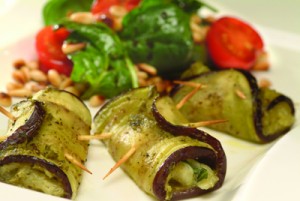 Aubergine, pesto & mozzarella rolls with spinach & pine nut salad
Aubergine, pesto e mozzarella con insalata di spinaci
Serves 4 I Preparation 10 mins I Cooking 1 hour
For the aubergine rolls
1 large aubergine
150ml olive oil
8 tsp pesto
8 basil leaves
150g mozzarella cheese cut into 8 slices
Salt
Coarse ground black pepper
16 soaked wooden cocktail sticks
…
For the spinach and pine nut salad
100g baby spinach leaves
100g sun-dried tomatoes
50g pine nuts, toasted
30ml extra-virgin olive oil
15ml balsamic vinegar
…
Preheat oven to 200ºC/400ºF/Gas Mark 6. Trim aubergine and cut into 8 slices lengthways. Sprinkle with salt and place on a baking tray for 30 minutes until pliable.
Season the olive oil with black pepper and brush over one side of each aubergine slice then spread each with 1 tsp pesto, place a basil leaf and slice of mozzarella at one end of the slice, roll up and secure with cocktail sticks.
Place in an ovenproof dish and bake for 20-30 minutes.
Toss all the salad ingredients together and serve.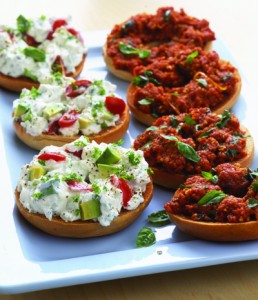 Tomato-filled bagels
Tramezzino di pomodoro
Serves 4 I Preparation 5 mins I Cooking 5 mins
4 bagels, split and toasted
½ lemon, zest and juice
45ml sun-dried tomato purée
15ml ground almonds
15g basil leaves
Salt and freshly ground black pepper
…
Mix the lemon zest, juice, purée and almonds together to form a thick paste.
Chop half the basil and stir into the paste. Season with salt and pepper to taste.
Spread generously on the toasted bagels and scatter the remaining basil leaves over the top. Serve and enjoy.
Olive and sun-dried tomato palmiers
Palmiers d'oliva e pomodori secchi
Makes approx 24 I Preparation 20 mins I Cooking 10 mins
225g puff pastry (fresh or frozen)
25g strong cheddar cheese, finely grated
25g stilton cheese, finely grated
25g Parmesan or pecorino, finely grated
Black pepper
25g black olives, finely chopped
25g sun-dried tomatoes, finely chopped
2 large baking trays, greased
…
Preheat oven to 220°C/425ºF/Gas Mark 7.
Mix all the grated cheese together in a bowl.
Roll out the pastry to an oblong strip. Sprinkle the cheese on two thirds of the pastry, and sprinkle black pepper over the cheese. Bring the piece with no cheese up and fold over half the cheese pastry. Fold the remaining cheese pastry one third over the rest of the pastry. Press down the edges of the pastry, then roll out again to a square. Cut the square in half.
On one strip place two thirds of the chopped olives, and on the other strip put two thirds of the sun-dried tomatoes, covering the whole strip. For each strip, bring both long edges into the centre so that they meet in the middle. Arrange the remaining one third of each mixture over the pastry, and fold up again from both long edges to meet in the centre.
With a sharp knife, cut into 6mm strips. Place on a baking tray, leaving room to expand.
Bake for about 10 minutes until golden brown.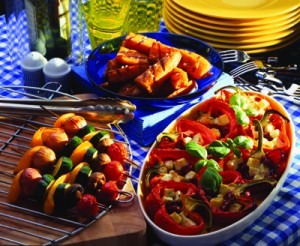 Peppers stuffed with tomatoes and feta cheese
Peperoni ripieni di pomodoro e formaggio feta
Serves 4 I Preparation 15 mins I Cooking 15 mins
4 red peppers
8 sun-dried tomatoes in oil
10g fresh basil leaves, roughly torn
225g feta cheese in oil
Salt and freshly ground black pepper
Olive oil to drizzle
…
Halve the peppers lengthways through the stalk and remove the seeds.
Place one sun-dried tomato in each half, sprinkle half the torn basil over, reserving half for garnish. Top with pieces of feta cheese. Drizzle each one with olive oil or a little of the oil from the tomatoes and cheese. Season with salt and freshly ground black pepper.
Grill on the barbecue or on a conventional grill, for about 10-15 minutes until the pepper is cooked, the skin charred and the cheese starting to melt. Garnish with the reserved torn basil. Serve with crusty garlic bread or bulgar wheat to soak up the juice.