The Scuola del Cuoio shares the secrets of leather making with students from all over the world, turning them into skilled artisans…
Picture a 13th-century Franciscan monastery right behind the basilica of Santa Croce in Florence. There, under imposing brick vaults, a small number of international students are learning the techniques of leather making. Welcome to the world-renowned Scuola del Cuoio, a true Florentine institution. Laura Gori, director of the school, gives me a tour – from the stables reconverted into a huge classroom to the frescoed corridor of the ex-friars' dormitory on the first floor, where skilled artisans create the gorgeous leather goods that are sold in the adjacent shop. After a lifetime within those walls, she is still enthusiastic about her job and the school.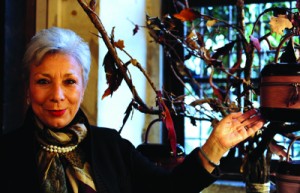 This is the kind of job you do only if you are passionate" she exclaims. "And how can you not be, after all? It is a stress-free environment. You work and study surrounded by 15th-century frescoes by the school of Domenico Ghirlandaio. You breathe art here!"
Signora Laura is the eldest daughter of late Marcello Gori, one of the founders of the school. He was a craftsman but most importantly a philanthropist. Back in the years after World War II, he wanted to enable war orphans to learn a craft and sustain themselves with a career in leather making. This is how the school was born. Later on, it shifted from orphans to the underprivileged Florentines, and classes in the city jail were offered as well.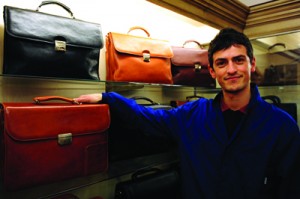 Some 60 years later, things have changed and the school attracts only the best students from all over the world. The school still offers scholarships and continues to support the friars of Santa Croce. It has a long-standing tradition of positively affecting the community. And it is still a family business: Marcello's legacy is carried on by his daughters Laura, Francesca and Barbara, as well as by his grandson Tommaso.
 Talking to the people working there, I get the impression of an even deeper concept of famiglia. "When I first met Marcello, I was only a kid," recalls Francesco Galleni. "He noticed I was spending a lot of time playing football in the square of Santa Croce and one day he questioned me on why I was not going to school. Then he made me a deal: if I finished high school, he'd give me a place on the course".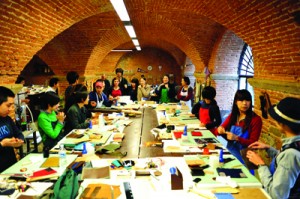 And that is exactly what happened. The 29-year-old was afterwards offered a contract and has been working at the Scuola del Cuoio for nine years now.
"I could start my own business," he says, "but I have no desire to do so. I would miss all this. It feels like family here."
This same sense of belonging is also what kept Carlo Sieni from retiring. He's been on board since 1950, first as an artisan then as a shop assistant.
"When it was time for me to leave, I became a teacher instead" he says. "It's hard to stay away from something you love."
Signor Carlo is one of the tutors at the school, together with Franca Boccherini and Japan-born Shigeru Saito. During a regular class, they would keep themselves busy doing their own work and supervising the students at the same time. This teaching method follows a Florentine tradition of placing the master and the apprentice side by side during everyday activities.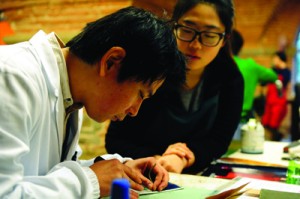 MEETING THE MASTERS
Out of all three of them, Shigeru Saito seems to be the busiest. Nobody calls him by his full name – everybody refers to him as 'Mao'. "It's easier," he smiles. There is something very passionate about the way he relates to the students. He must be an inspiration to them as he took his first steps as an apprentice in that same building. Before arriving at the Scuola del Cuoio, Hiroshima-born Shigeru worked in China and in Spain, where he used to make horse saddles.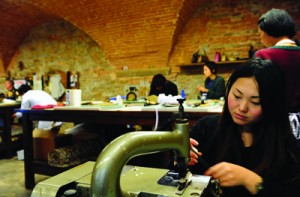 It was the school's outstanding reputation that attracted Seoul-born Anna Roh, 28. She is on the six-month course while her mother, artist Soon Ok Park, is completing a three-month program.
"I initially tried the five-day workshop," she explains "and I enjoyed the practical aspect of it so much that I decided to come back."
Back in Korea, Anna makes clutches on a small-scale production. Having her own brand is her goal at the end of the course. Berliner Katherine Giordano has a similar story. She has been working in the field of nylon and she now feels ready to take the leather challenge.
Just like Anna, she talks enthusiastically about the course: "It is fantastic, really. The teachers are extremely patient and they explain everything from scratch."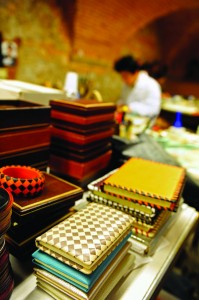 "Our students have never been jobless," claims Signora Gori with pride. As the majority of them come from non-EU countries, it makes sense for them to go back home and launch their own business.
Still, the most gifted ones are offered a three-month internship within the school. This could lead to a greatly desired full-time contract, joining the artisans upstairs. Here is where leather goods for sale are handcrafted – from Francesca Gori's limited edition bags to beautiful gilded leather desk sets (most famously, one of those was commissioned by US president Eisenhower).
Anyone willing to learn the secrets of leather making can choose from different options: short-term workshops to get a taste or a three- and a six-month course for those who are serious about pursuing a career. A very limited number of people are allowed at one time – due to high demand, this year the number has exceptionally risen to 22, but it is usually around 15. These days, students come mostly from Korea and Japan, but lessons are taught entirely in Italian, which is why they have to attend a language course every morning.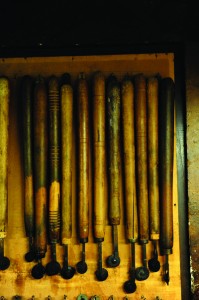 As Laura Gori puts it, this is a true "full-immersion into Florentine culture and tradition". Those handmade leather objects that you will bring home with you at the end of your course will be a little piece of a wonderful Italian family.
THE LEATHER CHALLENGE
The school offers several types of courses: there are no set dates for workshops, which can be booked by request. They are ideal for visitors interested in getting a deeper knowledge of leather working, learning how to tell the difference between handmade goods and those produced on an industrial scale. You also learn how to make a small leather object (typically a diary cover), which you will bring home with you. Half-day courses start at €210, one-day courses at €310.
Long-term courses are aimed at those people who are serious about pursuing a career in leather making. No previous experience is required. During a three- or a six-month course, you learn how to cut, create and finish a series of different objects, from glasses cases to handbags. New courses start in September 2013, and January and April 2014. The cost for a three-month course is €5,350; six-months is €9,350.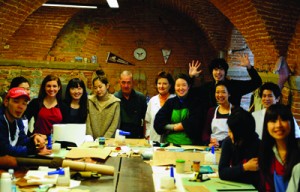 Lessons are all taught in Italian, but those who are not fluent have the chance of taking a course at the Centro Linguistico Italiano Dante Alighieri, the first institute specialised in Italian language and culture for foreigners in Florence. The school is based in Piazza della Repubblica, within a prestigious 19th-century building. For further information about courses and prices check their website (www.clida.it).
If you're looking for a souvenir of Florence and the perfect fashion statement, Francesca Gori has the answer. Like all of Marcello's daughters, Francesca is carrying on in the tradition of her family. Being the creative member, she has her own exclusive collection of limited edition handbags. She uses traditional pelts such as deerskin and more exotic ones like ostrich, crocodile and snakeskin.
Her bags feature bright combinations and decorative closures of silver, gold, semi-precious stones and other rare materials such as fossils, quartz and amber – all from vintage jewellery she found during her frequent travels. Although the price tag might be more expensive than your average leather bag, Francesca's borse gioiello are certainly more than just purses; they are tangible pieces of Florentine craftsmanship and history.
MORE INFORMATION
Scuola del Cuoio
Piazza Santa Croce 16 and
via San Giuseppe 5/R
+39 055244 533/4
scuoladelcuoio.it