Tuscany's tranquil neighbour Umbria is an exquisite place of rounded hills, forested heights, and jewel-like ancient towns, says Fleur Kinson…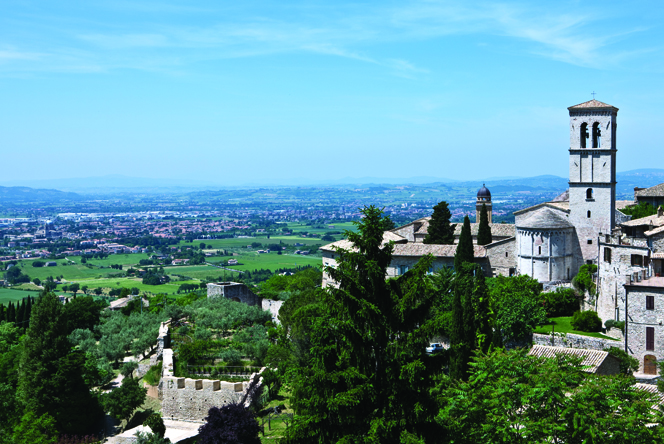 Set in the very middle of the Italian peninsula, Umbria is a dreamily serene region of wide rural vistas and captivating old hilltop towns. Spacious and leafy, it rightly calls itself 'the green heart of Italy'. But more than a heart, Umbria is arguably Italy's spiritual soul. Many of the nation's most famous saints and mystics came from Umbria. Think of St Francis of Assisi and his friend St Clare, think of St Benedict and St Rita. And the region is also home to a particularly glorious crop of churches. The cathedral in Orvieto, for example, is thought by many Italians to be the single most beautiful in the country.
Perhaps it's Umbria's landscape that has prompted so much divine inspiration. The dreamy, undulating lie of the land here seems naturally to incline the mind to higher things. With low, rounded mountains in the background and smooth hills continually opening onto huge views, your eye is forever drawn to the upward-climbing land and the sky beyond it. Meanwhile, medieval hill-towns – of which Umbria has a more consistently perfect collection than any other part of Italy – appear like little heavens in the distance.
And in a way they are little heavens. Unspoilt, unchanged for centuries, many of Umbria's hill-towns are perfect treasure troves of art and architecture. They are beautifully proportioned places where pedestrian-friendly old alleys and cobbled streets open onto radiant piazzas lined with exquisite buildings. From balconies, terraces and ramparts, the surrounding landscape views are inspiringly huge. Meanwhile the resident community is close, tight-knit and mutually supportive. The quality of life in Umbria's rural areas is very high indeed. It's not unknown for foreign arbiters to declare one Umbrian town or another as 'the best place in the world to live'. (Todi was hailed as such by the University of Kentucky, for example.) Obviously such contests are so subjective as to be meaningless, but still, there's no denying that life is good in Umbria!
Crucially, life is also uncrowded. Thinly populated, with fewer than a million inhabitants, Umbria seems to comfortably absorb its many overseas visitors. It somehow pulls off the impossible trick of being greatly adored by tourists yet staying mercifully unspoilt. Deep tranquillity and a sense of space remain its dominant features. The peace-seeking mystics of old would be relieved to hear that!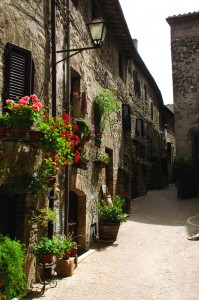 THE MARKET STORY
With so much to recommend the place, Umbria was never going to remain undiscovered by foreign buyers. They started arriving about thirty years ago, initially in search of lower property prices than those of Umbria's fashionable neighbour Tuscany. Many of those exploratory early property-hunters found Umbria even more enchanting than Tuscany. Word got out, and prices rose steadily in both regions – eventually reaching near-parity. When the global economic woes began back in 2008, foreign buyer numbers began to drop sharply. The top end of the market remained relatively unaffected (because the very rich have been least troubled by the recession), but all other parts of Umbria's market slowed considerably – and remain slow even now.
What effect has this had on the region's prices? Well, as this is Italy, where property prices tend neither to balloon nor to crash but instead to rise slowly or sink slightly, nothing too dramatic has happened. But it's true that many of Umbria's prices are a little lower now than they were before the onset of the international financial crisis, and even when they aren't, buyers can often find that vendors are more open to offers below asking prices than they were before 2008. Marc Wisbey of the central Italy specialist estate agency Itili says of the current market: "With no immediate signs of an upturn, many vendors are choosing to sit tight and enjoy the sunshine rather than sell at a rock-bottom price. But the more pushed vendors could be tempted with offers of up to 25 per cent below asking prices."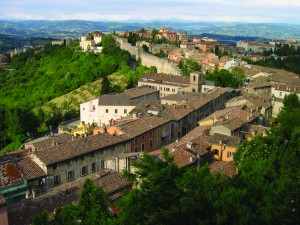 So, you could clearly find yourself a bargain in Umbria at the moment if you look carefully. Note that some parts of the region have seen more reduction in price than others. Adriana Benedetti of Umbrian Property suggests that "Prices have dropped quite significantly in the northern areas of Umbria where there has been a well-established presence of expats for a long time now. In the south, prices have kept relatively more stable, only dropping when owners need to repay a mortgage, for instance."
OK, so what kind of average figures are we talking about for homes in Umbria these days? Surprisingly, it's not impossible to get yourself a small apartment in a nice Umbrian town or village for under €100,000. Go up to €150,000 and you could consider a three-bedroom flat, or a little two-bed house. Small country houses start at a very reasonable €200,000. For €300,000 and upward you can look at farmhouses of increasing size. All these starting prices are for homes that are restored and habitable, or perhaps needing only minor work. Tumbledown properties needing full restoration would obviously be sold for less. Finally, if you're lucky enough to have nigh on one million euros – or even more – to spend in Umbria, there is of course no shortage of truly gorgeous properties available in prime sites.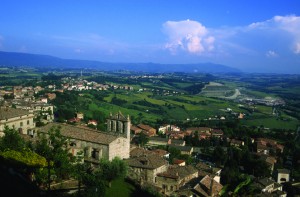 PLACE TO PLACE
Like every Italian region, Umbria contains within its borders a fair bit of geographic diversity. And it also has its pricier and cheaper areas for properties. To help you identify where in Umbria you might like to concentrate your property search, it's worth running through a quick overview of the region's areas, and going on to discuss where the bigger and smaller prices are.
In a nutshell, Umbria's central stretches see small valley-plains lying between sweetly rounded hills, while the region's northern, eastern and southern extremes tend to be steeper, craggier and more forested. Note that Umbria is one of the very few Italian regions to have no coastline, but it makes up for this absence of sea with some splendid lakes. Chief of these is Lake Trasimeno – a warm, shallow playground ringed by pretty fields and charming small towns. When you fancy the sea, the Mediterranean is never too far away, of course, lying about an hour and a half minutes' by car to Umbria's east and west.
Three of Umbria's most attractive rural areas, by common consensus, are the Vale of Spoleto in the region's centre, the Upper Tiber valley in the far north, and the Lake Trasimeno area in the west. Many foreign buyers have chosen one of these lovely areas, and while they're not Umbria's cheapest parts, there are still plenty of reasonably-priced, good-value homes available in all three. The beautiful Vale of Spoleto area gives access to some of Umbria's most exquisite ancient hilltop towns – places such as Assisi, Montefalco, Spoleto and Spello. The Upper Tiber Valley and Lake Trasimeno, meanwhile, are well-situated for bewitching Perugia, Città di Castello, and Tuscan charmers across the border such as Arezzo.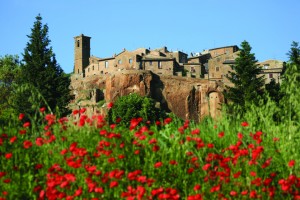 For Umbria's very cheapest rural properties, turn your attention to the region's eastern and southern extremes, where the landscapes grow progressively higher and wilder. You might target a high, handsome town such as Gubbio in the far northeast or Narni in the far south, and the rural areas around both towns. Or go down to Umbria's spacious southeast corner with its proximity to gorgeous Norcia and the nearby Sibillini Mountains.
As mentioned earlier, one of Umbria's most appealing assets is its wealth of exceptionally lovely hilltop towns full of fine historical buildings. A warm sense of community and a lively calendar of public events make Umbrian neighbourhoods truly delightful places to be. Thus you may well be considering an apartment in the centre of a classic town rather than a rural home nearby. These can be reasonably priced, and they make very good investments. Umbria's most popular hilltop towns include Assisi, Todi, Orvieto and Spoleto, but you should be aware that there are plenty of beautiful and lesser-known others where prices are slightly lower – places such as Montefalco, Spello, Trevi, Montone and so on. Spend some time exploring and see what wonderful places you might discover.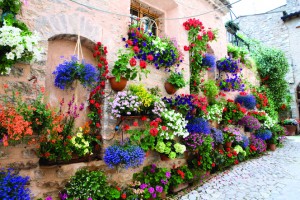 RENTALS? RESTORATIONS?
If you're thinking of a home in the countryside, you might be wondering if Umbria is still a good place to buy a tumbledown old property and restore it into your ideal home. Plenty of buyers have done exactly this in Umbria over the last few decades, but there's still no shortage of properties here ripe for restoration. Nor is restoring a wildly expensive enterprise. Marc Wisbey of Itili says "Umbria still has plenty of older properties available at reasonable prices, and the recent downturn in work for builders has left them very keen for work." Naturally, to preserve Umbria's precious character, there are restrictions on what you can and can't do to old properties here. But most restorers don't find these restrictions a problem, and nor do they struggle too much with local bureaucracy when it comes to planning permissions.
As for holiday rentals, Umbria has strong prospects. The place is loved by non-Italian holiday makers, and even throughout the economic downturn visitor numbers to Umbria remained undiminished. The best locations for maximising rentals are in the countryside near a town or village, and of course in one of the medieval hill-towns. (Note that Assisi and Perugia have some of Umbria's best year-round rental prospects – with Catholic pilgrims drawn to the former and tourists and students drawn to the latter.) Market your property well and you're likely to fill most weeks from May to October, which should cover a good proportion of your costs!
Useful contacts
www.umbriarealestate.com
www.itili.com
www.ilcastelloditara.com
www.marcherustico.com
www.umbrianproperty.com

Tags:
Property
,
Umbria