With such a multitude of classic pestos adorning the supermarket shelves, it's important to choose the best for your store cupboard. Here are our favourites…
Simple and versatile, the humble jar of pesto is a staple ingredient of Italian cooking. It originated in Genoa, the capital city of Liguria in northern Italy, and has since spread across the country and grown in popularity throughout the world. The traditional recipe for pesto alla genovese requires fresh basil leaves, pine nuts (occasionally toasted), olive oil and a mixture of Parmigiano Reggiano, Pecorino or Grana Padano cheese. You'll sometimes find a twist of lemon in there, or a blend of nuts and oils, but the essential components are fairly invariable and Italian chefs are unlikely to change it. That's until you stray into the realm of regional variations, of course, such as pesto alla siciliana (red pesto, made with almonds instead of pine nuts and flavoured with tomatoes or red peppers). In this taste test we have drawn our attention to the classic recipe, looking at the minutiae of variation to be found between the different brands of pesto alla genovese. To find your favourite, we'd recommend making your own with a pestle and mortar – then, once you know how fresh it can taste, apply those standards to the supermarket shop.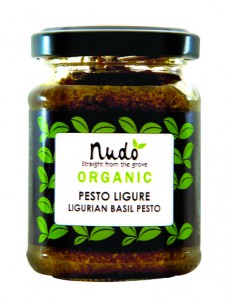 Editor's choice
NUDO ORGANIC PESTO LIGURE
From Nudo and independent stockists

Price £3.49/120g
Having now tasted their divine pesto ligure, we can only confess that we have well and truly fallen for this popular organic brand alongside our reader. Just a glimpse at the ingredients is a breath of fresh air – everything you'd expect from an authentic recipe and nothing more. True, they've added cashew nuts to the mix, but we rather enjoyed its nutty addition to each mouthful. The remaining ingredients – Ligurian basil, extra-virgin olive oil, Parmigiano Reggiano and garlic – are well-balanced and thoughtfully blended, producing a paste that could easily be enjoyed on its own, spread generously over crostini. The colour, too, is reassuringly vivid green, revealing the freshness of the products. Subtle and adaptable, without for a moment being passive, we can see this becoming one of our cupboard favourites.
VERDICT ****
Fresh and well-balanced, with an authentic flavour that could almost pass for being home-made.
……………………………………….
FILIPPO BERIO
From Various supermarkets
Price £2.10/190g
This is a new venture for the olive oil experts Filippo Berio, and overall they've done a great job. Their pesto has a clean, bright flavour, enhanced by a distinct saltiness – although, thankfully, not overbearing or lingering in the slightest. It uses a blend of sunflower oil alongside its olive oil base – strange, considering the company's speciality – but most of the other ingredients are quite faithful to the original recipe. A good cupboard investment.
VERDICT ***
Excellent value for money and bright flavour to cheer up your weekday dishes.
……………………………………….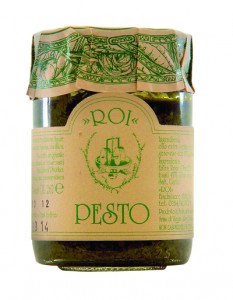 ROI PESTO
From Taste of Italia

Price £3.85/80g
Another instance where the rich colour reveals the quality of the ingredients, we loved this finely blended green pesto which really packs a punch. There's a bold piquancy to the flavour which sharpens the taste buds straight away – we think it would work especially well to brighten up a summer risotto. The quality of the olive oil used is obvious – a golden, reflective glaze
was noticeable throughout.
VERDICT ***
Finely blended with a sharp taste – expect bold and buoyant flavours.
                                                                         ……………………………………….
From Waitrose

Price £4.99/280g
Now this is a weighty jar of pesto, requiring a good mix before each serving, but the value from Waitrose here is undeniable. A few of us weren't sure about the acidity levels in comparison to the other pestos – it seemed to have a distinct lemony tang – but we did enjoy its rough-cut basil leaves and occasional whole pine kernals. Rustic and textured, if a little over-joyous in the mouth.
VERDICT ***
Chunky pesto that will serve you well for two weeks in the fridge after opening.
……………………………………….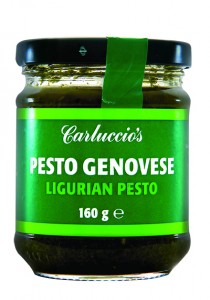 CARLUCCIO'S PESTO GENOVESE
From Carluccio's

Price £4.60/160g
From this pesto you can expect an busy melee of flavours, with powerful basil storming into the foreground. This isn't surprising given the ratios – Carluccio's have used a recipe of 50 per cent fresh basil leaves, which can only be applauded. The result is a peppery flavour with a warm, textured finish. Just right for antipasti, picnics or, let's face it, a steaming bowl of delicious pasta.
VERDICT ****
Certainly a contender, with a high percentage of basil creating a unique flavour.
……………………………………….
From Seggiano

Price £4.95/200g
This pesto wasn't, it has to be said, to everyone's liking. It seemed to lack the subtlety and balance of the other samples, with an inescapable bitterness accompanying each mouthful. The ratios seemed slightly askew – lots of nuts in this recipe, which made for a heavier and less lively texture. Perhaps it could be perked up with some more olive oil at home.
VERDICT **
Nuts overpower the other flavours in this pesto, resulting in a stodgy texture.
……………………………………….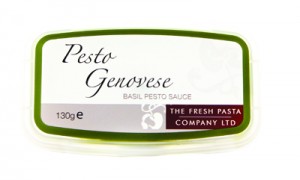 THE FRESH PASTA COMPANY
From Waitrose and Ocado
Price £4.99/130g
If you haven't tried any products from the Fresh Pasta Company yet, we can assure you it's worth the treat. This traditionally-made pesto is packed with natural flavour, and made with the highest quality olive oil. Served with bruschetta it's sublime, or stirred thoughtfully through hot pasta. The only downside (indeed, to much of their range) is the price – if it wasn't quite so high, it would have been a full thumbs up.
VERDICT ****
Top quality ingredients make for a luxury pesto – a bit too pricey for everyday, though.
Tags:
blog