This month James Gingell looks at the success of Pecorino cheese, and how best to utilise this ingredient in your Italian kitchen. Plus, a few recipes to get you started in true Abruzzo style…
Pecorino is the name given to a group of Italian hard cheeses predominately made from ewes' milk. Its name derives from the word pecora meaning sheep. Abruzzo has a world-renowned tradition for cheesemaking and our woolly friends have provided a significant role in the region's gastronomy for hundreds of years.
A recent visit to the province of Pescara, on the eastern slopes of the Gran Sasso mountain range, introduced me to a quite special production of sheep's milk cheese called Pecorino di Farindola. What is particularly unique in this cheesemaking process is the inclusion of pig rennet, originally introduced by the ancient Vestini tribe. The Appenine sheep graze freely in the mountain meadows and pastures, giving the cheese its distinct flavour and aroma.
Marcella Mirko continues an artisan cheesemaking tradition passed down through the centuries. She places the fresh ewes' milk into a large aluminium vat with the special pig enzyme before carefully heating to a temperature of 35ºC, so soft white curds form on the milk's surface. Marcella then proceeds to remove and pack these curds into the traditional wicker baskets, giving the cheese its characteristic pattern.
The cheese is then dry salted before being left to mature on wooden racks for up to 18 to 24 months. As the rind forms it is periodically brushed with a solution of olive oil and vinegar, so it acquires a yellow and brown colour that varies according to the cheese's length of maturity.
Pecorino di Farindola is produced by a small consortium of families who make the cheese exclusively in small quantities mainly for their own consumption, passing the unique recipe down from one generation to the next. It is, in fact, protected by the official DOP government stamp of approval.
I felt privileged to watch Marcella at work, as her younger family members assisted in the skilled production that would one day see them play the starring role. Pecorino di Farindola could be very difficult to acquire for the following recipes unless you are lucky enough to be visiting the eastern slopes of the Gran Sasso. However, the better known Pecorino Romana is readily available and almost just as good.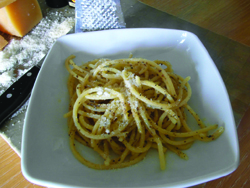 Cheese and pepper spaghetti I Cacio e pepe spaghetti I Serves 4 I Preparation 5 mins I

400g spaghetti or buccatini pasta
3 tbsp salted butter
1½ tbsp finely ground black pepper
120g Pecorino cheese, finely grated
60ml extra-virgin olive oil
Salt and pepper
………………………………………
Cook pasta in salted boiling water until al dente, then drain in a colander. Add olive oil to a heated saucepan and then add the drained pasta.
Next add butter, two-thirds of the Pecorino cheese and the ground black pepper.
Toss all ingredients together, taste and season with salt and pepper. Divide between 4 warm pasta bowls and finish with a sprinkling of your remaining Pecorino cheese and an extra twist of black pepper.
Broad beans with Pecorino I Fava con pecorino  Serves 4 I Preparation 15 mins
800g broad beans, peeled
120g Pecorino cheese
60ml extra-virgin olive oil
Salt and pepper
………………………………………
If using new season broad beans, remove from the pod and blanch in salted boiling water for 5 minutes before removing and placing in ice cold water.
Remove the outer skin from each bean and discard, placing the beans into a small mixing bowl.
Next cut the Pecorino into 1cm long matchstick pieces and then carefully add to the beans. Add a good quality olive oil and salt and pepper to the beans and cheese. Dress gently to combine the flavours. Arrange neatly on small plates and serve with toasted Italian bread.