Stewart and Ruth Holland swapped life in southern England for life in southern Abruzzo seven years ago…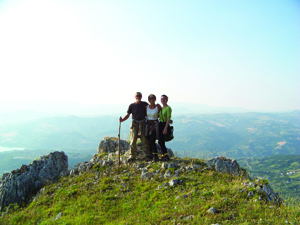 They bought a 200-year-old stone property on the edge of the Maiella National Park that had been divided into two houses. Now they live in one and offer holiday rentals in the other – which, among other accolades, has become TripAdvisor's highest-rated rental accommodation in Abruzzo.
What drew them to this corner of Italy? "Ruth and I first met in Milan in 1978," Stewart explains. "She was working as a fashion designer and I was a computer consultant. After ten years there, my job sent us back to the UK, but we always said we'd go back to Italy one day because that was where our hearts were. Years passed, and I realised that if I left it until retirement age, I'd be too tired to do everything I wanted to do in Italy. So we bit the bullet in 2006. Our daughter Chloe stayed in London as a fashion stylist, and our folk musician son Fabian came with us.
"Before we chose where to go in Italy, we made a list of criteria, and we saw that Abruzzo was the only place that really had everything we wanted.
"It's not overly populated or touristy. And it's unbelievably varied; it's one of the few areas in the world where in the morning you can ski and in the afternoon you can swim in the sea. Where we live is less than an hour's drive from the beach, an hour from ski slopes, and an hour from the airport. You can still find beaches in Abruzzo that are deserted in July. You can go hiking in the Maiella Mountains for a whole day and not see a soul. It's like the Italy of 50 years ago. People are so open and friendly, and we've met with so much kindness and generosity over the years.
"Our houses had previously formed the summer residence of a wealthy family. They needed lots of renovation when we bought them. The one we live in hadn't been touched since the 1930s, and the other had suffered a really bad makeover in the 1970s, so there was a lot for us to do. Now they're both completely beautiful, and eco-friendly too. They enjoy magnificent views in every direction. We've got five acres of land with walnut groves and fruit trees.
"At the bottom of the garden is the River Aventino, and we have our own river beach. Our advice to anyone thinking of buying in Abruzzo is to spend time travelling round and seeing the region's different parts. We sometimes have guests who come and seek our advice about relocating. They very often fall in love with our area and decide to buy here!"
To see their property and learn more, visit www.casadelfiume.com.
Tags:
Abruzzo
,
blog
,
Property