Jessica Haden lives in the idyllic countryside near Siena as Education Director for Spannocchia, a farm bringing the ancient breed of Cinta Senese pigs back to the market…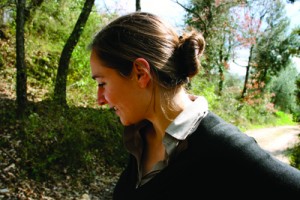 How did you end up living on the Spannocchia farm?
A few years ago, my love of Italy and food lead me to Slow Food's University of Gastronomic Sciences, in Piedmont, where I studied (and ate!) and eventually graduated with a master's degree in Italian Gastronomy and Tourism. I started working at Spannocchia – a 430 hectare estate near Siena with a certified organic farm, agriturismo, and structured internship programme – earlier this year and I feel very fortunate to have found a job that encompasses my love of understanding where food comes from and educating others about these systems and relationships.
Can you tell us a little more about the Cinta Senese?
The Cinta Senese is a heritage pig breed that has been tied to the traditions and culture of the people from the hills around Siena since at least the 1200s. These pigs were an integral part of the life of tenant farmers, and at the end of the World War II the population of the Cinta Senese had dwindled down to less than a hundred. The population resurgence in the last 20 years is thanks to people like Randall Stratton and Francesca Cinelli, both of Spannocchia, who worked hard to revive diminishing numbers of heritage breeds like the Cinta Senese. The Cinta Senese are known for the high quality of fat, and at Spannocchia we raise around 200 Cinta Senese pigs and artisanally produce a variety of salumi including prosciutto and sopressata.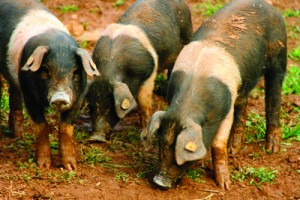 What do you love most about your new life in Italy?
The food and wine! In all honesty, I love the pace of life in Italy and the emphasis on family and enjoyment. The people are generous, hospitable, and fun – I hate to generalise, but I would say the majority of people don't worry much about taking life too seriously. I enjoy the diversity of Italy, from the different accents and dialects to the many variations of food traditions, I never stop learning and never run out of destinations to explore. I am very happy to be living at Spannocchia, where respect for the land, community, and Tuscan traditions is still upheld even in today's bustling and ever-evolving world.
What have you found challenging?
It is certainly difficult to be away from family and friends. Apart from people, I miss ethnic food the most! Italian food is delectable indeed but my cravings for foreign and spicy flavours never go away and are often quelled by emergency care packages full of exotic ingredients from my mother. Adjusting to a different lifestyle can be challenging but I have found that embracing these struggles is the best and most positive way to move forward.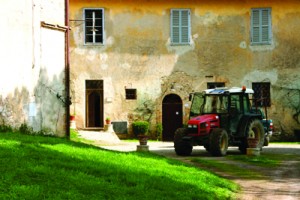 What would you like to do in the future – will you stay in Italy?
I hope to continue working as part of an organisation I wholeheartedly believe in – like what I'm doing at Spannocchia – and whether that keeps me in Italy or leads me somewhere else in the future I can't say. I enjoy living as part of a small community and on an educational farm that strives to be as self-sufficient as possible. I do hope to stay in Italy for a good while, I love my life here and find inspiration and affirmation in everyday life in a way I haven't come across anywhere else up to this point of my life. You can learn more about the farm at www.spannocchia.org.
What's Your Story?
If you want to tell the story of your relationship with Italy – whatever it is – get in touch with us! Send emails to rachel.beckwith@anthem-publishing.com with the subject line 'My Italia' and a brief description of your story.
Tags:
blog
,
Siena