Hailed as the next Italian tenor by producer Mike Hedges, Friar Alessandro?s debut has shot to number one in the Classic FM charts. Rachel Beckwith uncovers the remarkable story of the first friar to be signed by a major label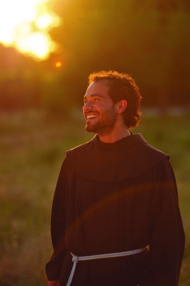 The headquarters of Decca Records is a large, contemporary building with a labyrinth of corridors that lead into open-plan offices. I am, therefore, not entirely sure what to expect when I meet Friar Alessandro Brustenghi. Amid the bustle of busy people, humming computers and ringing telephones, he sits quietly in his brown robe and sandals with a serene smile on his face. Considering his next appointment is a photo shoot with the current Archbishop of Canterbury, I am already feeling rather lucky to have met him.
At the age of 34, Alessandro has followed an unusual path into the world of classical music. As he shares the story of how he became a recording artist, he exudes a sense of humble tranquillity and calm. But when he talks of music and God ? his two passions, now intertwined ? he becomes animated with infectious enthusiasm.
Rachel Beckwith. You started music from a very young age, and for a long time thought that would be your vocation. Could you tell me about your journey from musician to friar?
Friar Alessandro. I started to study music when I was nine. I listened to a recording of Toccata and Fugue in D Minor by Johann Sebastian Bach, and I was amazed. And from that time I decided inside of me to be an organist and composer. I was just nine but this was really my dream! And at the same time I discovered the music of Michael Jackson. It had an incredible rhythm. And this was very beautiful in my life, because I grew up with this master of music.
I then began to study as a musician. And so I started studying at the conservatoire when I was 14, and when I was 16 something happened in my life. Before that time, I was looking for God as an idea. I had philosophy in my mind. I was looking for ideas about God, about life, about everything that was around me. I was an idealist. I was thinking that everything around me was just a creation of my thought. But I was not in peace; I had no tranquillity inside of me. So there was a moment that I asked God for a sign. I asked: ?Please, if you do exist, give me a sign. I need it.?
It was a challenge. And God loves challenges! So I was in a wood, lying down in the grass and waiting for a sign. And there was an exact moment when I felt inside me the presence of God as a person, no longer just an idea. A real presence, and a presence of love. When you feel the desire to be in special communion with all the world, it is wonderful. It is heaven.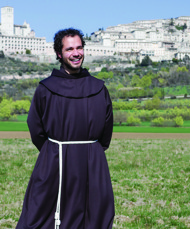 RB. ?And that sparked your desire to join the Order of the Friars Minor in Assisi?

FA. From that moment everything changed in my life and I started a new spiritual process. After some months I watched a film about St Francis. And I told myself, this is the life I want to live. I want to live as this man. Because I felt such a desire to live in poverty, to live in fraternity, and to join the brotherhood. But I was just 16 and I was afraid. My desires were to have a family and to be a musician. I thought perhaps the ideas inside my head would go away and I wouldn?t have to think about them. So I waited. But after three years, when I was 19, these ideas were still present in my mind.
RB. How did your family feel about your eventual decision to become a friar?
FA. It was hard for them to accept at first. I do not come from a religious family, they did not believe in God as I did. They wanted me to get married, have children, and live a normal life. Of course they did. But when I explained to them that I felt it was my duty to become a friar, they were supportive. And then something miraculous happened. One day my father and mother came to me with Rosary beads and said they had been converted. They wanted to join the Catholic Church. I had been praying for them, and God had fulfilled my prayer. Now they understand my choice because they understand God.
RB. Your operatic voice wasn?t always your instrument of choice. How did you discover your talent for singing?
FA. It was another challenge. There was a teacher in the conservatoire who convinced me that I had a good voice. That was not real, though, because she taught singing and didn?t have enough pupils in her class! I had the right intonation, a good pitch, but no rhythm. Okay I could sing but not as a real singer. I had a very tiny voice.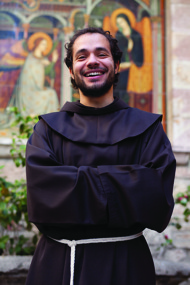 And meanwhile I started my study of singing the year before I started my spiritual journey to become a friar. Because when I was 19 I asked the help of a friar, I wanted to know if this was my real vocation. And he told me, ?I?m not sure if it is your real vocation. Maybe you are trying to escape
to another world because you are afraid of this world.?
I thought: maybe. Let?s try. So I began to pray and have experiences. And after two years, when I was 21, we realised that it was my real vocation. But my spiritual father told me that it is very useful if you have a diploma in your hands before joining the order, so I did that.
RB. But there was another obstacle in your way?
FA. My teacher of singing told me it was not possible to take this diploma because my voice was very tiny, very weak. What to do? I had to train myself with exercises, scales, vocalising and breathing techniques for two, three weeks. And after this time, my operatic voice came out. And everyone was surprised, because it was a very difference voice from before. And so I had my diploma and joined the order.
RB. When you realised that music and your religious calling could exist together, I imagine that was a relief?
FA. Yes. Although after I joined the order, I decided to stop everything with music. Because I wanted to be just of Jesus, not of the music. Stop with the music! I was convinced there was a fighting between the two strands, between music and faith. But after my spiritual guide at the friary heard me sing, immediately he told me I had to continue to study and sing music. Why? Because it?s my talent, and it?s important that you give yourself to God with your talent. With your complete personality.
And after I have known all the writings and feelings of St Francis deeply, I know that he wants his friars to spread the gospel with their talents. And so I understood that there was no contrast, but that it was a common life.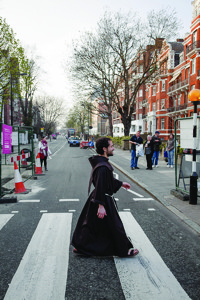 RB. And now you are the first friar to be signed to a major record label, Decca Records. What was it like to record your album in the famous Abbey Road studios in London?
FA. It was unreal. I worked with Mike Hedges [producer for U2 and Manic Street Preachers] and he was a very nice man. I spent a week in London and it was so different from my life ? so busy and so big! To come here I had to get on an aeroplane for the first time. That
was very strange. I looked at the
big metal machine and thought, how can that fly? But I wasn?t scared. I put my trust in God and arrived safely. I spent a week here and then returned to my life in Italy.
RB. As you have a vow of poverty, what will happen to the profits from the sale of your new album, Voice from Assisi?
FA. It will go to my order, the Order of the Friars Minor, to help them with their charity work. I really have no need for the money as I live a simple life. At the end of this week in London I will return to the friary and continue my work there. Every day I have duties and in my spare time I am a carpenter and love to make furniture. I also lead some tours around the friary for visitors who want to learn about St Francis. I might do some concerts in Italy, I am given time off from my duties to do this. Perhaps I will come back to the UK to sing ? it has not been decided yet. The most important thing for me is to give my life to God.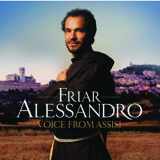 DEBUT ALBUM
New Release
Friar Alessandro's debut album, Voice from Assisi, is out now on Decca Records (?10). For more information visit www.friaralessandro.com
Tags:
Culture
,
Interview
,
Music