BERENICE ANDERSON, based in Oxford, bought and restored a 400-year-old house on a hillside in Umbria….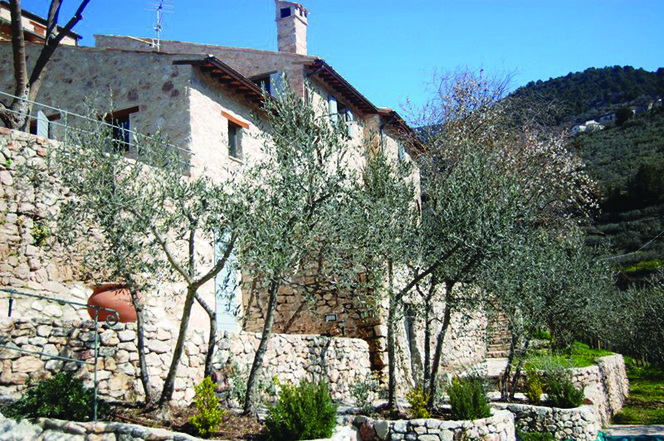 Set amidst terraced olive groves overlooking the Vale of Spoleto, Casa del Cinguietto ('birdsong house') provides a peaceful retreat for Berenice and her family several times a year. The rest of the time, it pays for itself through holiday rentals.
"I'd been hankering after a house in Italy ever since I first visited the country in my 20s," Berenice explains. "Later when I began to think seriously about buying one, I calculated that I would need to be able to rent it out to cover costs, and I knew that Umbria was a region that would easily attract rental clients. I understood that people prefer an old traditional house, and when I saw the setting of Casa del Cinguietto I knew that it would present a very appealing prospect. It sits on a hillside below a medieval castle, in a small village called Campello Alto, with wonderful views across the Spoleto Valley.
"It was a total ruin when I bought it. A few bureaucratic hiccups meant it took quite a long time to get all the planning permissions. (Amusingly, I got permission to build a swimming pool about 12 months before I got permission to restore the house!) It was a major restoration project and the building work took about two years. I used two excellent architects plus a local builder and his assistant. The quality of workmanship was extraordinary. The basic structure was sound, but we put on a new roof, lowered the floor where the animals used to live, added an extension and a fantastic pool. It all went ahead thanks to a mixture of naivety and optimism on my part! At first, the local people would talk about the 'mad Englishwoman' who was spending years restoring the ruin, and then when the house was nearly finished, they started talking about the bella casa and how wonderful the restoration was!
"The best thing about being there is the peace and quiet. The setting feels very private, but it's not isolated. The pace of life in Umbria is leisurely and relaxing. People stop and chat to you, and it's all very pleasant. Thankfully, there's no antipathy whatsoever towards foreign buyers. Local people are delighted that you're restoring old houses and bringing them back to life. Building bureaucracy varies from area to area, of course, but it rarely stops you doing what you want. It's easily navigated.
"The holiday rentals on my house have always been successful. By April this year I was already fully booked from all the way through to August. It's roughly the same every year. Financially, the house pays for itself."
For more see online at www.casadelcinguettio.com
Tags:
blog
,
Property
,
Umbria