MARINA WEBSTER and husband Pete Robinson own a large property called Sei Camini (meaning 'six chimneys') in the foothills of the Sibillini Mountains…

It's actually two stone houses linked together by a loggia, and stands in spacious grounds full of cypress, fruit and olive trees, with a pool gazing out over two medieval villages. The couple now live full-time in the smaller house, and offer holiday lets in the larger.
"In 2005 I sold my house in London and moved to Pete's house in Derbyshire," Marina explains. "It seemed sensible to buy something else with the money from my house sale. I'd seen a newspaper article extolling the virtues of Le Marche, and following a slightly boozy Sunday lunch I went ahead and booked us flights to Ancona. We were shown round the region by various estate agents. We told them we wanted a home we could use immediately, which didn't need lots of work that might prove expensive or time-consuming. The plan was to enjoy it as a holiday home and maybe think about moving there one day. When we were shown Sei Camini, we fell in love with it immediately, and bought it on the spot.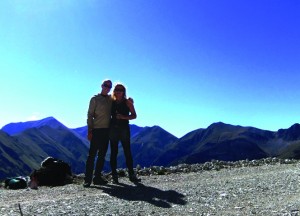 "We're 40km from the sea and 15 minutes by car from ski resorts. It's a fabulous area, and we couldn't believe that we could actually afford to buy a house here. The property was habitable when we bought but it needed a full redecoration inside. There are eight bedrooms in total, three in the part we live in and five in the part we rent out. We moved here permanently in 2010, and we absolutely love it. The area, the space, having such a big house to play with, and being able to share it with people is all fantastic. Our holiday rentals business is very successful. We're always fully booked over the summer, and usually have guests from May to the end of September. I'd strongly recommend anyone offering holiday rentals to be absolutely straight and comply with all Italian regulations, by the way. Get the right permissions, record all your visitors, and declare all rental income."
"What I enjoy most about living here," says Pete, "is six months a year of continuous sunshine! Ours is a surprisingly green area considering the amount of sun we get. We're in the mountain foothills, so it stays green. The hills are undulating and gentle, with surprises round every corner: wonderful hilltop villages, and sudden views of snow on the highest mountains – which lasts until July. There's very little traffic, great weather, excellent food and wine.

"It would be difficult to re-adjust to life back in the UK now!"

To learn more about the property, visit www.marche-italy-villas.com.