June is a month full of events just waiting to be explored, with traditional Saint's days, music festivals, summer athletics and local food extravaganzas…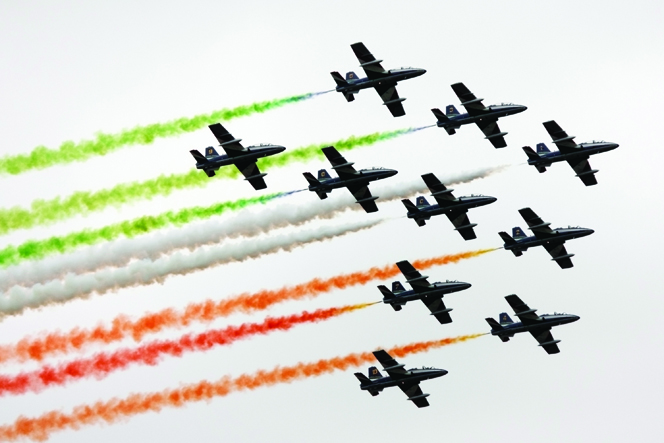 FESTA DELLA REPUBBLICA
2 June
Throughout Italy
This date marks the day that the Italian population voted to become a republic, ousting the monarchs of the House of Savoy. This took place after the fall of fascism following World War II and is now commemorated as one of Italy's most important national holidays. The main events take place in Rome which include a military parade through the capital and a fly-over by the Frecce Tricolori, a plane troupe similar to the Red Arrows.
 …………………………………………
GOLDEN GALA ROME
6 June
Rome, Lazio
Having the Olympics in London last summer has deepened our interest in athletics and The Stadio Olimpico in Rome hosts this diamond league event on 6 June. The main attraction for spectators will undoubtedly be the chance to catch a quick glimpse of Usain Bolt as he speeds past. Of course he is not the only reason to attend as there will be competitors from all over the world and plenty of British athletes to support, too.
www.diamondleague- rome.com/en/
 …………………………………………
FESTA AROMATICA
8-9 June
Imperia Province, Liguria
This biennial event celebrates the local fresh produce of the Liguria region. Many different towns take part and there is plenty to do as a result – from cookery classes to workshops for children, and even conventions about health and well-being. There are also markets displaying the best that local producers have to offer. As the name and region suggests, expect to see lots of basil and aromatic herbs.
…………………………………………
VASCO ROSSI LIVE
9-10, 14-15 June
Turin, Piedmont
Italy's most successful pop artist, Vasco Rossi, has organised four concerts in the Stadio Olimpico in Turin. In total he has released a staggering 26 albums, reinventing himself from poster boy to singing veteran in his amazing 35-year career. His musical passion hasn't dwindled and his concerts are always well attended by fans of all ages.

 …………………………………………
MUSIC ITALY SHOW
14-16 June
Bologna, Emilia-Romagna
This exhibition in Bologna is essential for any music enthusiast. The instruments and equipment on display cover all types of music production, so whatever genre takes your interest there will be something for you. The event is attended by music labels, schools and publishers making it a wonderful networking opportunity.
www.biztradeshows. com/trade-events/ music-italy-show
…………………………………………
FESTA DI CERAMICA
20-23 June
Montelupo Fiorentino, Tuscany
This festival celebrating everything ceramic is now entering its 20th year. The event has been shortened this time around from nine days down to four, but each day will hold events from morning until night. Watch master craftsmen at work and learn some of the skills by attending the workshops on offer. The whole town joins in the fun – watch out for jazz musicians and satirical clowns roaming the streets. www.festaceramica.it
…………………………………………
SAGRA DI SAN GIOVANNI
21-22 June
Lake Como, Lombardy
The celebrations for the feast of San Giovanni take place all over Italy, but certainly one of the oldest and most impressive events is held at Lake Como, a short distance from Milan. On Friday evening the water becomes awash with hundreds of tiny lamps as a huge fireworks display lights the sky above. The following morning there's a boat display on the lake accompanied by folk dancing and flag throwing competitions.
 …………………………………………
IL MERCATO DELLE GAITE
20-30 June
Bevagna, Umbria
The small town of Bevagna celebrates its medieval roots in the last ten days of June. To get into the spirit locals and tourists dress up in traditional 14th century costume. As with many traditional festival the various districts, or gaita, of the town compete for pride and each of them has a tavern offering up medieval dishes. The main event of the festival is a market where people can buy typical products.
 …………………………………………
FESTIVAL DEI DUE MONDI
28 June-14 July
Spoleto, Umbria
Held annually, the Festival of Two Worlds has established itself as one of Italy's most famous performing arts festivals, attracting some of the top artists from all over the world. There is plenty on offer over the two weeks to satisfy whichever artistic field you prefer – with operas, ballets, films, art and concerts. The event is held in Spoleto, an old town located on a hilltop which oozes Italian charm and beauty.
 …………………………………………
FESTA DEI SANTI PIETRO E PAULO
29 June
Rome, Lazio
Rome pays tribute to Saints Peter and Paul who on this day in the year 67 AD bore witness to their faith in Christ by the shedding of blood on Vatican Hill. It is an important date in the Christian calendar and the most important events take place in the Basilica of San Pietro, including an appearance by the Pope. Other entertainment is also set up around the city to make is a memorable day for all.
 …………………………………………
SAN GIOVANNI FEAST DAY
30 June
Florence, Tuscany
On the Sunday following the day of Saint John the Baptist, Florence takes centre stage. The events on the day are similar to what takes place in Como the previous week. A palio of row boats carrying lit candles make their way down the Arno river and a medieval tournament followed by the more traditional activities – feasting, dancing and drinking.