Hannah Bellis heads to Banca in Mayfair, London to sample their new evening aperitivo. Celebrate this Italian tradition in your own home with a tasty selection of recipes for titbits and light bites created by their talented chefs…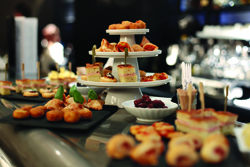 On a weekend evening in Italy we would often have seven or eight Negroni cocktails," the barman at Mayfair's chic Banca restaurant tells me as he mixes up one of the house specialities for me to try for myself.
"That is why we need to have food on the bar with the alcohol." He pours the deep red mixture over ice and hands me the heavy crystal glass, and adds with a charming smile, "But because it is a Wednesday today, you should stop at just four or five."
I'm partaking of the new aperitivo hours at Banca, where Tuesday to Friday from 5pm to 7.30pm the long gleaming silver bar is festooned with luxurious small bites for customers to enjoy alongside their Italian cocktail range.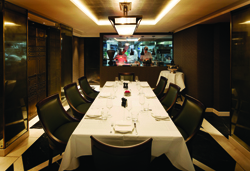 Manager Stefano adds, "Aperitivo is something that was born in Italy where it is a typical habit to go along for drinks before dinner with friends. There are many cocktails born in Italy in the 50s and 60s, based around Campari and other bitters. We are trying to pick up all these cocktails, to keep old ones alive and bring the special Italian aperitivo to London, as you don't have it here."
Negronis are a delicious mix of red vermouth, Campari and gin, which can pack quite a punch, so I'd say if you are going to have more than one you need to have something to eat alongside it. The salmon and beef tartar are accompanied with delicious savouries, focaccia and mini pizza bites, all made in the Banca kitchens downstairs, designed by Head Chef Alessandro Scala and Sous Chef Fabiano Grassi. Take a look inside the Banca kitchens in a video on our YouTube channel – just search for ItaliamagazineTV to find us.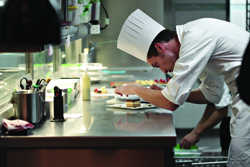 As well as the five Negroni variations served here, you're bound to find your favourite Italian drink, with their Bellinis and Aperol Spritz being just as good as any I've had in Venice. I also try the Negroni sbagliato, or 'wrong Negroni', where the gin in the classic is replaced with Prosecco, to make a slightly less strong drink – which makes me realise I have made it to the Wednesday four drinks predicted by the barman. I can believe it! I have just one excuse: it does feel like a little slice of Milan in the heart of London, and at around £10 for a drink, accompanied by such delicacies you'd be mad not to linger a while…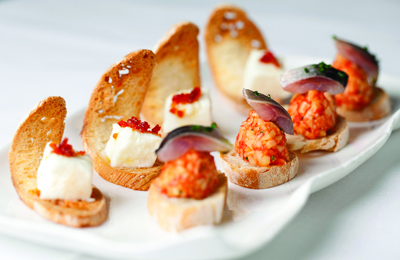 Tomato crostini I Acciughe con mozzarella salsa di pomodoro su crostone di pane I Serves 12 I Preparation 20 mins I Cooking 1 hour
For the tomato sauce
2 x 500g chopped tomatoes
1 white onion, extra-finely diced
4 tbsp of olive oil
For the crostini
12 slices of ciabatta bread, toasted
12 fillets white anchovy
100g tomato sauce
100g buffalo mozzarella, finely diced
Leaves from two sprigs of fresh oregano
First make the tomato sauce. Heat the oil to medium hot. Add the onions, and fry rapidly for 1 minute, stirring, then reduce the heat to low and cook the onions very gently until they are translucent and faintly golden. Add the tinned tomato pulp, 250ml of water and salt and pepper to taste.
Bring to the boil and then reduce by cooking for at least 1 hour or until the oil floats free of the sauce. If the sauce becomes too dry add a little water from time to time. Once the sauce has reduced, use a whisk to break up any remaining large pieces of tomato in the sauce.
Combine the tomato sauce, mozzarella, oregano, and olive oil together, adding salt and pepper to taste. Spoon the mixture onto the sliced toasted ciabatta and top each aperitivo with a white anchovy fillet.
…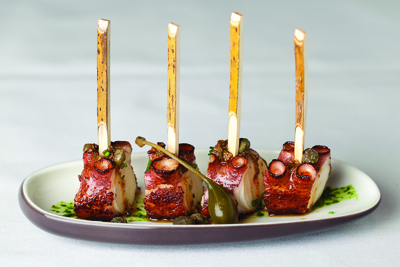 Octopus antipasti I Polpo alla piastra I Serves 12 I Preparation 15 mins I Cooking 1 hour
1 large octopus
1 carrot, chopped
1 onion, chopped
1 celery stalk, chopped
1 garlic clove, chopped
Olive oil
20g capers
3g paprika
10g parsley, chopped
10g vinegar
Place the octopus in a large saucepan of boiling water for 50 minutes. Turn off the heat and add one chopped carrot, celery stalk, onion and garlic into the boiling water with the octopus. Pour the vinegar in with the rest of the above ingredients and allow to cool down
in the water for 20 mins.
Heat a separate pan and add a splash of olive oil.
Carefully remove the octopus from the water and place in the hot pan to sear on each side.
For the dressing, chop the capers and mix with olive oil, paprika and the chopped parsley.
Cut the octopus into pieces and place about 1cm apart in two vertical lines. Place a skewer into each mouthful for service.
Finish by drizzling dressing over the dish, and serve.
…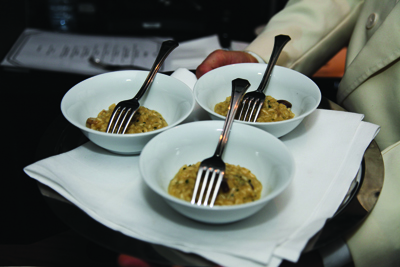 Risotto with porcini mushrooms I Risotto ai porcini I Serves 12 I Preparation 10 mins I Cooking 15 mins
360g Arborio rice
½ glass white wine
80g butter
2 litres vegetable stock
4 medium porcini, sliced
1 clove garlic
30g Parmesan, grated
Handful chopped parsley
Salt and black pepper
Place the Arborio rice in a pan and coat the grains in 30g of butter. Pour in the white wine and allow it to evaporate.
Add a pinch of salt and the vegetable stock and cook for 10-12 minutes.
In a separate pan, add in the porcini and sauté with the garlic.
Add the sautéed porcini to the risotto and leave to cook for an extra 5 minutes.
To finish, add 50g of butter, Parmesan and the parsley.
Season with a pinch of pepper and serve.
…
Spinach and parmesan salad with balsamic vinegar I Insalata di spinaci e parmigiano all'aceto balsamico I Serves 12 I Preparation 5 mins
200g baby spinach
20g white wine vinegar
40g olive oil
30g Parmesan shavings
10g aged balsamic vinegar
Pinch of salt
Dress the baby spinach with white wine vinegar, olive oil and salt.
Add Parmesan shavings on top of the spinach and sprinkle with aged balsamic vinegar.
MORE INFORMATION
Banca Ristorante Italiano
Sample the apertivo hour at Banca,
Monday to Thursday, 5pm-7.30pm
30 North Audley Street, London, W1K 6ZF
0207 647 2525
www.bancarestaurant.com
All recipes from Banca Ristorante Itliano