The red wines of Tuscany are many and varied – it's not all about the Big Three. Paul Pettengale explores deeper into the region and picks some gems from off the beaten track…
Although Tuscany is as well-known for its wines as for its rolling landscape and incredible sunlight, it's actually a relatively small producer of wine in terms of volume. Yes, it's the country's third largest producer of accredited (DOC and DOCG wines), behind Piedmont and the Veneto, but it ranks eighth in total volume. Poor soil accounts for this to a great extent, though – until as recently as the 1970s – it has been because the wine producers in the region had concentrated largely on the Big Three: Chianti, Brunello di Montalcino and Vino Nobile di Montepulciano. White wines hardly got a look in and the other wine-producing zones would typically make simple table (IGT) wines for knocking back with a hearty stew.
Things changed, however, in 1969. Tenuta San Guido, a winery in the Bolgheri zone of coastal, southern Tuscany started producing a wine called Sassicaia, using 85 per cent Cabernet Sauvignon and 15 per cent Cabernet Franc grape varieties, aping the great Bordeaux wines of France – varieties that weren't 'legal' in the production of Tuscany wines at the time. Yet despite having to use the lowly IGT label denomination it went down a storm, scooping numerous awards upon release. The Super Tuscan wines were born! And it wasn't long before the bigger and more well-known wineries of the region started to create their own. Although Sassicaia still commands huge prices, there are alternative red wines from Tuscany that deserve respect. We suggest you turn the page for our selection.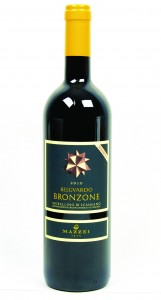 Bronzone Morellino di Scansana 2010, Tenuta Belguardo
From Great Western Wine
www.greatwesternwine.co.uk
Price £19.95
This elegant wine is made using just the local Tuscan Sangiovese grape variety. Richer that a Chianti, it has pronounced cherry and dark plum aromas with a touch of wood smoke and tar. Dark red in colour, it is both richly textured and very full of body, with a good tannic structure and plenty to draw you back on the finish. A fine expression of Sangiovese and perfect with winter stews and hearty soups.
Great with…
Tuscan dishes such as 'hunter's chicken', and anything with wild boar.

Dogajolo Toscana 2012 IGT, Carpineto
From Majestic
www.majestic.co.uk
Price £11.99 (see text)
This IGT-classified wine (table wine, essentially) is made of two grape varieties; the local Sangiovese and the 'imported' Cabernet Sauvignon, though the juice from each is vinified separately before being mixed and stored in oak barrels. This makes for a rich, though not over-powerful blend. The Sangiovese lends cherry and blackberry fruit while the Cabernet Sauvignon gives cedar and a touch of weight and sophistication. Oh, and it's only £8.99 a bottle when you buy two.
Great with…
Venison sausages, prime steaks and all manner of roasted red meats.

Le Volte Dell'Ornellaia 2012 IGT, Ornellaia
From Majestic
www.majestic.co.uk
Price £24.00 (see text)
The Ornellaia brand is long associated with Super Tuscan wines. It's one of the oldest, and one of the best, though it's extremely expensive (£150 a bottle or so, depending on the vintage). However, just £24 (or £19 if you buy two) buys you its baby brother from the same winery. A mix of Bordeaux and local grape varieties blended and matured in oak barrels for ten months. Dark and extremely rich it packs a serious blackberry punch.
Great with…
All sorts of game will work well with this, especially haunch of venison.
Villa Antinori IGT 2011, Antinori


From Waitrose
www.waitrose.com
Price £14.99
The proud and remarkably-established Antinori estate boasts more than 600 years of wine-making and is famed for its Chianti Classico wines. This one, an IGT-classified wine, uses a fine blend of Sangiovese, Cabernet Sauvignon, Merlot and Syrah to wonderful effect. Matured in oak, the resultant wine is very fleshy with lots of dark forest fruits and hints of cedar and oak. It's a robust, potentially challenging wine that definitely needs to be enjoyed with food.
Great with…
Rare roast beef, preferably fore rib, and dark, sticky winter stews.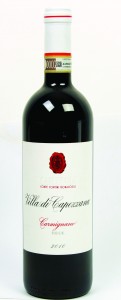 Carmignano 'Villa di Capezzana' 2010, Capezzana
From Liberty Wines
www.libertywines.co.uk
Price £24.99
The blend of Sangiovese and Cabernet Sauvignon grape varieties gains more and more support in Tuscany and when you taste this wine from Capezzana you'll understand why. The Cabernet brings with it real power and backbone to the (relatively) fragile Sangiovese, creating very complex wines that retain subtlety and – above all – wondrous levels of flavour. This one is full of ripe black cherries, soft summer fruits and a meaty, long finish.
Great with…
A T-bone steak cooked over embers, or field mushrooms fried in butter.
Sangiovese di Toscana 2012, Scopetone


From Berry Bros' & Rudd
www.bbr.com
Price £11.99
Not all wines from Tuscany have to fill your mouth with powerful dark fruit. We deliberately picked this wine because it demonstrates the playful, lighter side of the Sangiovese grape variety. It's a red wine that has fresh fruit aromas, a lively balance and can easily be drunk on its own rather than with food. There's a blackberry and apple twang to it with a bit of bramble thrown in. That said, it's no washout, with enough character to have you coming back for more.
Great with…
Lighter meat dishes, traditional Tuscan soups and soft cheeses.
Tags:
red wine
,
Tuscany
,
Wine