Take a look at the latest Italian products you can find on the market this summer…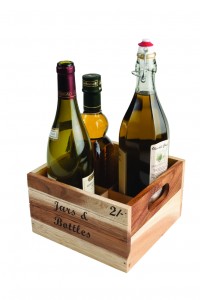 Give your kitchen a dose of rustic tidiness with this new range of wooden storage crates from T&G Woodware – we especially love the bottle holder idea for oils and balsamic vinegar.
This new Baroque range of storage solutions is made from acacia wood and also features a recipe box, spoon holders and trivet to complete your kitchen's look.

See the full range online at www.tg-woodware.com and search for your nearest stockist. The wooden bottle crate shown (with four compartments) is £17.99.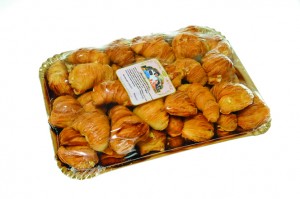 If you come back from Italy longing for another crumbling mouthful at breakfast, treat yourself to a tray of delicious sfogliatelle pastries from Something Italian.
These croissant-style dolci are perfect for the morning after a family celebration – especially as the oozing chocolate cream inside seems to keep everyone happy.
The recipe originates from Naples, where melt-in-the-mouth pastries are part of daily life.
You can order a 1.3kg tray online from www.something-italian.com (£22).
They come cellophane wrapped for freshness.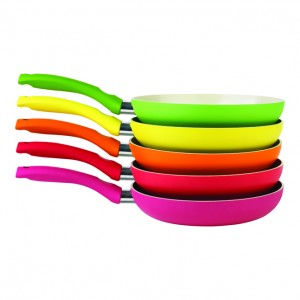 We love this bright range of cookware from designer Kuhn Rikon, and have put one firmly on the wish list for our summer kitchen.
The Colori range – which also has knives, mandolins, citrus tools and graters in matching shades – is new for the 2013 season.
These sturdy-based, fully coated frying pans come in either ceramic induction (shown) or simple non-stick finish, and are scratch resistant, high-heat tolerable and easy to clean.
Check out the website (www.kuhnrikon.co.uk) or call 01902 458 410 to find your nearest stockist in the UK.
Prices are £36.95 (24cm width) or £42.95 (28cm width), and the pans are available in green, yellow, orange, red or fuchsia.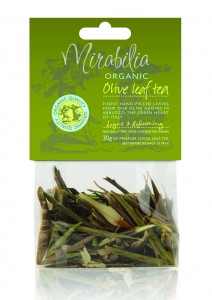 This new range of organic olive leaf tea from Mirabilia brings forward yet another use for the perennially popular olive tree.
Instead of wasting the leaves after the olive harvest, they are collected and lightly slow-dried – then brewed with hot water like traditional herbal tea.
Packed full of the good stuff (it has higher antioxidant levels than green tea, apparently), it has a light and woody flavour that is great for settling the stomach.
It is completely free of caffeine and tannins, too.
Made in the Abruzzo region, you can find this authentically Italian product from www.oleaft.com, Booths supermarkets or Whittards online.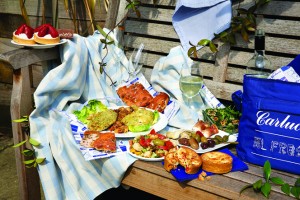 GET FRESH THIS SUMMER
The team at Carluccio's have launched this mouthwatering collection of picnics for the ultimate summer al fresco experience. Order a classic hamper for two and you'll be treated to the following: antipasti misti (with succulent olives, capers, artichokes and balsamic onions), a pearl barley insalata with broccoli, rocket and toasted hazelnuts, savoury goats' cheese tarts with red pepper and pine nuts, and a summery chicken dish with potato, red onion and salami side. Plus, you get a strawberry and balsamic tart for dessert with a chocolate bar to share. What a menu! Call your nearest Carluccio's restaurant 24 hours in advance to arrange, or take a last minute chef's option. Hampers cost £45 (children's options available for £10) – for more information see www.carluccios.com.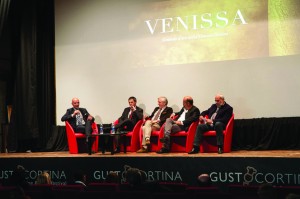 GET READY FOR GUSTOCORTINA
The prestigious wine and food festival, Gustocortina, has set a date for this year. On 16 and 17 June, food enthusiasts from around the world will descend on the Venetian town of Cortina d'Ampezzo to celebrate regional cuisine, viniculture and specialities. Over the two days you can meet the producers, attend themed tastings and learn more about what makes this region special. The region of Veneto is famed for its world class winemaking, and so much of the festival will be spent celebrating new vintages. Hosted at the Hotel De La Poste, see the website www.gustocortina.it for more information on how to attend.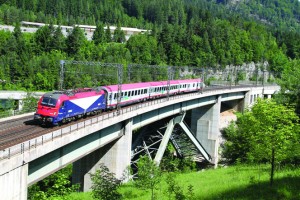 NEW RAIL LINKS TO CIVIDALE DEL FRIULI
Exploring Italy by train is one of the country's simplest pleasures, and now you can head to the UNESCO World Heritage Site, Cividale del Friuli, via a new high speed rail link. With an aim to increasing the medieval town's accessibility and tourism, the route was funded by local authorities in the region of Friuli-Venezia Giulia and nearby Carinthia in Austria. Responding to calls from European travellers, it is intended to make it much easier to visit the town throughout the year, with links from abroad and the neighbouring Italian city of Udine. Cividale del Friuli is a quiet town with a well-preserved historic centre at its heart, and was given World Heritage status in 2011 for its links to the ancient tribe of Lombards. You can now reach it within 20 minutes of Urdine – see www.trenitalia.com for timetables and tickets. For more information on the historic town of Cividale del Fruili, visit www.comune.cividale-del-friuli.ud.it