With Easter falling early this year, our April selection is testament to the fact there is still plenty to do this month throughout Italy – we look at spring festivals, liberation day, art exhibitions and wine tastings in our selection of events…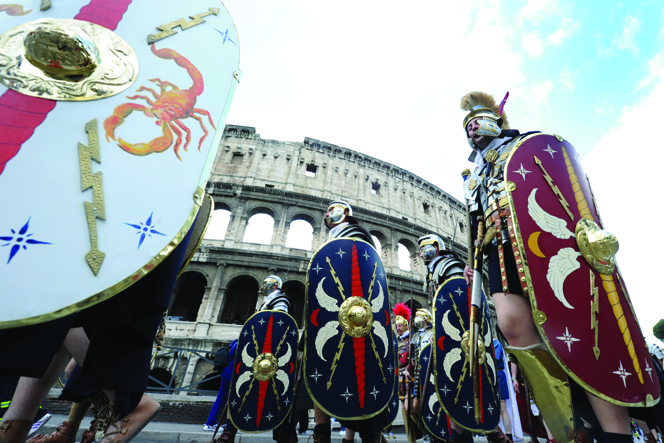 VENICE INTERNATIONAL BOAT SHOW
5-7 & 12-14 April
Venice, Veneto
A great time to visit Venice is during this vibrant boat show, which takes place over two weekends and offers an alternative to the typical gondola scene. Held every year in the Parco San Giuliano, this popular show is a favourite with boat exhibitors and admirers alike. A fantastic opportunity to learn more about sailing boats from the experts and witness some exciting sporting displays.
www.festivaldelmare.com

 ……………………………………….
MIART
5-7 April
Milan, Lombardy
If you are an art-lover than this international modern art fair held in Milan should certainly be considered. This well-established fair exhibits the work of more than 200 different artists over three days and welcomes around 30,000 visitors through its doors. Expect to see a mixture of modern and contemporary pieces as well as some projects of a more experimental nature.
www.miart.it/en
  ……………………………………….
PROCESSION OF THE CROSS
6-9 April
Rome, Lazio
By far the biggest event of Easter is the famous Via Crucis or Way of the Cross procession. In this celebration the pope leads a solemn torch-lit procession from the Colosseum to the Palantine Hill to commemorate Christ's last walk to Mount Golgotha. With the news of Pope Benedict XVI stepping down, this may be a great opportunity to catch a glimpse of the newly elected Pope at work.
  ……………………………………….
SU E ZO PER I PONTI
7 April
Venice, Veneto
Unlike the International Boat show, this event in Venice is centred on dry land. The best way to explore the city is on foot and Su e Zo per i Ponti (literally translating as up and down the bridges), is a unique and quirky opportunity to do so. In true Italian spirit the event encourages everyone to take part so don't hesitate in joining the mass of walkers as they cross the numerous bridges in a fun atmosphere.
  ……………………………………….
HALF MARATHON
7 April
Florence, Tuscany
If you would like to exercise in a slightly more demanding environment then look no further than the annual Florence Half Marathon. This is a fun day out for all and includes a marathon village set up in the city centre to entertain both participants and spectators. Vivicittà, as the event is known, has steadily grown in popularity over the years and there is a mini run so even the kids can get involved! www.vivicitta.uisp.it
  ……………………………………….
GOLDEN FROG RACE
7 April
Fermignano, Le Marche
The Golden Frog race, or Palio della Rana, is an amusing and somewhat bizarre Italian tradition. Young men in regional costumes run around the 170m track carrying a single frog in a wheelbarrow. Each frog is examined by a medical specialist before and after the race – yes, really. There are many other attractions including falconers, music, fireworks and a parade through town with lords and ladies, knights and dramatic drums.
  ……………………………………….
VINITALY
7-10 April
Verona, Veneto
We love wine here at Italia! and so it is only natural that this exhibition caught our eye. Held in Verona, Italy's largest wine and spirit exhibition allows you to rub shoulders with professionals and exhibitors who bring their passion for wine from all over the world. The opportunity to taste some of the best wines awaits – how can any budding connoisseur resist?
www.vinitaly.com/en
  ……………………………………….
FIORI E SAPORI
14 April
Milan, Lombardy
For one day the Naviglio Grande canal in Milan is transformed for the Flowers and Taste festival. Expect to see beautifully arranged stalls boasting a variety of products from the 200 or so exhibitors who flock to this historic setting from all up and down the country. The copious sights and smells on display are a pleasure to behold.
www.naviglilive.it
  ……………………………………….
ROME'S BIRTHDAY
21 April
Rome, Lazio
Not every city celebrates its birthday, but Rome does on 21 April each year, as it was this day in 753 BC that Romulus founded the Eternal City. Romans today celebrate the event with bands on Piazza del Campidoglio and fireworks over the River Tiber. Rome's monuments, archaeological sites and many museums allow free entry on the day.
www.gsr-roma.com
  ……………………………………….
INTERNATIONAL JOURNALISM FESTIVAL
24-28 April
Perugia, Umbria
For the seventh year running, Italian and international journalists will gather in Perugia for this long weekend of talks on a range of subjects. From modern social media platforms to traditional print journalism, there is bound to be an endless array of subjects. The programme is yet to be confirmed, but there are hundreds of exciting speakers booked – see online for more details.
www.journalismfestival.com
  ……………………………………….
LIBERATION DAY
25 April
Throughout Italy
Liberation Day is celebrated throughout Italy to mark the day in 1945 on which the Partisans rose up and overthrew Mussolini and the Germans, bringing World War II to an end. Concerts, political rallies and parades take place in many towns, with Rome playing host to the most voluminous programme of events. Be aware that most touristic shops, museums and restaurants will be closed.
  ……………………………………….
FESTIVAL OF SAN MARCO
25 April
Venice, Veneto
Aside from the Liberation Day celebrations, in Venice it's also the day of another important festival – the feast day of Venice's patron saint, San Marco. The highlight of the day is a procession in Piazza San Marco and it is traditional for men to present the women in their lives with a red rosebud.