Here we review a new book from food writer Valentina Harris, updated travel guides and insightful fiction – read on for our selection of recently published Italian books this month…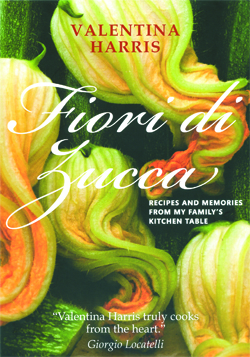 Fiori di Zucca
by Valentina Harris, published by Duncan Baird, £20 (hardback)

As the author of more than 40 internationally successful titles and from her regular appearances on British television, Valentina Harris has been given the prestigious title 'Queen of Italian Cookery'. Of the many cookery books she has published, none are as rich or as personal as her latest, Fiori di Zucca – a food memoir that delves deep into Valentina's intriguing family history to uncover the gorgeous recipes that have been handed down through the generations. Growing up in the idyllic landscape of Tuscany meant that Italian food was always a significant influence in Valentina's life. But she also attributes the number of international dishes to the travelling exploits of her grandfather Carlo and his courageous wife Valentine, from whom many of the recipes in this book originate. Fiori di Zucca is a great mix of anecdotes, memories, recipes and photographs, beautifully presented and with plenty of inspiring flavours to bring your Italian kitchen alive.
by Antonio Pernacchi, Dedalus, £12.99 (paperback)
After its outstanding success in Italy, where it has sold over 400,000 copies and was awarded the Strega Prize in 2010, The Mussolini Canal has now been translated into English. The story spans a century of Italian history as seen through the lives of the Peruzzi family, who were relocated as part of one of Mussolini's initiatives to increase the amount of productivity from the south. Although the characters are fictional, their experiences would have been felt by many of the 30,000 peasants from the north sent down to farm the newly-drained Pontine Marshes outside Rome in the 1930s.
by Robert M. Edsel, W.W. Norton & Company, £20 (hardback)

One of the lesser-known battles during World War II was to protect mankind's greatest cultural treasures. Italy sheltered an incredible amount of priceless art from significant periods of history. Cherished pieces of art were vulnerable to aerial attacks as the two sides fought for occupation of the country – an Allied bomb came within whiskers of destroying Leonardo Da Vinci's masterpiece The Last Supper in Milan. But an even greater concern was the Nazi's ambition to loot Italy of its irreplaceable artefacts. As the Allies invaded, a team of scholars was set up to track down the stolen art and protect Italy's museums and churches. This is the story of those heroic actions in the face of senseless destruction, by an author with a profound knowledge of the subject.
Wine Trails of Italy
Published by Michelin, £14.99 (paperback)
This new book from Michelin is great for those who share our passion for Italian wine. It provides detailed information on 750 of the best wineries waiting to be discovered all over the country. Also, there is an extensive introduction designed to help you improve your knowledge before embarking on a wine adventure. Just what you need before touring Italy.
The Rough Guide to Italy
Published by Rough Guides, £17.99 (paperback)
Rough Guides have been a reliable source of travel assistance for many years and now they have released their 11th edition for Italy. Find all you need to know when planning your trip with expert advice on the best sights, hotels and restaurants with every region covered in depth. The text is accompanied throughout by easy-to-read maps and stunning photography.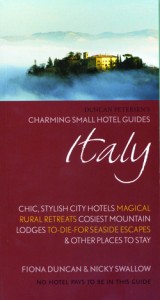 Charming Small Hotel Guides: Italy
by Duncan Peterson, £16.99 (paperback)
This is a guide with a difference. Firstly, it doesn't take payments from hotels so the reviews are guaranteed to be objective. Also, with 500 hotels included it is the biggest selection for Italy in one guide. You won't find many chains or oversized resorts here as preference is given to intimate places with character and, of course, charm.