Jon Bickley takes his family on the trip of a lifetime to the Forte Village Resort in Sardinia, only to find that it is easier than you might imagine to keep everyone happy on holiday?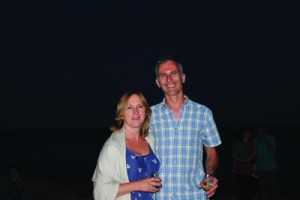 It started with a train journey from London and ended in a luxury resort in Sardinia ? if only all rail travel had such happy conclusions! Heading back to Bath from a day of meetings in London I decided to forsake emails and spreadsheets on my laptop and just read the paper instead. As I flicked towards the crossword, my eye was drawn to an Italian travel feature. Always on duty, I began to read about the Forte Village Resort in Sardinia ? a five star complex featuring eight hotels, nine swimming pools and 21 restaurants.
What?s more, I learned the resort was renowned for its sports facilities and as something of a haunt for pro sports stars. We?d been discussing covering a resort-style holiday for a while and this seemed the perfect opportunity.
Fast-forward to the May half-term and my family and I were stepping off the plane at Cagliari airport to be met by a smart chauffeur who led us to his Mercedes people carrier. As we whispered along the road to the resort my ten-year-old son Ben declared ?I like this holiday?. Minutes later and walking through the immaculate grounds to our twin chalets, Ben elaborated, ?I really like this holiday?.
Those of you who?ve read Italia! for more than a couple of years will have witnessed my family?s progress up and down the Italian peninsula and across the sea to its islands. While we?ve had the time of our lives exploring il bel paese, it?s fair to say that five star has never been our scene.
Tents and mobile homes have been the order of the day while our children went through those toddler and primary school years ? a kids club as essential to the children?s entertainment as it was to our fractious moods. But now they were at secondary school, we felt ready to risk the more refined hotel surroundings and requisite good behaviour.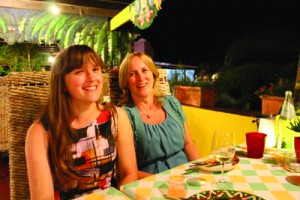 KEEPING EVERYONE HAPPY
I wish we?d done it sooner. This was luxury exactly how we wanted it. Loads of space and freedom, no stuffiness, fantastic food, friendly but never obsequious staff and superb opportunities for sport and relaxation. Let me declare right now, we?re looking into going back again this year. Of course luxury doesn?t come cheap and we heard some eye-watering prices for the top-end options ? but with all the activities on hand, it?s quite close to the cost of a ski resort.
And as for kids clubs, there was one anyway. During our initial enquiries we?d looked into booking Amy (12) and Ben into the official Chelsea Training Camp, but were drawn instead to the Super Skills Travel Rugby Camp ? headed up by no less than England heroes Will Greenwood and Austin Healey. The two had originally offered a bit of coaching in exchange for a holiday a few years previously, but one of the dads grasped the idea and quickly developed it into a fully-fledged
sports holiday company. Ben and Amy joined around 40 other kids aged 6-13 each morning for age and ability-appropriate training.
Despite coming from Bath and being pretty sporty, neither of my kids was a regular rugby player, but with the personal input of a World Cup winner and a British Lion they had soon embraced a new favourite sport. I can?t emphasise too much how brilliantly the two players, along with their equally empathetic coaching colleagues, worked with the kids, culminating in awards at the end of the week and personally recorded videos of each child?s progress.
FINDING A BALANCE
It wasn?t just sport ? though there?ll be time for more later ? as my wife Cath isn?t one to be a rugby widow or full-time soccer mum. Sure enough, on the first morning that the kids were in rugby camp, we treated ourselves to the Thermae del Forte spa. Guided through the prescribed sequence of pools, showers and relaxation areas, we sampled a variety of salt densities, aromas and temperatures before arriving in the sea oil pool.
It?s an extraordinary experience to float in something with the density of Fairy Liquid and the buoyancy of the Dead Sea. Happily we weren?t the only ones to find it more than a little amusing, although the salt?s ability to find your slightest nicks or cuts brought tears of pain as much as laughter to the eye.
Away from the spa we enjoyed the variety of three main pools offering a salt-water pool with slides, a larger central pool with diving boards and a smaller family pool which wouldn?t be recommended to anyone with sensitive ears or an aversion to splashing (such is the expanse and clever landscaping of the resort that I?m not even sure where some of the other six pools were). We typically took up residence at the central pool after rugby and lunch. Ensconced between restaurants and bars, it was a surprisingly calm area where you could while away the afternoon with coffees, ice creams, reading and dozing.
Amy settled in to a happy afternoon routine of lengths and sunbathing, but restless Ben had none of that, instead translating his gymnastics to the diving board and quickly making friends with other fearless lads. Before we knew it they were making arrangements for go-karting races at the top of the resort ? and thus a new, adrenaline fuelled aspect was added to the holiday mix.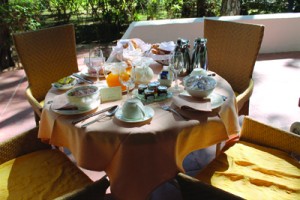 PLENTY TO EAT
Perhaps the other most memorable part of the week was the dining. With a choice of 21 restaurants, you never had to eat in the same place twice ? although by day five we were returning to our favourites. With the comfort of a half-board holiday at the back of our minds, each evening we were able to indulge in everything from steaks and skewers at Brazilian and Argentinian restaurants, fine dining from Michelin-starred chefs, delicious fish at the Sardinian restaurant and informal Italian food across the resort. The resort?s flagship Gordon Ramsay restaurant wasn?t open when we stayed, but with such abundance elsewhere we hardly felt we missed out. I?m not sure we?ve ever eaten so well ? and all the more enjoyable without wondering what terror the bill might reveal.
A WEEK TO REMEMBER
Oh, and did I say there was more sport? Absolutely. Each day there was dads? five-a-side football where I got to play alongside pros from Bayern Munich, Newcastle and Leicester City ? a mixed sensation which made you feel a million dollars as you exchanged passes with them, but dejected when they waltzed past you towards the goal for the opposite team. Then there was some superb mountain biking where I was handed a featherweight Bianchi model and waved off with the plea, ?Be careful, it?s my own personal bike?. But the abiding memory, and most oft recounted tale, is how in the dads? touch rugby match, England centre Will Greenwood fed me the pass to score what I remember as a spectacular try. Perfect.
All in all, a truly memorable experience for the whole family, which may just have spoiled us for life. So if, like us, you wrestle each year with whether it?s worth spending that much on a week?s wintry skiing, why not give a thought to a week of summer sporting luxury instead?
WHERE TO STAY
Il Villagio
We stayed in connecting bungalows in Il Villagio?s peaceful Mediterranean gardens. Close to the spa, but slightly removed from the hub of the resort, our bungalows felt like a special retreat
? all the more enhanced by daily deliveries of Prosecco, sweets and fruit bowls.
The Royal Pineta
The Royal Pineta offers double and triple rooms for larger families in a luxurious two-storey horseshoe style building.
Cala del Forte suites
For that very special occasion there are the four Cala del Forte suites perched on the seashore, complete with a British-style butler.
WHERE TO EAT
Choices seem endless, and certainly if you?re staying for a week you won?t grow bored!
Le Dune
Our finest dining of the week was at Le Dune. With a terrace nestled by the beach, this seafood speciality restaurant featured a delicious tasting menu prepared in the open kitchen. As with the other fine dining restaurants, Le Dune can attract a supplement depending on which accommodation you stay in.
Gordon Ramsay
Nodding his head to French, Asian and Mediterranean cuisines, Gordon Ramsay?s signature restaurant is high on everyone?s list for a special night – so book ahead if you?re visiting. Sadly it wasn?t yet open for the high season when we stayed.
Pineta Restaurant
One of our favourites with an incredibly high quality buffet, served among an ancient pine forest. It took immense self-control not to simply fill up on delicious antipasti before considering the range of secondi and dolci.
Brazilan Restaurant
Prosaic name, but exciting tastes. We had a great evening enjoying a range of spit-roasted meats, accompanied by South American rice, vegetables and potatoes, along with a lively atmosphere.