There is no escaping the importance of olive oil ?in Italian cuisine, but what of the modern infusions ?that are becoming increasingly popular?…
If you are a cook who treasures time saving techniques, then infused oils are Italy?s very own short cut to flavour. After such a long-standing love affair with olive oil, the country can often be divided into two camps when it comes to modern infusions ? those who think it blasphemous and would rather keep it puro, and those with a little more adventure in their soul. These days you can find a great range of quality infused oils without even crossing the Channel; supermarkets especially have cottoned on to their popularity, given how easy it is to drizzle into a pan instead of, say, incessantly chopping up garlic and chilli. And then of course there are the extensive health benefits of the oil itself, which is why it is such an essential part of Italian cooking (and indeed the lifestyle). So, as much as we adore drowning fresh bread in unadulterated extra-virgin olive oil, there is a convenience to infused oil that can?t be avoided. When used sparingly, they can add a fantastic flair to salads, antipasti, fish or meats. So, with your best interests at heart, we chose an array of popular flavours to try from our favourite retailers.
Editor's Choice
CARLUCCIO'S OLIO AL LIMONE
From Carluccio?s
Price ?8.50/250ml

For a special place in your store cupboard, invest in one of these bottles of lemon oil from Carluccio?s. It pours unctuously into a bowl ? a greenish-yellow suggesting ?a top quality extra-virgin oil at the base. It just begs to be dipped or tipped over a summer salad ? the simplest way, really, to dress up a bowl of green leaves without even a second thought. No mixing or whisking, just a quick splash and you?re away.
You can expect a complex flavour from this oil, too, with an initial sweetness and zing that graciously bows out to an understated warmth. There?s no aftertaste to speak of, but then we quite enjoyed the short, clean burst ?of flavour, and a few of the other oils could have benefited from a milder finish such as this. Our panel became very enthused when somebody mentioned lemon drizzle cake ? ?it does have an uncanny likeness, once you notice it, with the same sugary sensation on the tongue balanced with a citrus zest.
The price is a little bit more than we?d usually spend on a bottle of oil, but it?s worth it because, although the supermarkets are quite good at basil and garlic oil, there really isn?t another widely available lemon oil that can match it. An all-round crowd pleaser that was easily consumed with chunks of fresh bread, but would also compliment a piece of fish, home-made risotto, or a gooey mozzarella salad with roughly torn fresh basil. Delightful.
VERDICT ?????
Everyone loved this well-balanced zesty oil, and we think it would be a great addition to summer recipes.

JAMIE OLIVER EXTRA-VIRGIN OLIVE OIL WITH BASIL
From Jamie?s Deli
Price ?7.50/250ml
Compared to our other sample of basil-infused oil, this one was much stronger with an intense, spicy flavour that lingers on the palate. Most of us preferred the lighter and more subtle version from Waitrose, but in its defense this oil would be perfect when paired with forceful flavours such as sundried tomatoes or salty Grana Padano. We thought it was a bit pricey, too, considering the competition.
VERDICT ???
Quite a strong flavour with good spice behind it, but a tad on the expensive side.

CARLUCCIO?S OLIO AL PEPERONCINO
From Carluccio?s
Price ?8.50/250ml
A startling colour, we?re sure you?ll agree, with a flavour to match. We had a bit of trouble getting in the bottle, but once there we were treated to an extremely powerful chilli oil that really packs a punch. You don?t need to use much to get a result ? which is actually rather economical ? but do be aware that the heat of the chilli will grow in the mouth, so less is more. For some of ?the panel, this pungent oil?was all too much!
VERDICT ??
A gutsy chilli oil, perfect for heating up spaghetti with plenty of Parmesan.

M&S GARLIC EXTRA-VIRGIN OLIVE OIL
From Marks & Spencer
Price ?3.89/250ml
Garlic oil is one of the most popular infused varieties, ?and this is a fine example. ?An incredibly strong and earthy aroma, as you?d expect, leads into a much more subtle flavour, with all the rich base notes indicative of Italian cooking. ?A twist of pickled onion also lingers on the end, with a mild heat remaining on the tongue. We loved this punchy flavour ? the perfect match for bold meats such as steak or lamb ? and think it?s a real essential.
VERDICT ????
When you need a powerful, in your face garlic oil (which we often do) this is just right.

VALLEBONA LEMON OIL FROM SARDINIA
From Vallebona
Price ?7/100ml
Our editor particularly liked this one, but the rest of us weren?t so sure. It unquestionably has character ? a bitter-sweet lemon flavour that would be superb drizzled over a Waldorf salad. It also has a distinct tang of pleasantly alcoholic limoncello before mellowing into a fresh, grassy taste. It?s a complex oil that transforms in the mouth, and for that reason it really needs to stand among simple flavours such as white fish.
VERDICT ????
Complex and sophisticated, this oil divided opinion with its bitter-sweet lemon taste.

WAITROSE BASIL INFUSED OIL
From Waitrose
Price ?3.19/250ml
This powerful basil oil from Waitrose oozes from the bottle with a healthy, olive green colour and a strong herbaceous aroma ? basil, of course, but also the suggestion of oregano. On the tongue, it?s surprisingly peppery but doesn?t out stay its welcome. It makes a good substitute for pesto ? indeed, if you needed to make a quick version without fresh basil, this might be the perfect store cupboard rescue plan. A great supermarket option.
VERDICt ???
For the price this is an excellent supermarket version of basil oil.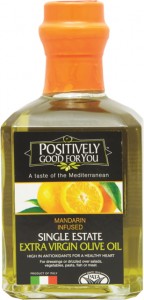 MANDARIN INFUSED EXTRA-VIRGIN OIL
From Positively Good for You
Price ?7.50/250ml
We chose the most unusual infusion from this excellent new brand of oils ? other flavours include bergamot, rosemary and, their most popular flavour, garlic, black pepper and balsamic. Sound inventive? They certainly are. The mandarin oil took some getting used to, but we adored the bright and zesty flavour that reminded us of an Old Fashioned cocktail. A beautiful infusion certainly worth a try.
VERDICT ????
Explore this fantastic range of experimental flavours and you won?t be disappointed.
Tags:
blog