Fleur Kinson picks a selection of the best activities and events to get involved with during a stay in Ravello?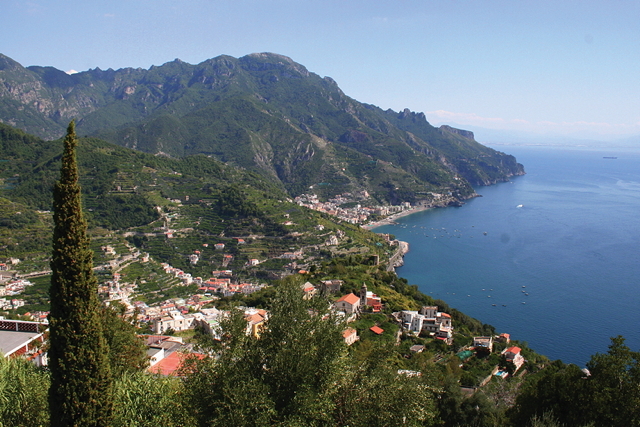 MUSIC IN THE OPEN AIR
From March to November, the Ravello Concert Society organises numerous performances of classical music. Most are held in the peerless setting of the Villa Rufolo gardens, with jaw-dropping vistas of coastline far below. The dreamy evening twilight fades to starlit black as the music envelops you.
HIKING IN THE HILLS
Ravello is surrounded by crisscrossing ancient pathways that cut across the Lattari mountains. Make sure you explore these during your stay. A simple route is to take the Via Roma along to Minori – a journey dotted with spectacular views. It?s quite a steep incline, though, so your best bet is to catch a bus for your return.
MAJOLICA SHOPPING
Brightly-coloured ceramic work is a ubiquitous feature of the Amalfi Coast ? from restaurant plates to souvenir trinkets. Take time to admire it while you?re here. Especially recommended is the large ?Pascal? factory-shop at Via Roma 22. Owner Pasquale Sorrentino is an enthusiastic, multi-lingual charmer.
THE RAVELLO FESTIVAL
If, like most visitors, you come between late June and late October, be sure to check out the manifold offerings of the Ravello Festival. This annual four-month extravaganza specialises in top-level musicians of various genres, but the programme also features dance, art and cinema screenings.
WHAT TO SEE AND DO
Piazza Duomo
The undisputed heart of Ravello, this pleasant square is ringed by umbrella-shaded caf?s and pretty souvenir shops, watched over by the dainty cathedral. It?s a place you?re bound to pass through repeatedly as you explore the town. Tranquil and traffic-free, it?s always nice
to find yourself back here again.
The Cathedral
Open daily between 9am-7pm. Ravello?s little duomo is a cheery 11th-century church with a richly ornamented interior. Admire the pictorial bronze outdoors, then go in to gaze at the marble-and-mosaic-adorned pulpits. Downstairs, a museum holds further decorative delights.
Piazza Duomo
+39 0898 57621
Open daily 9am-5pm, entry ?5. One of Ravello?s most delicious places, this rambling 13th-century villa features exquisite 19th-century gardens and glorious views down to the sea. A Moorish cloister and Norman tower are among the chunks of architecture. Descendants of the original gardeners still tend the lavish plants.
Via Santa Chiara 26
+39 0898 57459
Open 9am to sunset, entry ?6. Set on a fertile clifftop at Ravello?s southern edge, the Villa Cimbrone has six hectares of tranquil English-style parkland ? complete with statuary, follies and fountains. It?s an enchanting place to wander lost in thought. The heaven-gazing ?Terrace of Infinity?, meanwhile, is perhaps Ravello?s single most romantic spot.
Piazza S. Cosma 9

+39 0898 57019

Classes run by Mamma Agata have been receiving increasingly good reviews, so head here if you are looking for a culinary day trip. Traditional recipes from the Amalfi Coast are taught in a friendly environment, with plenty of other English-speakers.
Walk it all
Ravello is so small that you can easily explore its every street in a two-day visit ? from tranquil domestic lanes to bubbling pedestrian concourses lined with shops. Be sure your wanderings include the hilltop Via San Giovanni del Toro and the lovely walk out to see Villa Cimbrone.
WHERE TO STAY
Via della Repubblica 8
+39 0898 57222
Nicely situated a short walk from Ravello?s main piazza, the pet-friendly Graal offers stunning views of the sea from every room. The building is decked out in an appealing modern, faintly Art Deco style. There are two restaurants and an outdoor pool.
Double room from ?100
Via Traglio 24
+39 0898 58164
This relaxed, homey B&B has just four rooms ? spacious and spotless with fine tiled floors. Set above the medieval borgo of Torello, some rooms enjoy views down to the sea. It?s ten minutes away from the centre of Ravello, and friendly owners Roberto and Loredana are sure to make
you feel well looked-after.
Double room from ?60
Via San Giovanni del Toro 18
+39 0898 58283
On a quiet street in the heart of town, this classy medieval villa is a blend of ancient charm and modern comforts. You can step from its front door right onto the elegant Piazza Vescovado, and all rooms have stupendous views of sea and mountains. There?s a great outdoor pool, a spa, and lots of elegant vaulted ceilings.
Double room from ?149
Piazza San Giovanni del Toro 2
+39 0898 58801
Deemed one of the best hotels on the Amalfi Coast, the Caruso sits at Ravello?s highest point, with predictably awesome views. The main building is an 11th-century palace complete with frescoes. Outdoor delights include gardens and a beautiful cliff-top infinity pool.
Double room from ?470
Via San Francesco 1
+39 0898 57133
This grand old hotel overlooks the beautiful Rufolo gardens to the sea beyond. There are vine-covered terraces, a pool and a spa. The hotel has hosted some illustrious guests, including DH Lawrence who wrote parts of Lady Chatterley?s Lover here. Enjoy supper on the picturesque veranda, a perfect setting for romance and relaxation.
Double room from ?180
WHERE TO EAT
Via della Repubblica 2
+39 0898 57227
Perched beside panoramic vistas, this reasonably-priced eatery serves pizzas downstairs and a fuller menu upstairs. The food is wonderful, and includes inventive dishes such as squid with pur?ed chickpeas, cod gnocchi and rabbit doughnuts. All of this alongside the seasonal, local food that this part of Italy is famed for. A meal for two costsabout ?45. Closed on Mondays.

Price range from ?26-?50
Via Santa Chiara 2
+39 0898 57255
Set amid organic gardens that supply its kitchen, award-winning Villa Maria has been going for 80 years. Celebrity diners include Susan Sarandon, Matt Dillon and Hugh Grant. The food is fresh, wholesome and excellent, with a menu of traditional and creative Italian dishes. It?s not cheap, though ? a meal for two costs about ?80.

Price range more than ?50
Cumpa Cosimo
Via Roma 44/46
+39 0898 57156
This unpretentious-looking, single-room restaurant has no outdoor seating and no view, but its food is legendary. Reasonably-priced, too. Chef Netta Bottone has been wowing guests for more than 40 years ? including celebrities such as Jackie Onassis and Mariah Carey. Meal for two around ?45.

Price range ?26-?50
Via dei Fusco 5
+39 0898 57135
One of Ravello?s best-value eateries, the Villa Amore has fantastic views from its airy interior and its vine-covered terrace. The menu consists of typical local dishes made from high-quality ingredients. There?s a particularly wide choice of meat courses and steaks. Meal for two costs about ?40.

Price range ?26-?50
Via della Marra 7
+39 0898 58302
In an ancient palace just off from Ravello?s main square, this reasonably-priced restaurant has an elegant interior with high vaulted ceilings and a leafy terrace outside. The food is very good, and the menu varied and interesting. You can expect a meal for two to reach about ?50.
Price range ?26-?50