From sun, sea and sand to clubs, parties and theme-parks to history, style and serenity, Rimini offers every pleasure. Fleur Kinson thinks it might be the happiest place in the world…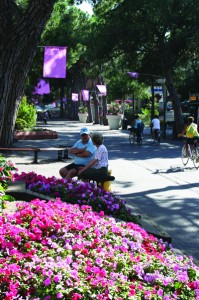 Beach babylon. Nightclubbing mecca. Hedonist's paradise.
You wouldn't expect to rock up to such a place on a humble bicycle, but that's how I first arrive on Rimini's teeming sea-front. Guidebooks are strangely silent on the pleasures of cycling in Italy's largest beach resort, but the park-flanked paths down to the sea are nothing short of idyllic. Serene fellow cyclists glide past me in a constant stream, their faces beatific in the warm afternoon sunshine.
I hadn't long got off the plane when I had abandoned my luggage in my room, grabbed one of the hotel's stout old bikes and pedalled down toward the sand. So I'm still a bit travel-dazed as I dismount and enter the buzzing, pastel-coloured gaiety of the sea-front. I can't see the water for beach huts, children's playgrounds and chic cafés with corrals of outdoor sofas. I fortify myself with a double espresso and step excitedly onto the soft pale grey sand, where I plough through forests of brightly-striped beach umbrellas, side-step hundreds of indolent, oil-shiny sunbathers, and finally arrive at the crowded water's edge.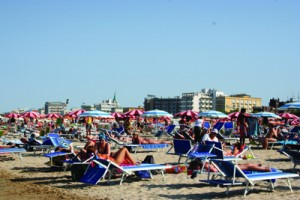 But it's a happy scene down there, with people of all ages wholly abandoned to pure, simple fun. They're leaping about in the waves, strolling along in the shallows, playing ping pong with comically oversized bats on the firm damp shoreline. Everyone, simply everyone, is smiling and laughing. The British on a beach secretly resent other people. They prize privacy and space. But Italians make a virtue of a crowd.
They want to tumble over each other, move together en masse like people on a busy street. Packed with strollers, this water's edge is like the pavement of a capital city. And this crowd enthusiastically welcomes every member. All body shapes are here – athletic, sagging, pert, barrel-like, gym-toned and pasta-bloated. No one cares. No one worries about looking cool. They only care about having fun. I realise it's impossible to be unhappy in a place like this, or to feel alone. There's too much innocent delight wherever you look, too much friendliness. And all of it washed in kind, glowing light, heat and air.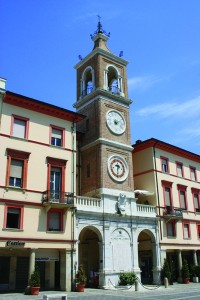 CAPITAL OF FUN
Rimini is one of Europe's very biggest seaside resorts, with a nine-mile beach and an unending choice of leisure diversions. A safe, clean and family-friendly place, its welcoming hoteliers keep people coming back year after year. Some Italians consider it a guilty pleasure to holiday in Rimini. The place isn't sophisticated or exclusive; it's populist and fun. Unashamedly devoted to pleasure, Rimini might be brash, but it's never tacky. It has its serene and historical bits, too; it has its share of artiness and culture. Among the whopping 1,300 hotels, there are über-stylish 'boutique' joints, and there are some gloriously chic restaurants and clubs. Ultimately, though, Rimini aims to have something for everyone.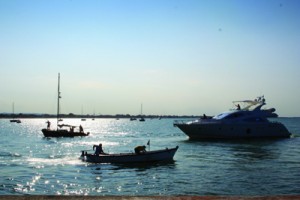 Despite now being famed for frivolity, Rimini has been a surprisingly important place in the past. Founded by the Romans as Ariminum 12 centuries ago, the town was a key hub connecting the long Po Valley road, the Via Aemilia, with the even longer Apennine-crossing road to Rome, the Via Flaminia. A few handsome Roman relics still stand in Rimini today – an Augustan Arch, a 1st-century bridge, and the scanty vestiges of a once vast amphitheatre. In modern times, Rimini renewed its importance during World War II, when its ferocious partisan resistance earned the town a gold medal for civic valour. Largely destroyed by heavy bombardments, Rimini was forced to re-build and re-define itself after the war. Tourism was seen as the future, and large-scale development toward this end has proven successful beyond, I'm sure, even the wildest dreams of the original planners.
Rimini's other claim to fame, of course, is as the birthplace of Federico Fellini. And the great director's work was surely influenced by the brightly-coloured pleasureground in which he grew up. Fanciful, dream-like, lavish and absurd, Fellini's cinematic vision comfortably blends the real and the fantastic – just like his exceptional hometown. (Summertime Rimini's glowing sea-front suggests all the happy superficiality of a film set, while in the winter its deserted façades can seem reduced to two-dimensional stage scenery.) Vaudevillian, smiling-faced Rimini was a perfect incubator for the young Fellini, and you can sense the guiding spirit of his hometown in many of his films' most colourful, phantasmagorical moments.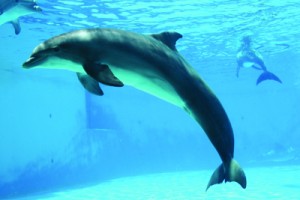 TRANQUIL HEART
Rimini's vibrant sea-front might shut down in the winter, but the old town centre certainly does not. The ancient heart of town lies a mile or so from the water, yet it is a world away from Rimini's sprawling, carnivalesque beach. A quiet, refined backwater, even in the height of summer the old town's lovely buildings and pretty piazzas retain an air of dignified calm. It's the perfect place for a morning-after soothing of your nightlife-flayed senses.
It's lunchtime when I emerge from my hotel the next day into the deep, siesta-time peace of Rimini's old town, squinting into the savagely bright sunlight that bounces off tidy walls of fruit-coloured plaster and gingery-red brick. Keen to pay my dues to Rimini's Roman founders, I march straight to the high, elegant arch that marks the end of the ancient Via Flaminia and gaze on in reverence. Then I make a slow, happy meander along the old town's ceaselessly pleasant streets. In one dozing piazza, I come across a trestle table where three young people are quietly collecting donations for a drug addicts' charity.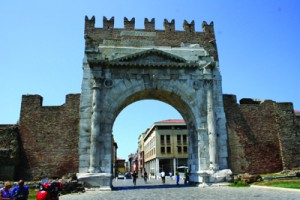 Drug addicts? In Rimini? Why would anyone want to escape through drugs from a place as happy as this? I'm dumbfounded, give €10, and get chatting to the kids. "Sure there are a few addicts here," a young man with kind blue eyes tells me. He casts a compassionate glance at his colleague, a girl with peroxide-frazzled hair clumped together with ribbons.

She shyly confesses: "I used to be an addict. But now I try to be a good girl." Ah, youth. A safe, prosperous hometown isn't enough. There must be problems to overcome.I stroll on, straining my eyes now to glimpse other shadows on Rimini's bright idyll. But there's just too much light. I imagine that it must be awful to be a moody teenager in a place like this. How could you successfully express your nihilism, for example?
The gaiety all around would simply drown you out with its laughter. I spot a few black-clad youngsters with aggressive punk hairstyles, a couple of tattoo and piercing parlours and some would-be-edgy clothing boutiques, but it's clear that the dark and the Gothic are ultimately never going to thrive in such a joyful, sun-washed place as this. I pity anyone who aspires to angst in Rimini.
DANCING QUEEN
How to spend the final dozen hours of my 48 in Rimini? Stay out all night dancing, of course. And I won't bother describing here the riotous fun I have dancing the night away with like-minded visitors. But when my frenzied gyrations beneath the fizzing lights are over, Rimini's magnetic beach makes its inevitable final claim on me. Music still ringing in my ears, I'm drawn irresistibly to the near-deserted sand.
Sunrise isn't far off, and the horizon quivers pink with expectation of another fun-filled day. Gold high heels in hand, the sand is blissfully cool and soft as I sink into it with dance-battered feet. I limp across the yielding beach to its firm wave-licked edge and step out into the gently restless water. Foam embraces my ankles with a rushing sigh, and as I stand there smelling the warm salt air I think simply: "Yes, this really might be the happiest
place in the world."
GETTING THERE
– By plane
There are currently no direct flights from the UK to Rimini. The closest options are Ancona and Bologna, with Ancona roughly an hour's train journey from Rimini and Bologna only slightly further. Ryanair flies to Ancona from Stansted, and to Bologna from Stansted and Edinburgh. BA flies to Bologna from Heathrow, easyJet from Gatwick, and Aer Lingus from Dublin. Overland travellers will find Rimini very well-connected on mainline train routes going through Bologna and along the Adriatic coast.