Patricia Cleveland-Peck meets Arrigo Cipriani, co-owner of Harry?s Bar and a true Venetian legend himself, to talk about the history behind the birthplace of the delicious Bellini cocktail…
If you mention St Mark?s Square or the Rialto Bridge most people will know you are referring to Venice, a city overflowing with cultural riches. Riches of a different, but no less satisfying kind are to be found at Harry?s Bar, co-owned and directed by Arrigo Cipriani ? himself rather a Venetian legend.
Over glasses of the bar?s signature drink, the white peach pur?e and Prosecco Bellini, Arrigo, who is one of the most charming and kind men imaginable, told us the story of Harry?s Bar. It was founded by his father Giuseppe Cipriani in 1932.

A year later he was born and named Arrigo ? Italian for Harry. This came about because his father had been working as a barman at the old Hotel Europa where a wealthy young American student, Harry Pickering, regularly drank. Harry was on holiday with his aunt and her gigolo but when, after an argument, they left him alone, his money ran out. Giuseppe, who liked him, offered to lend him 10,000 lire (over ?3,000 today) to get home ? a big sum for a barman. Harry returned to America and several months went by but Giuseppe did not give up hope that the loan would be repaid ? and sure enough one day Harry walked into the bar and returned Giuseppe?s 10,000 plus another 40,000, saying, ?We can use this to open a bar together ? we?ll call it Harry?s Bar.?
It was Arrigo?s mother Giulietta however, who found the perfect site ? a small cordage warehouse in the Calle Vallaresso right near the water?s edge, and it was she who cooked the first meals there. From the start it was successful. The atmosphere was entirely different from the hotel bars which the glitterati of the day frequented and they flocked to experience Giuseppe?s fine cocktails and warm hospitality. Harry Pickering enjoyed it too, propping up the bar, as ?happy as an onion in a Gibson,? according to Giuseppe?s memoir. A little later Harry sold Giuseppe his share but continued to visit the bar when in Venice.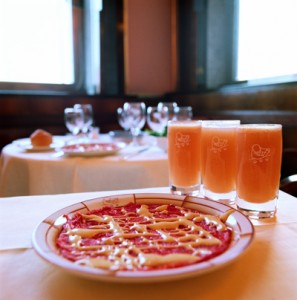 As did the great and the good. In August 1933 the travel writer Robert Byron wrote, ?we took sanctuary from culture in Harry?s Bar,? before setting off on The Road to Oxiana. The small, simply furnished room with four windows and no view (the upstairs dining room was only acquired in the 1960s) with its tiny armchairs and low tables, also attracted luminaries such as Humphrey Bogart, Lauren Bacall, Arturo Toscanini, Charlie Chaplin and Orson Welles together with writers, artists, penniless European aristocrats, film stars and con men.
In 1936 Giuseppe bought a small inn, the Locanda Cipriani, on the lagoon isle of Torcello and it was there that friend and favoured customer Ernest Hemingway spent a winter duck shooting and writing Across the River and into the Trees.
The illustrious patrons of the past have certainly left a patina of glamour on Harry?s Bar ? yet the establishment would not have continued had it not also offered gastronomic excellence. Arrigo, whose destiny it was to follow in his father?s footsteps although he qualified as a lawyer and has since written nine books, continues to maintain the original principles laid down by Giuseppe: service, quality and simplicity.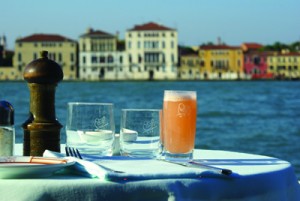 Having finished our Bellinis we experienced these for ourselves. Service has been described as ?a ballet of incredible precision and skill? and it was indeed impressive to see the numerous waiters in their starched white jackets, weaving smoothly between the tables, smilingly attending to each customer.

As well as the people perched at the bar, in the downstairs restaurant were a family party of Venetians celebrating a birthday, a bejewelled and aristocratic looking woman talking non-stop to two tiny elderly men and several couples, including two rather nervous-looking girls dining together. The waiters had friendly reassuring words for everyone, with no hint of the condescension adopted by the staff of so many top-end restaurants. Much of this is due to the fact that, like his father, Arrigo himself is present every day when, courteous and smartly clad, he greets regulars and makes sure that everyone is happy. ?When,? Arrigo explained, ? young people without much money have saved up to come here, or a customer can only order a starter or a sandwich, if we make the experience perfect for them, they will return when they have more money to spend.?
In spite of rumours which circulated in the press last December, Harry?s Bar is weathering the recession and Arrigo is still to be found working there. The suggested closure was, it seems, pure speculation on the part of a financial paper based in Milan.

This is of course a great relief ? and long may they both continue!
Photographs courtesy of Harry's Bar