Guanciale is a Roman speciality of cured, peppered pig's jowl. James Gingell tells us how to use it in everyday cooking…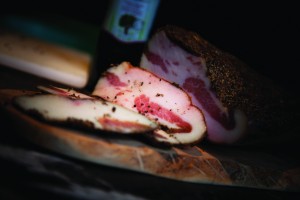 There are eight cuts taken from in Lazio. Originally a dish claimed and a pig, and guanciale is one that celebrated by the Abruzzesi, it was 'stolen' the Italians do particularly well. by the nearby region in Roman times. The jowl is removed from the Shepherds of Abruzzo are rumoured to have pig's head then packed in salt, begun the tradition of this spicy pasta dish rinsed with white wine then packed again in while tending their flocks on their travels salt and cracked black peppercorns, before being pressed under a heavy weight for two weeks. Finally, it's hung to dry for five weeks so the guanciale loses a third in weight.
Guanciale is commonly used to flavour pasta sauces, soups and stews, but is also diced and folded through sausages and stuffing mixtures. Availability could be a problem at your supermarket, but reputable delis are likely to be able to get their hands on some. If all else fails, though, you can substitute the recipes with guanciale's more commercially known relative, pancetta.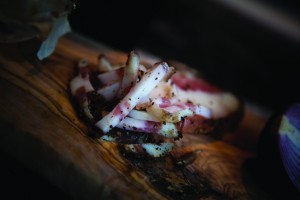 When sliced, the cured jowl is visually more fatty than its cousin, which may put some people off. But try frying it down and releasing the unmistakable depth of fatty flavour, and you'll be converted.
Bucatini alla Amatriciana is a classic Italian pasta dish from the town of Amatrice from mountain to pasture. Bucatini pasta is thick spaghetti with a cavity running through the middle. The name derives from the Italian word bucco, meaning hole. But it's the guanciale that takes centre stage in this dish, being diced and fried to release that distinctive fatty flavour into the tomato, onion and chilli sauce.
Spaghetti Carbonara is undoubtedly one of the most famous Italian dishes, and is another dish claimed by the region of Lazio under Roman rule. As with most classic dishes, many stories surround its origin. A favourite of mine is the story of woodcutters in the Apennine Mountains of Abruzzo who made charcoal for fuel. They would cook the dish over a fire using penne pasta rather than spaghetti with egg, cheese and cured pork. However, the inclusion of guanciale throws the dish straight back to those Romans.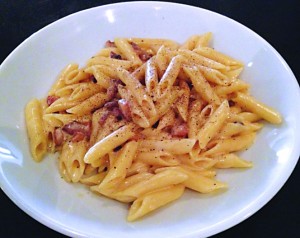 Woodcutter's pasta I Penne Carbonara I Serves 4 I Preparation & Cooking 15 mins
100g diced guanciale (or pancetta)
400g penne pasta
150ml double cream
150g Grana Padano cheese
5 egg yolks
Black pepper
………………………………………
Cook pasta in salted boiling water for the required time, then drain and keep warm.
In a bowl whisk together the egg yolks and cream.
Fry the diced guanciale in a large frying pan until golden brown and crispy, then drain off any excess fat.
Add cooked pasta to the frying pan, followed by the eggs and cream and two thirds of the grated cheese.
Toss all ingredients together well – enough that the cream and cheese coat the pasta.
Freshly grind black pepper into the pasta; taste and adjust the seasoning if needed.
Place pasta into four warm pasta bowls, finish with the remaining grated cheese and another twist of black pepper.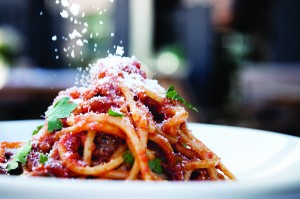 Amatrice pasta I Bucatini alla Amatriciana I Serves 4 I Preparation & Cooking 20 mins
400g dried bucatini (or spaghetti)
4 medium-sized plum tomatoes, roughly chopped
120g diced guanciale
1 medium-sized red onion, peeled and thinly sliced
1⁄2 tsp dry red chilli flakes
2 garlic cloves, peeled and thinly sliced
80ml extra-virgin olive oil
400g basic tomato sauce or passata
4 tbsp freshly grated Pecorino cheese
2 tbsp flat leaf parsley, roughly chopped
Salt and pepper
………………………………………
Cook pasta for the required time in salted boiling water.
Add the oil to a heated pan and add diced guanciale. Fry gently to render the fat, then follow this with garlic slices, chopped tomatoes and sliced red onion.
Next add chilli flakes and the tomato sauce; simmer the sauce for about 10 minutes.
Drain the cooked pasta and keep warm while the sauce is finishing. Taste the sauce and adjust the seasoning if necessary.
Add the pasta to the sauce with chopped parsley and toss all ingredients together.
Place into four warm pasta bowls and finish with freshly grated Pecorino cheese.
Tags:
Recipes