Sebastian Cresswell-Turner discovers there's more to Filippo Berio's olive oil…
At L'Anima, the ultra-chic Italian restaurant in London's Shoreditch, a breakfast featuring Parma ham and scrambled eggs with truffle shavings formed the prelude to an olive oil tasting session hosted by Filippo Berio, whose waisted bottles with their elegant Art Nouveau labels are a familiar sight on the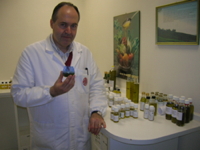 shelves of British supermarkets.
As the assembled company learned, Filippo Berio is the largest independent producer of olive oil in Italy and also the best-selling brand in the UK. This was therefore an opportunity to learn about a part of the olive oil industry which is quite different from the low-volume artisanal one that I am familiar with.
Breakfast over, the tasting began. Or rather, a comparative tasting; because in order to establish a few parameters, we tried various mid-market oils produced all over Europe, before moving on to Berio's classic extra-virgin offering. Used as I am to tasting mono-varietal oils with distinctive characters, my main feeling was one of confusion, although I did learn that extra-virgin olive oil has, by law, a maximum acidity of 0.8%; and we were also informed that although the anti-oxidants in olive oil act as a preservative, olive oil never improves with age. The fresher it is, the better. Unlike good wine, it does not mature.
Later, Daniele Piacenti, the highly civilised chief taster of Berio, gave me a personal tasting session during which I learnt a few more important facts. Their classic extra-virgin oil is a blend, he explained, made from olives sourced mainly from Italy, Greece and Spain, but sometimes also from Portugal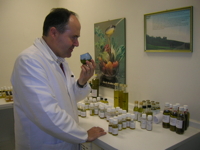 and Tunisia. They produce a staggering 33 million litres of it every year. A blend by necessity, then; but also a brand with its own immediately identifiable label. Thus the need for a consistent taste, which in this case is both bitter and sweet, fruity with green notes, and with a slight peppery kick at the end.
I learnt another thing, too. To get the best results with roast potatoes, don't use extra-virgin olive oil. It's too rich, and it doesn't like high temperatures. Instead, use a milder oil, which can take them quite happily. The wise cook will therefore have two sorts of olive oil in the kitchen – extra-virgin for salads, and something mild and light for frying and roasting. Filippo Berio produce this as well, and I suppose I'd better go and get some.