A very musical month awaits you if happen to take your trip during July, with jazz and blues festivals around the country, but there is also the infamous Palio. Take a look at our monthly highlights to see what Italy has in store for you this summer…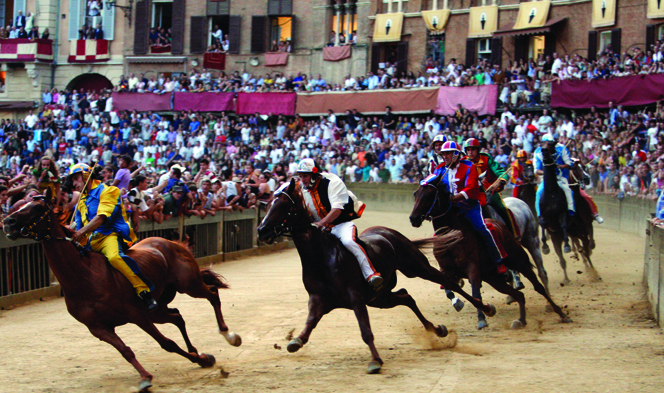 PALIO DI SIENA
2 July
Siena, Tuscany
This historic horse race (pictured above) has been a staple in the Italian events calendar for centuries and its popularity has never dwindled. The race takes place around the central square, Piazza del Campo, in front of a packed crowd of spectators – you may have to get on tiptoes to catch a glimpse of the action. A magnificent medieval pageant, the Cortico Storico, precedes the race.
…………………………..
FESTA DELLA MADONNA BRUNA

2 July
Matera, Basilicata
With its intriguing sassi – cave dwellings – Matera is a city worth visiting at any time of the year but the Festa Della Madonna Bruna is a chance to see it at its most active. A huge float of the Madonna Bruna is paraded through the town. Finally the statue is attacked, torn apart and burnt accompanied by a spectacular fireworks display over the sassi.
…………………………..
PISTOIA BLUES FESTIVAL
3-7 July
Pistoia, Tuscany
Since 1980 Pistoia has been the host of this brilliant blues festival, showcasing the talents of international artists in a stunning setting. The event takes place in Piazza Duomo, the towns main square, in front of a packed crowd. It has grown year on year and musicians to have formerly graced the stage include Bob Dylan, Paolo Nutini and Joss Stone.
http://pistoiablues.com/index-en.php
…………………………..
PINK NIGHT
5 July
Rimini, Emilia-Romagna
A relatively new annual event, Pink Night has been organised for a fifth consecutive year. Over 40km of the Adriatic coast is transformed and visitors have an array of concerts, shows and entertainment to choose from. Even shops and museums open through the night and the day culminates with a firework display at midnight.
…………………………..
COLLISIONI FESTIVAL
5-9 July
Barolo, Piedmont
The Collisioni music and literature festival is a completely unique event that attracts some huge names to Barolo, a tiny hilltop town which for the rest of the year has a population of just 750 people. This year none other than Elton John will be performing a one-off Italian gig in Piazza Colbert on the closing day.
…………………………..
UMBRIA JAZZ FESTIVAL
5-14 July
Perugia, Umbria
The Umbria Jazz Festival has established itself as one of the best of its kind in Europe. For nine days Perugia is awash with performers serving up musical treats from dawn 'til dusk. Headline acts include the veteran jazz musician Herbie Hancock and contemporary star John Legend.
…………………………..
TUSCIA OPERA FESTIVAL
6 July-15 August
Viterbo, Lazio
This festival held in Viterbo, just north of Rome, offers an array of opera concerts throughout the month of July and beyond. With an emphasis on value for money, tickets are very reasonable and the historic outdoor venue is the perfect place to enjoy opera on a summer's evening.
…………………………..
SAINT ROSALIA FESTIVAL
10-15 July
Palermo, Sicily
The elaborate celebrations in honour of Palermo's patron saint arguably equates to Sicily's biggest festival. The island's capital bustles with excitement, preparing for the Saint Rosalia's feast day on July 14 – a day filled with a procession, feasting, music and fireworks.
…………………………..
FESTA DEL REDENTORE
20-21 July
Venice, Veneto
This celebration dates back to 1577 and is particularly popular. The festival commemorates the city's deliverance from a terrible plague and the Redentore Church, which was built for the same reason, is accessible by means of a 330m long pontoon bridge. Fireworks, a regatta and picnics are all part of the fun.
…………………………..
VERTICAL MILE
28 July
Pulfero, Friuli-Venezia Giulia
The vertical mile is actually longer than the name suggests. Competitors tackle an unforgiving 7km course with an average gradient of 28 per cent and an altitude of 1,500m.
A stern test for any fitness fanatic which is rewarded by unforgettable views over the valleys below.
…………………………..
FESTA DEL CRISTO DEGLI ABISSI
29 July
San Fruttuoso, Liguria
This rather unusual event is dedicated to those who lost their lives at sea. A procession leads to an underwater bronze statue of Christ which was moulded from medals of mariners and athletes as well as parts of ships and bells. As an act of respect mass is held on the beach nearby.