February is carnival time across Italy, which means an array of celebrations to suit all tastes and ages. You can get messy in Ivrea, get romantic in Verona or get singing in Sanremo ? plus religious days and food festivals galore?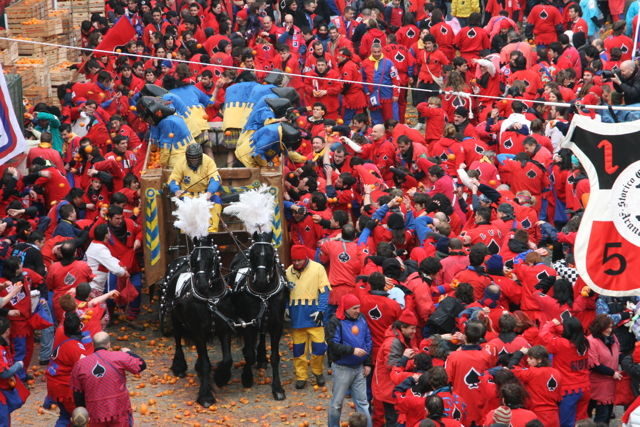 Venice Carnival
26 January-12 February
Venice, Veneto
Embrace the elaborate masks of this dramatic city and take part in masquerade balls, processions and parades during this two-week extravaganza. It?s a sight not to be missed ? although festivals will be all over Italy this month, heading to Venice guarantees you the most iconic of experiences.

…………………………………………….
Sant?Agata Festival
2-3 February
Catania, Sicily
This day commemorates Saint Agatha of Sicily, who was martyred in 251 AD. Catania is the place where her mortal remains are laid, and so each year the city embarks on a full-scale festival with parades and fireworks that last long into the early hours of the morning.

…………………………………………….

Cartoon Festival
2-3 February
Milan, Lombardy
It might not be the first place you think of to host a cartoon festival, but Milan has been running this successful convention for years. Held at the Parco Esposizioni Novegro, you can expect everything from the world of comics, video games and short films.

…………………………………………….

Saint Biago Day
3 February
Across Italy
If visiting the smaller provinces of Italy, you may well bump into this minor religious celebration. Some towns and villages hold a special mass, light a bonfire or have a parade in celebration. It?s traditional to eat leftover panettone with a glass of wine to bless your throat ? this is because Saint Biago is, of course, the patron saint of the throat.
…………………………………………….
Almond Blossom Fair
3-10 February
Agrigento, Sicily
Head to the sunny island of Sicily for this fair that surrounds the colourful sweets known as almond blossom. Especially popular as wedding favours, the traditional sweets are simply made with almond paste and shaped into an array of flower styles. You?ll find balconies and streets adorned with displays, plus a great deal of music and singing throughout the week.
…………………………………………….
Cioccolentino
9-14 February
Terni, Umbria
Calling chocolate lovers everywhere, this annual convention is sure to tickle your tastebuds. Enjoy chocolate tastings, shows, decoration lessons and mouthwatering exhibits ? all just in time to find something for Valentine?s Day.

…………………………………………….
Vinilmania Record Fair
11-12 February
Milan, Lombardy
Back to the main exhibition centre in Milan ? the Parco Esposizioni Novegro ? you can catch collectable and rare records at this large-scale convention. For dealers and enthusiasts alike, the chance to rummage for a whole weekend is surely
a tempting one.
…………………………………………….
Sanremo Song Festival
12-16 February
Sanremo, Liguria
Running for over 60 years, this is the event that spawned the Eurovision song contest. And for that reason, you can expect a similar style, with singers from across the country competing to win the overall title.

?…………………………………………….
Verona in Love
14-17 February
Verona, Veneto
And so Valentine?s Day falls upon us once again. Spent in Verona with your loved one, you can expect quite a carnival ? including heart-shaped lanterns illuminating the streets and free romantic concerts on the Piazza dei Signori. Plus all the usual Romeo and Juliet references scattered around the city.

…………………………………………….

Olive Oil and Bruschetta festival
17 February
Spello, Umbria
Aficionados of the bucolic delights of bread and olive oil will enjoy the understated activities that take place annually on the third Sunday of February in Spello. Farmers parade on decorated tractors amid music, dancing and olive oil on bruschetta.
…………………………………………….
Milan Fashion Week
19-26 February
Milan, Lombardy
Although you need an invite to attend any of the catwalk shows, you can still soak up the atmosphere around the city during the week. Hang out in the nearby caf?s and go celebrity-spotting ? or snap up the sales the week before.

…………………………………………….
Battle of the Oranges
21 February
Ivrea, Piedmont
This unusual celebration links to the Ivrea Carnival, and in recent years the two have become inseparable. Visitors and locals get messy by throwing oranges at each other, for pretty much no reason whatsoever. If you wish to pass unharmed, you must don a red hat ? but of course the easiest way is to just get stuck in and throw some yourself.