There is nothing more indicative of true Italian life than the fondness for espresso – so this month we test seven of the best coffee machines on the market…
Conjure up the flavours of Italy and somewhere in your daydream is sure to be a sip of thick espresso, taken after lunch or during a sunny afternoon of people-watching in the piazza. It can be frustrating to experience the rich flavour that even the cheapest bars in Italy can produce, only to return from your holiday to find nothing but sub-standard (and often madly overpriced) mugs of lukewarm coffee as your only option. It would, therefore, be a great comfort to have one of these impressive models to come home to.
The benefits of owning a proper espresso machine are obvious: once the initial investment is made, it can be cheaper than daily cups, and they are much faster than filter coffee or cafetières. They also give your kitchen a significant dose of kudos, allowing you to offer guests a rather swanky after-dinner coffee.
The Italia! team tested the following machines with the same brand of coffee (either espresso ground or as beans) and rated them based on ease of use, quality of result, extra features and value for money. Some of the machines here use a Bean to Cup method – meaning you get a freshly-made espresso – and others use the traditional barista technique that will require you to use ground coffee. Either way, we discovered there were some excellent machines to be found.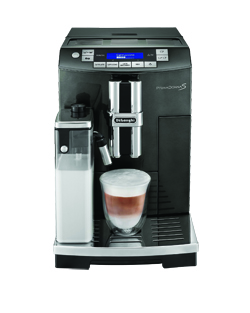 Editor's Choice
DE'LONGHI PRIMADONNA S DELUXE
From John Lewis
Price £1,195
This stylish model from De'Longhi is pretty much the all-singing and all-dancing machine we've been waiting for, and would be a worthwhile investment for any coffee connoisseur. Visually appealing, this compact model slots easily into any kitchen space (and, for that matter, office space too) thanks to a smaller width of just 24cm. In fact, it's worth noting that there is an even thinner version of the Primadonna available – the aptly named XS – so look out for that one if you have limited worktop room. As for the coffee itself you can expect a superb espresso delivered at the optimum temperature and speed, with a satisfyingly thick crema on top. The large water reservoir means you don't have to keep refilling it, which is especially useful if you have a busy household or a thirsty Italia! team to cater for. The machine also came
with two milk frothing options: the traditional manual steamer, giving you complete control, or a top of the range automatic milk carafe. The latter allows you to set the froth and milk to your preferred ratio and temperature. We were impressed with its range of features.
VERDICT •••••
A top of the range machine with plenty of added features, all in a sleek yet practical design.
……………………………………….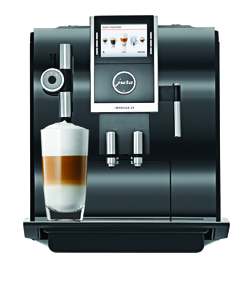 JURA IMPRESSA Z9
From See www.jura.com for stockists
Price from £2,295
We'll admit that the price might be a little eye-watering, but this is a coffee machine with a difference. Espresso, ristretto, cappuccino, latte – this machine does it all with lightning speed. The set-up took us a swift ten minutes, and from then on it was a breeze. The number of options might be intimidating, but we enjoyed the adjustable choices and user-friendly LCD display.
VERDICT ••••
An expensive purchase, but a truly exceptional coffee with a great range of extras.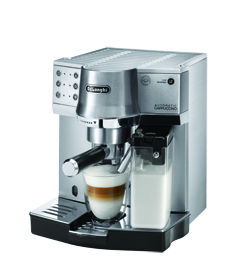 ……………………………………….
DE'LONGHI EC860.M
From John Lewis
Price £349.99
With its chic stainless steel look and patented milk carafe, we were quite excited to try this long-standing favourite from De'Longhi. It was a bit of a challenge to set-up (at first we couldn't fit the filter holder, then the milk jug was a complete mystery to us) but once there it delivered a richly flavoured espresso. You can choose from four drinks – one or two shot espresso, cappuccino and latte – delivered straight to the cup for ease.
VERDICT •••
We love that the milk carafe pours straight into the cup for minimum effort.
……………………………………….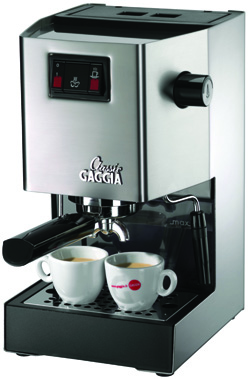 CLASSIC GAGGIA
From See www.cafegaggia.co.uk for stockists
Price £300
Gaggia has to be one of the best coffee machine brands if you want to re-create the barista experience at home. This key model from their range comes with a typical filter holder and steamer – no frills to speak of, but great coffee as a result. The price, for the standard of espresso produced, is excellent value. We enjoyed trying our hand at making a classic cappuccino with control over the amount of froth and heat.
VERDICT ••••
An entirely manual Italian-style coffee machine that is used in bars and cafés.
……………………………………….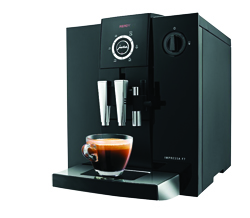 JURA IMPRESSA F7
From See www.jura.com for stockists
Price £950
Another top of the range Bean to Cup machine that does all the hard work for you, this Jura model can be used with beans or ground coffee. Sleek and tidy, once set up it produces exquisite espresso with so much flavour, or make milky drinks by purchasing a separarte milk frother. It had a comprehensive start up system, good extras and an interactive LED display
to make life easier.
VERDICT •••
A highly covetable machine for espresso drinkers, with an easy-to-use interface.
……………………………………….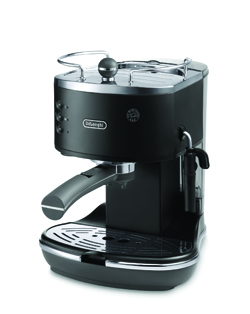 DE'LONGHI VINTAGE ICONA
From John Lewis
Price £189.99
This light and compact machine comes in a range of retro-inspired colours to match your kitchen. Fill the detachable water tank, grab a jug and start making coffee straight away – we found this one simple to use, if a little noisy at first when grinding the beans. It has three easy buttons (power, steam and water) making it a fantastic investment for someone seeking a straightforward espresso machine.
VERDICT ••••
Simple and easy to use, with an eye-catching range of colours and compact design.
 ……………………………………….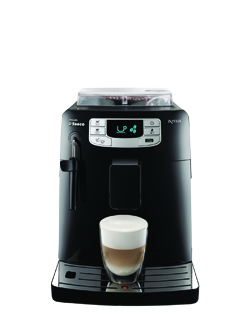 PHILIPS SAECO INTELIA
From See www.philips.co.uk for stockists
Price £450
An intelligent machine, with fast espresso delivery and variable strength options, with both Bean to Cup and ground coffee. The large LED screen makes it easy to understand – we liked the grounds container and cleaning prompts that reminded us to keep it running smoothly. The espresso had a generous crema and the milk frothing spout was relatively quiet.
VERDICT •••
Benefits include an easy to read screen and, ultimately, a great cup of coffee.
Tags:
blog
,
coffee
,
Espresso