Easter is very nearly upon us, and the festival of Pasqua is serious business in Italy, with parades and processions throughout the country. Though it's also a time for sweet treats and, of course, chocolate…
Easter wouldn't be Pasqua without chocolate. The celebration of the resurrection of Christ goes hand in hand with everyone's favourite sweet treat, right from the Italian capitals of chocolate – Perugia, home of baci, and Alba, where Pietro Ferrero founded Ferrero SpA in 1946 – to the isles of the Bay of Naples. It was, almost certainly, Pietro's son Michele Ferrero who made Italian chocolate world famous. He was the man who used vegetable oil and hazelnut paste to 'pad out' expensive chocolate to make Nutella.
Sadly, Michele passed away on Valentine's Day of this year, though his legacy, and the massive company he helped forge (Ferrero is the world's second-largest confectionary business) will no doubt remain at the forefront of chocolate production for as long as there is a passion and a hunger for the dark brown stuff. In this issue of Italia! and in memory of Michele, we've gathered a selection of our favourite Easter treats to sample.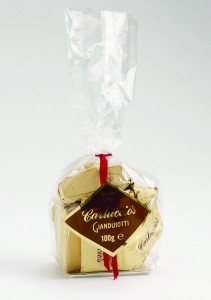 Editor's Choice
Gianduiotti Milk & Hazelnut Chocolates
From Carluccio's
Price £5.95 for a small bag,
or £10.95 for a larger box
The very finest quality chocolate is combined with Piedmont's famous hazelnuts – ground to a paste – and piped out through a triangular nozzle to form what are known as Gianduiotti. Dating back to Turin during the 19th century, these are deliciously rich and smooth with an almost creamy texture. The combination of nut paste and chocolate is quite intoxicating, in this instance with a very fine balance of flavours – neither too 'chocolatey' nor too 'nutty'. They're absolutely perfect with a strong after-dinner espresso, though can equally be enjoyed on their own. If you're feeling indulgent, then sample with a chilled glass of Vin Santo. No, they're not cheap, but this is Italian chocolate at its best.
VERDICT *****
Perfect with an after-dinner coffee, this combination of chocolate and hazelnut paste from Carluccio's is to die for.
……………………………………………………………………………………………………………………………
Carluccio's Easter Colomba Cake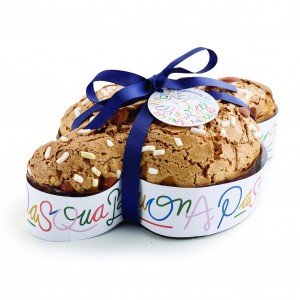 From Carluccio's
Price £13.95
The traditional Easter Colomba cake is very much like a rich
panettone, though iced and coated with almonds as well as being laden with sweet fruit. This one from Carluccio's is melt-in-the-mouth perfect. Colomba means 'dove' in Italian, and the cake is shaped to resemble the feathered creature – although you'd be hard pressed to spot it if you weren't in the know! Great with a cappuccino.
VERDICT ****
A fantastic traditional Easter gift, this Colomba cake is both tasty and indulgent. Perfect with a mid-morning coffee or glass of Prosecco.
……………………………………………………………………………………………………………………………
The Ferrero Collection
From Waitrose
Price Currently 20% off at £7.60
Dodgy television advertising aside (who could forget the
ambassador's party?), Ferrero Rocher chocolate are a world-favourite. This box comprises three types: the 'ordinary' milk chocolate variety, plus dark chocolate and milk chocolate variations. The dark ones are our favourites: rich, though succulent and satisfying. A great way to end a dinner party. Just don't let your guests get in the "you're spoiling us" gags!
VERDICT ****
Three varieties of one of the world's favourite chocolates in one box. All great, though we definitely think the dark ones are the best.
……………………………………………………………………………………………………………………………
D. Barbero Chocolate Coated Breadsticks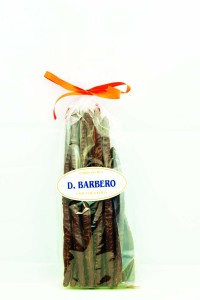 From Italian delis across the UK
Price (typical) £5.99
When Italia! conducted its tasting of the products on these pages, nothing divided opinion like these dark-chocolate coated breadsticks. They were the Italian equivalent of Marmite. Half of the panel though they were delicious, if rather rich (the chocolate is very intense), whilst others considered them 'dry' and too savoury. Perhaps a treat to enjoy with a sweet, milky cup of coffee, or with an after-dinner espresso.
VERDICT ***
Love them or loathe them, these chocolate-coated breadsticks are rich – perhaps too so to eat without being partnered with coffee.
……………………………………………………………………………………………………………………………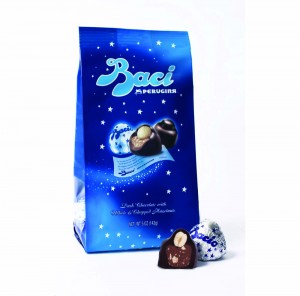 Baci
From Italian delis across the UK
Price (typical) £12.99 for a 143g bag
Ah, the kisses! A must-try for all lovers of chocolate, Perugia's famous baci are a delicious combination of whole hazelnut coated in milk chocolate. Make sure you get hold of the original Italian variety (blue bag) rather than the UK-produced version (red bag). The Italian baci are far, far better, using only quality hazelnuts from Piedmont. Most Italian delis stock them, and many sell the sweets individually (for around 50p each) for you to enjoy with your morning coffee.
VERDICT ****
Another world-renowned chocolate offering, and the fame bestowed on baci is deserved. The best thing to come out of Perugia?
……………………………………………………………………………………………………………………………
Doria Amaretti Biscuits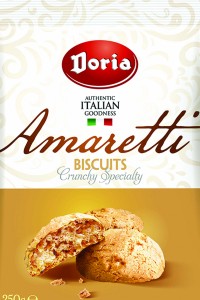 From Sainsbury's, Waitrose and Tesco
Price £1.99
Enjoyed the whole year round – not just during the Easter celebrations – amaretti biscuits are an Italian staple to be taken with a coffee or a small tipple of sweet wine. Flavoured with almond, these examples from Doria are soft and fragrant, with a delicately crunchy texture. They're not overpowering as some amaretti can be – they're subtle in flavour, though still as sweet as you like. They taste really good with Vin Santo.
VERDICT ***
Doesn't everyone love an amaretto biscuit with their coffee? These have a subtle flavour and go really well with a glass of dessert wine.
……………………………………………………………………………………………………………………………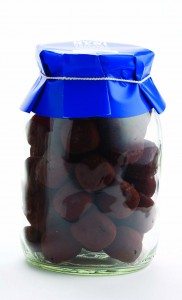 Carluccio's Dark Chocolate Truffles
From Carluccio's
Price £10.95, 600g
This was another sweet treat that really split our opinions. Whereas some of the tasting panel thought they were delicious, the rest thought they were too 'dry' and 'crunchy' to be considered a truffle. Deeply dark and dense, these chocolates really have to be enjoyed with a coffee. On their own they're just too intense. Given their dark chocolate, rather then milk, they're also quite sweet.
VERDICT ***
Another love-or-loathe product, these are very dark, though sweet, and some felt they were too intense and a tad 'dry' in the mouth.