There is a fresh wind on the Lake, a coming together of cycling enthusiasts who want to make this area a go-to destination for two-wheeled adventurers. Jon Palmer gets on his bike…
Alongside its reputation as a very reasonable place to lounge by the hotel pool and read a book, Lake Garda is also a mecca for sporty, outdoor types. The warm microclimate that permits sunbathing from early to late season, and produces the light red Bardolino and the full-bodied white Lugana wines, also allows hikers, climbers, canyoners, trekkers and hill walkers a long season for roaming the farthest foothills of the Alps.
You are at the same latitude as Milan and Venice here, yet they can grow not only olives and wine, but even lemons. In fact, this the most northerly point in Europe where you will see lemons growing happily outdoors. They used to produce them in commercial quantities, before the days of air freight, and export them into Europe via the Brenner Pass. That's not a viable business now, but people still cultivate them as a hobby. Take a boat trip over to the Locanda San Vigilio, for instance, and you'll find a courtyard shaded by lemon trees and filled with their fragrance. You will think you are in the south.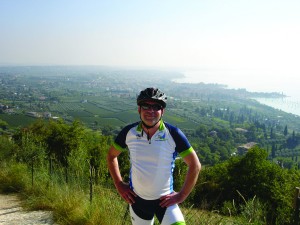 The Lake itself – Italy's largest – is big enough for the Circolo Vela Gargnano Club to host a sailing regatta from Bogliaco, on the western coast, up to Torbole at the northern end of the Lake, down to Desenzano on the southern coast, then back to Bogliaco, and call it the centomiglia, because that's 100 miles. And, perhaps most famously, the northern stretch, which runs like a funnel between rising peaks, produces some of the best inland windsurfing conditions in Europe. You can surf Malcesine and Torbole all year round, and lots of people do.And now an association of cycling enthusiasts has come together under the banner of Verona Garda Bike to develop and promote the southern and eastern sides of the Lake as a cycling destination.
This is very convenient, not just for cyclists but also for oenophiles: the flat fields of southeast, between Sirmione and Peschiera, is Lugana country; while the hills that mark the border of the Veneto is where they make the Bardolino. There are also olive oil producers to visit in these hills (note: take panniers!) and if you want to pop down to Verona for lunch, you simply follow the well-marked cycle route down the river and canal.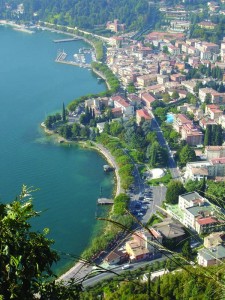 It's this standard of cycling infrastructure that you'll see on the ride to Verona that Verona Garda Bike want to see rolled out across the region. They have cycled over the border into Austria (it's not so far) and have seen the infrastructure there: dedicated cycle routes, all marked, all safe from traffic, all neat and tidy, and they want the same thing in Italy.
This is no big government sponsored enterprise, however; rather a loose but well-organised grassroots collective. All the bike shops are involved, obviously, as are the tour guides, many of whom are cycling enthusiasts themselves. Wine producers Preella Lamberti and olive oil producers Turri are signed up, because the routes pass right by their farms, and more cyclists in the hills means more people dropping by for tastings, and perhaps to buy a few bottles. The restaurant and hotel owners are in too, because cyclists, as much as anybody, need somewhere to eat and somewhere to stay.
Verona Garda Bike mean business. They admit that it will take years to realise their ambition but the Federazione Italiana Amici della Bicicletta is behind them, and with sponsorship from Confindustria Verona, the Camera di Commercio Verona and the Banca Popolare di Verona, you have to believe they have the nous and wherewithal to make this happen. Actually, it's happening already. The eastern shore is perfect for a light pedal from town to town. You'll hardly meet a car and, as long as you afford proper priority to the countless pedestrians, you are ensured a trouble-free and entirely pleasant ride. Verona, with its pedestrianized centre, is cycle-friendly, and the ride there, where it does hit the main roads, takes you across these fancy new roundabouts with dedicated cycle lanes that you see on the Continent these days.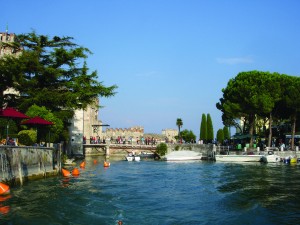 A slightly different route southwards will take you to the town of Valeggio sul Mincio, famed for its tortellini, and for its Ristorante alla Borsa, which is acknowledged as the best place in town to eat them. Sunday lunch is the best time to go, as the town descends on the Borsa's terrace for a family meal. Nadia and her staff are most welcoming and their tortellini will not disappoint. And it isn't far – you'll be back at the poolside in Bardolino long before the sun goes down.
For some slightly more ambitious cycling, you can climb the Rocca di Garda, a 250m outcrop that, on a clear day, will give you a view all the way to Peschiera, Sirmione, and the west coast, not to mention a very fun on-road roll back down to the shoreline, all wide, well-kept roads and gently sweeping curves – high speeds for absolutely no effort.
Does that sound dangerous? Riding fast on-road in Italy? With their drivers? It isn't. Yes, always wear a crash helmet, always be visible, don't play with the traffic…
But (though I was there only a few days) I didn't see a single angry/inconsiderate driver incident. This isn't city rush hour riding; drivers aren't in a hurry, and I was impressed by how considerate they are towards more vulnerable road users. The rules of the road are a little different too. You can cycle freely on the pavements, if you keep to walking pace. Pay respect, get respect. That's how it works. And it works very well.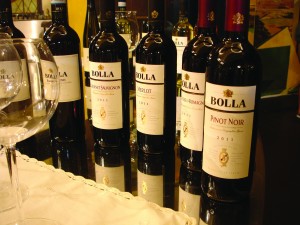 And if the idea of hurtling down a hill road doesn't sound dangerous to you; if you're looking for something a little more 'hardcore', then you'll want to get in touch with Roberto and the boys at Fit and Sun. They know all the technical routes, and how to ride them, and the mere suggestion that you want something "un po' più pericoloso" will bring a bright beam to their faces and induce animated debate about the most exciting rides these hills have to offer, of which there are many.
You can cycle around Garda any way you like, and at any age or fitness level. Give the creaking bones an oil with some lakeside and riverside routes; introduce the family to some gently testing mountain trails; or don the lycra and wraparound shades for some serious downhill action.
Bikes can be hired from all over, and there is an extensive public bike system in Verona. (An email to info@veronagardabike.com  will help you if you are struggling to find a vehicle.)
The Lake also offers plenty of alternatives in terms of accommodation. There are hotels, of course, but camping is a real option on Lake Garda. As you cycle along the shoreline you'll notice that most of the prime locations are given over not to hotels but to campsites. The fact that land ownership on Lake Garda has always been, shall we say, "exclusive", means there are huge swathes of shoreline nobody has ever been allowed to build on. So they put tents and camper vans there instead – right by the water. Alternatively, if there were enough of you, you could club together.
Tags:
Cycling
,
Holidays
,
Lake Garda
,
Verona