This month we have delved into the irresistible world of Italian chocolates, uncovering along the way some heavenly treats for you to enjoy at home…
The month of April is commonly associated with chocolate as families stock up on Easter eggs, ready to be consumed in a frantic morning of over indulgence. But if you would like to deviate from tradition, then we have discovered a host of high-quality Italian alternatives with exceptional taste. In the last 20 years Italy has established itself as one of the leading nations worldwide for the production of chocolate, making significant inroads primarily in the gourmet market.
Our selection includes the celebrated Baci by Perugina – which has gained tremendous popularity stretching far beyond the confines of Italy – and we also have gianduiotti, originating from Turin, which has become an acclaimed Italian delight with its distinctive smooth blend of hazelnut and chocolate.
With true quality it's important to remember that less is more, and when it comes to luxurious chocolate it is often worth that extra investment to ensure an unrivalled satisfaction. Whether you feel like treating yourself to a guilty pleasure or if you need inspiration for a gift, read on to find out more about the very best chocolates on the market.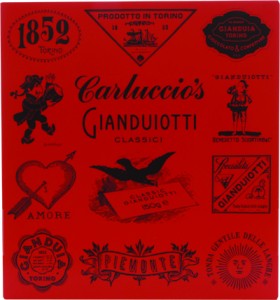 Editor's Choice
CARLUCCIO'S GIANDUIOTTI
From Carluccio's
Price £12.95/150g
These were certainly the quickest chocolates to disappear in the Italia! office, which is usually a good indication of unanimous adoration. Wrapped individually in gold paper, these sweet little gianduiotti are the very definition of melt-in-the-mouth, with a velvety soft texture on the tongue that dissolves, teasingly, into a glorious pool of hazelnut and cocoa. There are no flavour variations (which was quite handy after experiencing a few scrambles for the last-remaining milk chocolate) but there is an abundance of smooth, satisfying flavours. The cute red box means this would make the perfect romantic gift. Sadly, with Valentine's Day long gone, you'll just have to find another excuse to treat your better half to this box of delicacies.
VERDICT •••••
Smooth and sweet hazelnut milk chocolates that melt deliciously on the tongue – an easy winner.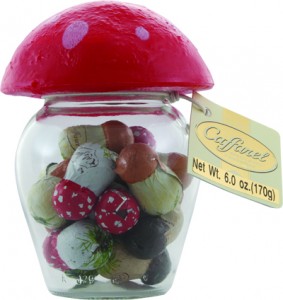 CHOCOLATE MUSHROOMS
From Vela Chocolates

Price £12.79/170g
What can we say: sometimes you just have to plump for the chocolates packaged in a toadstool. After falling for the charming array of funghi-themed chocolate (not in flavour, we hasten to add), we thought we'd give them a try. These were bubbly and light, with a nutty taste that lingered in the mouth. But novelty value aside, the chocolate itself felt a little under par with a suspicion of oil in the texture.
VERDICT •••
A tad too expensive for the quality of chocolate, but a lovely idea.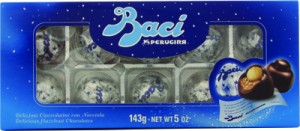 BACI PERUGINA
From Something Italian

Price £5/143g
A popular brand of Italian chocolate – but be sure to buy these blue-packaged Baci Perugina, as the red ones are export quality and not quite up to scratch!
Get it right, however, and you'll be rewarded with these adorable treats that are layered up with a dark chocolate exterior and soft, nutty middle. They have all the charm of
a fortune cookie, too, as each one comes with a multi-language love note inside.
VERDICT ••••
These are classic Italian chocolates – and very romantic, too!
From Vela Chocolates

Price £13.49/250g
In each of these bags you get a generous selection of chocolate gianduiottini, in four complementing flavours: cinnamon, hazelnut, coffee and dark chocolate. They would certainly look most at home aside a frothy cappuccino or after-dinner coffee. The texture of each morsel is smooth and soft on the tongue, although the general consensus was that we weren't quite as keen on the spiced cinnamon flavour.
VERDICT •••
A great selection for those seeking variation, and top quality chocolate inside.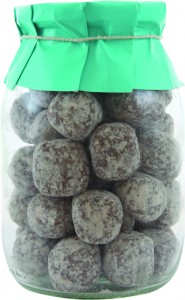 CAPPUCCINO TRUFFLES
From Carluccio's

Price £9.95/600g

You're going to have to like coffee to enjoy these chocolates, but for those of us who do they are heaven in a mouthful. With a rich, roasted aroma and a light dusting of icing sugar, these are perfect for a dinner party or as a gift. They look spectacular jostling together in a generous jarful. Portion-wise, they are a bit of an intimidating size, but we forgive them that for their lightly indulgent flavour.
VERDICT ••••
Invest in a jar of these and you'll forever be invited round for dinner.
PERNIGOTTI CREMINI CHOCOLATES
From Something Italian

Price £4.50/160g
Wrapped up like pillow mints, these chocolates come layered for an interesting mouthful with complex flavours. The chocolate is clearly high quality, as the taste is instantly sweet but not cloying in the mouth. The neatly stacked levels of hazelnut, coffee and milk chocolate make it somewhat resemble a dolly mixture. Some of our taste test team thought it was too nutty, but overall pleasant enough.
VERDICT •••
These come layered up with hazelnut, coffee and milk chocolate flavours.

SORELLE NURZIA NOCCIOLATO
From Taste of Italia

Price £4.95/100g
This one didn't last long in the office, either, and was a firm favourite with the taste testers. Inside the box you get a wrapped chocolate bar, busy with hazelnuts and boasting tempting cocoa aromas. The taste that follows is just what you need from Italian chocolate: indulgent, sophisticated and ultimately pleasing. We particularly liked the simple authenticity of the ingredients list.
VERDICT •••••
A delicious bar of chocolate with praline notes and satisfying hazelnuts.