An adaptable condiment that can dress up any recipe, try this selection of ideas for balsamic vinegar courtesy of The Vegetarian Society…
Butternut squash risotto with asparagus in a balsamic dressing
Risotto alla zucca con asparagi balsamico
Serves 4 I Preparation 15 minutes I Cooking 40 minutes
2 small-medium butternut squashes
2 shallots, finely chopped
2 sundried tomatoes, finely chopped
? tsp smoked paprika
600ml light vegetable stock
125g Arborio rice
75ml dry white wine
4 cloves smoked garlic, roughly chopped
? lemon, zest only
4 artichoke hearts in brine (rinsed) cut into quarters
3 tbsp parsley, finely chopped
3 tbsp basil, cut into fine strips
Preheat oven to 180?C/350?F/Gas Mark 4. Heat stock in a saucepan. Cut the squashes in half, remove seeds and drizzle with olive oil. Roast in the oven for approximately 30 minutes. Combine shallots, tomatoes, paprika and 30ml of the stock in a small saucepan and cook gently until soft and all the liquid has been absorbed, then transfer mixture to a large frying pan and stir in the rice.
Pour in the wine and stir until it has been absorbed, then add the smoked garlic. Add the stock gradually using a ladle and keep stirring. Once the rice is tender (about 30 minutes) add the lemon zest, artichokes and herbs. Season to taste and serve with the roasted squash, alongside steamed asparagus and a balsamic dressing.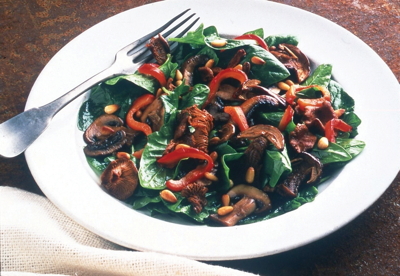 Warm spinach salad
Insalata caldo di spinaci
Serves 4 I Preparation 5 minutes I Cooking 15 minutes
2 red peppers
115ml extra-virgin olive oil
350g wild mushrooms
3 tbsp balsamic vinegar
Pinch of sugar
Salt and freshly ground black pepper
225g baby spinach leaves
75g chopped walnuts
1 tbsp chopped parsley
Put the red peppers under a preheated hot grill and grill, turning occasionally, until the skins are blistered and charred. Place the peppers in a polythene bag until cool, then peel off the skins, remove the seeds and cut into thin strips.
Heat 4 tbsp of the olive oil in a small frying pan and add the mushrooms. Fry gently for about 5 minutes, until cooked. Add 2 tbsp of the balsamic vinegar and a good pinch of sugar, and continue cooking for 1 minute. Season to taste with salt and pepper and set aside while you quickly prepare the spinach salad.
Wash and dry the spinach leaves and put them in a bowl with the walnuts. Mix the remaining olive oil and balsamic vinegar and use to toss the spinach.
Divide the dressed spinach and walnuts between 4 plates and arrange the warm wild mushrooms and their pan juices, and the grilled red pepper strips on top. Sprinkle with chopped parsley and serve.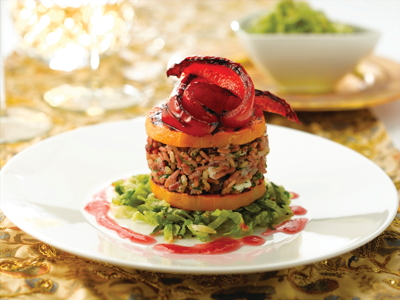 Squash and pepper stacks
Zucca e pepe con riso
Serves 4 I Preparation 20 minutes I Cooking 1 hour
175g Camargue red rice
2 tbsp light olive oil
150g red onion, finely chopped
? tsp cardamom seeds
? tsp all spice
1? tbsp raisins
100g feta cheese, diced, or 40g toasted pine nuts
3 tbsp parsley, finely chopped
1 butternut squash (long fat stem if possible)
2 large red peppers, each cut into 8 thick slices
1 tbsp balsamic vinegar
100g good quality cranberry sauce
? small lemon, juice only
Bring the rice to the boil and simmer for 20?25 minutes until al dente. Using 1 tbsp of the olive oil, saut? the onion until soft. Add the spices and raisins and cook for a further 2 minutes. Combine this mixture together with the cooked rice, feta and parsley.
Peel the stem of the squash and cut into 8 circles about 1cm thick and 8cm in diameter. Parboil for 2-3 minutes to soften slightly. Heat a large ridged grill pan. Mix the remaining oil with the vinegar and brush the squash and peppers with this before grilling.
Melt the cranberry sauce in a small saucepan, adding a tbsp of water if it is very thick. Once warm add the lemon juice and sieve to remove any large pieces.
To assemble the stacks place one squash circle in the centre of a dinner plate. Place a ring on top of it and press in a quarter of the rice mixture. On top of this place a second circle and decoratively pile a quarter of the grilled peppers. Drizzle over 1-2 tbsp of sauce.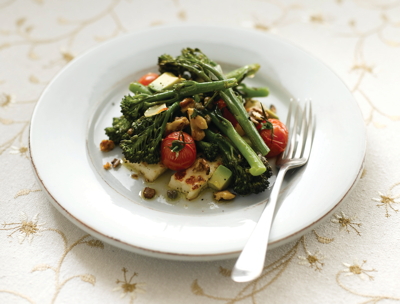 Roasted tenderstem? broccoli, grilled halloumi and cherry tomato salad
Broccoli, halloumi e insalata di pomodori
Serves 4 I Preparation 15 mins I Cooking 20 mins
300g tenderstem? broccoli
2 large garlic cloves, thinly sliced
2 tbsp olive oil
150g cherry tomatoes
50g walnut halves, roughly chopped
2 tbsp white balsamic vinegar
Black pepper
200g halloumi cut into 4 slices
1 ripe avocado, peeled and cubed
2 tsp small capers
Heat oven to 200?C/400?F/Gas Mark 6. Place the broccoli, garlic and oil in a large roasting pan. Cover with foil and roast for 15 minutes. Add the tomatoes and walnuts and roast for a further 5 minutes. The broccoli should be tender by now and the tomatoes just beginning to split.
Take out of the oven and mix in the vinegar with the baking juices in the pan ensuring all the vegetables are coated, and season well with black pepper.
Heat a non-stick pan and griddle the halloumi on both sides until golden. Plate individually, placing the halloumi on the bottom and piling the salad with all its juices on top with the avocado and capers.