If you have ever skied at Chiavenna you will be aware of the concept of the crotto, a cave that has been converted into a restaurant. Rachael Martin revisits the haunts of her youth…
Walk into Pasticceria Mastai in Chiavenna on a cold winter's morning and it's full of skiers having a quick cappuccino and brioche before hitting the pistes of Madesimo and Saint Moritz. It reminds me of when I arrived in Italy and I was young (or younger) and certainly without kids. They were years when it felt like all Italy's young people were flying up and down mountain passes every weekend, although maybe it's just like that when that's what you're doing.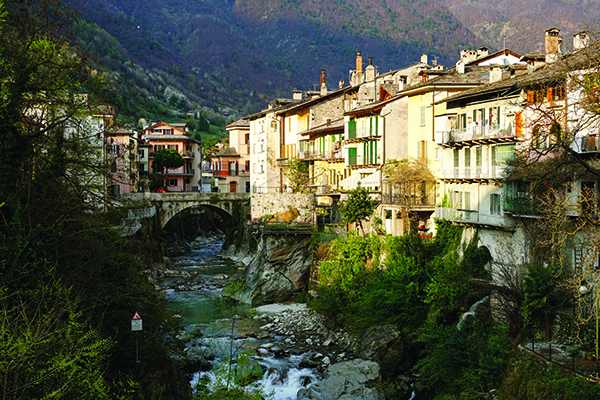 We were there having our own breakfast stop at Mastai and picking up our ski passes and then it was off to the pistes and sometimes back again to the crotti on the way home for a dish of pizzoccheri chiavennaschi (a type of gnocchi dripping in butter and local cheese) and polenta taragna (polenta with a buckwheat grain, again dripping with butter and cheese) with ribs.
They do these sweet pickled onions as part of the antipasto with a selection of cold meats. I always remember the sweet pickled onions. The crotti are still the same, with the possible exception of the Friday night all-you-can-eat at Crotto Quartino.
I have to admit it kind of jars with my whole idea of the crotto. (John from Quartino says people were rather suspicious at first, although now it's very popular with both families and young people.)
Road to switzerland
Valchiavenna and its main town, Chiavenna, lie north of Lake Como on the road that leads up to Switzerland. It's actually made up of three valleys: Valchiavenna, Val Bregaglia and Valle Spluga, the latter two reaching into Switzerland.
The name Chiavenna derives from the Latin clavis, a key, to refer to its position between three mountain passes: Splügen Pass, Maloja Pass and Septimer Pass, which all provided access to Rezia, the area of the Roman Empire that covered the Alpine territories.
During the Middle Ages it was along the preferred route for travelling emperors and their entourages. The construction of the Saint Gotthard, Frèjus and Simplon tunnels may have diverted a lot of traffic, but Chiavenna still remains an important stop-off for tourists, and is a tourist destination in itself.
Leonardo da Vinci mentions Chiavenna in his Codex Atlanticus. He writes not only of deer, ibexes, chamois and the Acquafraggia waterfalls at Piuro but of the "miles and miles of good osterias" where travellers could eat for a decent price. As Guido Scaramellini of Valchiavenna's Centre for Historical Studies points out, he's referring to the crotti, typical natural caves in the mountainside.
Crotto now has two connotations: trattoria and cave. Each crotto has a natural current of air that comes out of a crevice in the rock called the sorèl (from the Latin exaurare, to blow, or to rise into the air).
This led to people building around them and creating a kind of cellar or hut, even small houses. Most crotti have a constant temperature of 7-8°C all year round, making them natural fridges, perfect for storing wine, though for cold meats and cheeses it depends on the humidity level. This, and the quality of the water here, contributed to the development of the Austrian beer industry in the 19th century.
Sit outside a crotto on a warm spring day with a jug of wine and some bread and salami, with the sound of the River Mera against the rocks, and it's easy not only to imagine travellers stopping here but also to understand how the crotti developed an important social role. "At one time the whole family used to meet here on a Sunday," Guido tells me when he takes me up to his own crotto, complete with various outside dining areas with stone tables and the traditional piota made out of soapstone for cooking ribs. (Nothing tastes better than ribs on a piota. Trust me.)
He must be in his 60s, though I didn't feel it was a question I could ask. He has the distinct air of the Italian teacher he was. I can imagine him in his classroom, inspiring his students with Dante and his knowledge of history and the Classics.
"In my day," he says, "we used to go to the crotti because they were out of town and so you could sing without disturbing anyone and your parents couldn't check up on you. I used to go to my wife's crotto in Uschione with my typewriter. Every so often someone would hear the sound of the typewriter and call in, even strangers."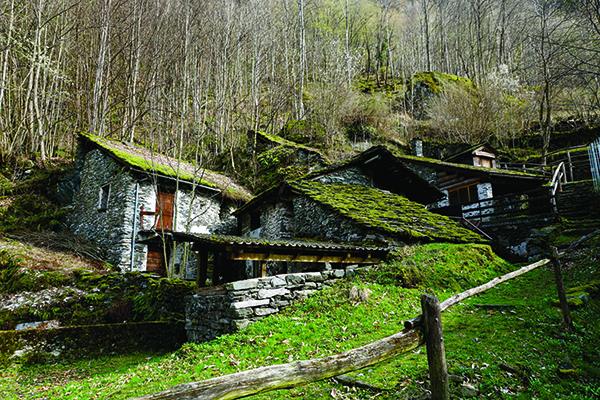 Paolo Ferrario remembers the Sagra dei Crotti, Chiavenna's annual festival, as a young man in the 1970s who came here for his holidays. "It was a moment of festivity where people really let their hair down. There was this atmosphere that let you feel you could really do that." So nothing much has changed there.
Most young people north of Milan seem to go at some stage.
Game of cards
Many crotti are kept within families and passed down from generation to generation, but some have become restaurants.
Michela Prevostini runs the Crotasc restaurant in Mese, the first crotto to open its doors to the public, in 1928.
It was her grandmother who started selling cold meats, cheeses and wine to local people over a weekend game of cards, and also to people who were passing through. "It was an excuse for people to get together," she says. It's a sunny spring Saturday. The snow will soon be gone from the mountains, not that there's been that much this year.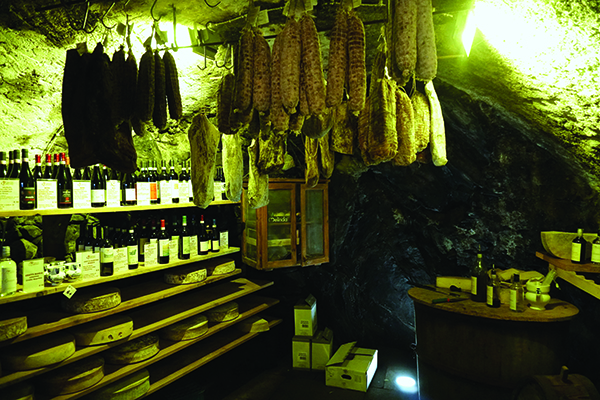 People are having lunch outside while Michela's mother remembers a lifetime of working in the crotto. "It was very much a family tradition," she tells me. "A lot of people got married here. At one time we only had a set number of dishes. There were pizzoccheri (both types, the Chiavenna ones and the Valtellina ones), cannelloni, polenta taragna, venison stew, goulash…" She tells me she grew up in Villa di Chiavenna, the last village before the Swiss border.
Her father was a builder and she remembers going up to take bricks to Saint Moritz when she was about 15. "It was wonderful," she says. "I used to sit next to the driver of the lorry and we'd go up the pass to Saint Moritz. It felt like another world.
There was some tourism, but nothing like today. I've always breathed this environment. I have this bond with the place, as if I'm part of it." "There are very strong links with the local traditions here," adds her mother. "And we have to help maintain them."
Tags:
Crotti
,
Culture
,
food
,
Valchiavenna