Umbria is known as the 'green heart of Italy', thanks to the fact that more than 30 per cent of this central region is made up of woodland.
This is a tranquil and historically rich part of Italy, landlocked by Tuscany, Lazio and Le Marche, and situated right in the middle of Italy.
Although the Mediterranean and Adriatic coasts are both only around 90 minutes' drive away for those who just can't keep away from the seaside. It is pleasantly uncrowded: Umbria's population density stands at half the national average.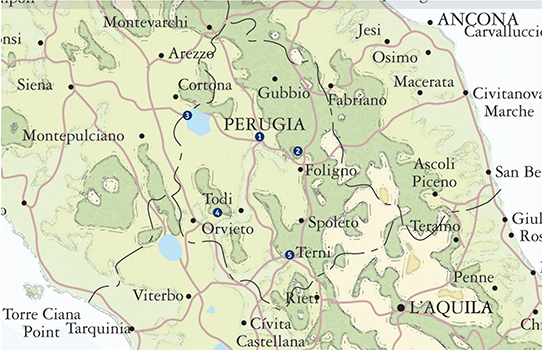 Yet although it has a low permanent population, visitor numbers here are high – tourists flock to Umbria each year, but magically, seem to be easily absorbed without creating the hustle and bustle found in other regions. The region remains a peaceful, spiritual place, and plays host to a wealth of fine historic buildings, among them Assisi's basilica and Orvieto's cathedral. The region's peace is further enhanced by the fact that Umbria is not criss-crossed by major roads, although the A1 motorway glides past its western edge. Rail and bus links are good, but a car is essential if you want to get off the beaten track. Umbria is also well served by airports – in both nearby regions as well as flights to Umbria's capital, Perugia.
Politically, Umbria is divided into two main provinces: Perugia in the north and Terni in the south, and geographically by the valley of the River Tiber and the Valle Umbria. Geologically, Europe's main faultline runs through Umbria, as evidenced in the earthquakes of 1997 and 2016.
Perugia 
Umbria's capital, Perugia, has a significant historical heritage as well as being a vibrant university city with two academic establishments. It's an attractive medieval hilltown, with a 3,000-year history that has witnessed occupations by the Etruscans and the Romans, among others. Perugia also boasts some of Europe's best-maintained medieval streets, with a host of superb palaces and piazze too. A stylish and vibrant city, Perugia is the venue for a variety of lively festivals, especially during the summer – you won't want to miss the famous chocolate festival! It is the 'gateway' to Umbria for most UK visitors arriving by air, and has been since the advent of budget Ryanair flights to its airport a few years ago. While properties here can be on the pricey side, holiday rental returns can be great, and bountiful with students and businessmen eager for lodgings
on a regular basis.
Assisi
Just half an hour's drive from Perugia and visible for miles around is the pink and cream hilltop town of Assisi, iconic throughout the world. It's another medieval jewel and a designated World Heritage Site, where you will find the Basilica of St Francis and other Franciscan sites. It's a must-visit destination with year-round rental potential and offers a fantastic range of property, although its prices reflect its desirability. It attracts pilgrims in search of religious experiences, but there's so much more besides to see in this cultural haven.
Lake Trasimeno 
In the west is the 'Umbrian Riviera', Lake Trasimeno, with its mild microclimate, delightful islands and imperious castles. It's the fourth largest lake in Italy and a magnet for watersports enthusiasts, fishermen and cyclists. The views are serene and this is a popular spot for a second home and a great location for getting welcome holiday rental returns.
Orvieto and Todi
The tiny medieval town of Orvieto is south of Perugia, high on the remains of an ancient volcano. The Etruscans were the original settlers, but it is the medieval architecture that defines the town. Todi is halfway between Perugia and Terni – another small but beautiful ancient town, famous for its historic heritage, architecture, good food and wine. The surrounding area is dotted with interesting places to visit and lovely countryside. Both Todi and Orvieto are – understandably – among the region's pricier towns for properties.
Terni and the South
The area to the south and southeast of the region, around the town of Terni, is the least populated part of quiet Umbria. Terni itself is the area's major city, but is largely industrial, as the majority of its medieval architecture was destroyed during World War II. It has two interesting claims to fame: as the geographical centre of Italy there was a plan in 1867 to make Terni the country's capital, which, as history shows, was unsuccessful. Also, the city's first bishop was the martyred St Valentine, who became the patron saint of lovers worldwide. The surrounding area is largely mountainous, offering unspoilt valleys, rivers and meadows, and this area is a prime location for truffle hunters, a much-loved ingredient of the local cuisine. A must-visit nearby town in the area is Narni, another hilltown with a very ancient and rich history. The Valnerina, southeast of Spoleto, leading to Norcia, has some of the most rugged, remote and dramatic landscapes of the entire region.
Tags:
Regional Guide
,
Travel
,
Umbria