Kate Wickers goes to Le Langhe in search of the elusive truffle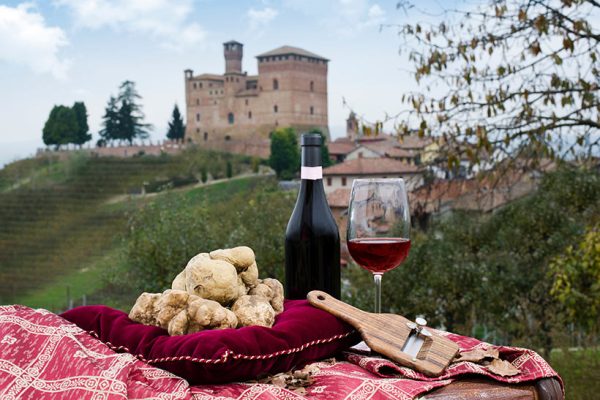 On a mauve-smeared morning in the wine-producing Langhe Hills of Piedmont, where soft grey mists hang in vine-strung valleys, I'm striking out into woods with a young female trifulau (truffle hunter), Marta Menegaldo, and her Lagotto Romagnolo pup, Luna.
With the snap of hazel twig underfoot, and the raspy chatter of a magpie above us, we follow Luna as she cuts a rapid zig-zag through brambles and thickets of wild hazel and chestnut, on the quest for a certain mushroomy aroma.
"Some dogs go stealthily through the woods, sniffing every inch of ground. Others like to run wildly around. Luna is young and keen, so she likes to do both," Marta laughs as we watch the seventeen-month-old Lagotto dart from tree to tree, her chocolate brown nose never leaving the ground.
Fifteen minutes pass before Luna stands suddenly stock-still and presses her snout hard to the ground, then begins to snuffle intently at the roots of a hornbeam.
Soon she's digging in a frenzy, sending moist brown soil and the occasional worm flying.
"If there are worms there, this is a good sign," explains Marta. "Worms love truffles too."
Once she is sure that Luna is on to something, Marta takes over and begins to scrape gently with a hoe to dislodge the spore without damaging it.
"Brava, Luna!" she exclaims, holding up a round, rather bumpy, black truffle of good size, its dark brown skin threaded with white.
A truffle is the fruit (or spore) of a subterranean fungus, often confused with a mushroom, and when it is brought to the nose, the smell is earthy and musky.
In true Italian style, Luna's treat for finding it are titbits of prosciutto and parmesan. Such treats are not cheap, but they are cheaper than truffles.
Truffle hunting with Bianco Tartufi
Marta began her business, Bianco Tartufi, with partner Daniele Stroppiana four years ago, inspired by Daniele's grandmother, Irma, who foraged for mushrooms and truffles long before the spores were prized.
"Fifty years ago, she would throw the white truffles into a minestrone soup to add flavour, like it was a common potato. Can you imagine?" she laughs. "And as a child Daniele used to eat them, like a snack, straight from the fridge."
Given that this season the rare tuber magnatum (white truffle) is selling for around €6,000 per kilo, no, I can't quite imagine. Days such as those are long gone.
There are around six thousand truffle hunters with licences to operate in Piedmont, but it's hard to know how many trifulau there really are as many older hunters refuse to buy a licence, and don't acknowledge private land.
"They stick to the places they've been going to since they were children, even if it now belongs to someone else," Marta explains. "Whereas we like to rediscover forgotten areas where spontaneous vegetation reigns, which we try to keep a secret. That's why most truffle hunters go out at night."
Marta admits that at times her career choice has proved challenging.
"I'm young and female in a male-dominated business, and my aim is to keep the biodiversity of the undergrowth unchanged. Not everyone cares about that. That is why it is good to work in a collective, as we do, with like-minded people."
And younger truffle hunters need to stick together. I soon learn that the business isn't all romantic walks in the woods. Poison is sometimes put down, broken glass can be hidden in pits, and Marta's house has been broken into, and her truffles, promised to local restaurants, stolen.
"That time we had to buy from the friends within our collective, so we didn't lose the business, but of course we lost money," she sighs. "And sometimes I have no choice but to muzzle our dogs to protect them in case there is glass. This is the worst side of a business we love."
Marta gives Luna a cuddle, and the bond between these two is plain to see.
Truffle hunting dogs
Luna is the third Lagotto in the team, joining three-year-old Bianco and four-year old Pico, and why Marta and Daniele chose Luna over the other puppies in the litter is easily explained.
"I took a ball and a piece of truffle. While all the others ran towards the ball, it was Luna who was more interested in the truffle."
Luna is of small girth, with a kinked white coat, and, based on her pretty looks, could be easily mistaken for a dog more interested in snoozing than running up to ten kilometres a day.
The word Lagotto (meaning little lake) is taken from the once expansive marshlands (now reclaimed ) of the Emilia-Romagna region further south, where they were first bred as duck retrievers. Today they are the only dog recognised by the Ente Nazionale della Cinofilia (Italy's equivalent to the British Kennel Club) as the official 'truffle dog'.
"She can smell a truffle from up to twenty metres away and to a depth of one metre below ground," Marta says proudly.
"Our work is special because it is all about the perfume of the forest, as every species of truffle has a different smell. Most likely, we're walking over dozens of truffles, but Luna can't yet find them because the spores are ripe for just one week, when they emit an aroma to attract insects to help with reproduction."
We watch as Luna begins to dig again, but Marta stops her. "That's where she found a truffle last week," she explains. "She's young and cheeky and thinks that perhaps it's worth a try again in case she gets a treat."
Brava, Luna!
Luna may be pushing her luck this time, but in just ten more minutes, Marta thinks she's on to something as we watch her dig determinedly at the roots of a hazelnut tree.
"Brava, Luna !" Marta encourages from the sidelines, until the time comes when she must intervene.
Luna has found the prize – a white – which Marta , brushing off the dirt, holds up for me to see. They aren't the prettiest (knobbly with a greyish hue) but the smell – earthy, rich and oaky – is divine.
For the discovery of this, Luna gets the treat of all treats: a little piece of the black truffle she found earlier, to keep her keen. "Sometimes I wish I was my dog ," jokes Marta . "Running around the woods all day and eating truffle, then going home to sleep."
"With truffle?" is on the tip of every waiter's tongue in Piedmont, particularly during white truffle season in autumn.
Marta's advice has been to head to Trattoria della Posta, near the village of Monforte d'Alba, which has been serving traditional Piedmontese food since 1875.
Here, I eat mine shaved atop the silky strands of a local tajarín pasta dressed in Alpine butter.
Oh, they do taste better than they look, with rich flavours of oak, garlic, and dare I say, mushroom.
This evening , I raise a toast of Barolo wine and a salute to Irma , the foraging grandmother, to trail-blazing Marta, and to Luna, a dog clearly living her best life.
Although the ideal time for truffle hunting is from September to the end of January, different varieties are found throughout the year. Truffle hunting is €50 per person.
Where to stay and eat truffle in Piedmont
CASA DI LANGA
Località Tallor ia, 1 – Cerretto Langhe
This hotel is of grand design, with its ochre brickwork mirror ing the architecture of Piedmont's traditional farm dwellings and churches. There 's an infinity pool, a spa, and it nestles in 42 hectares of forest. Double rooms including breakfast start at around £465. Try the poached egg, fondue, and artichoke with white truffle, at their gourmet Ristorante Faula.
TRATTORIA DELLA POSTA
Località Sant'Anna, 87 – Monforte d'Alba 
Local institution serving time-honoured local recipes. Truffles are brought to your table for inspection, then carefully weighed before being delicately shaved onto your dish.
OSTERIA DELL'ARCO
Piazza Savona, 5 – Alba 
The truffle capital of Piedmont is the town of Alba, and its Saturday truffle fair runs throughout the autumn. The Osteria dell'Arco is highly recommended for tasting truffles at their best.
Discover more travel blogs in our travel archive
Featured Photo © Maurizio Milanesio via Adobe Stock
Tags:
Tours
,
Travel