Following an amazing 48 Hours in Conversano, Jane Gifford has put together the best things to see and do, where to stay and where to eat, to make your stay perfect!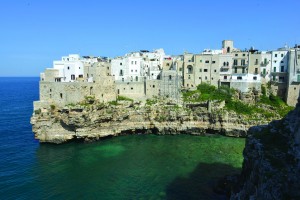 GETTING THERE
➤ BY PLANE
Bari airport is only about 40km from Conversano.
➤ BY TRAIN
From the airport, take the shuttle train to Bari Central, then take a train towards Martina Franca (Ferrovie del Sud-Est) and get out at Conversano.
➤ BY CAR
From the airport, take the SS16 towards Brindisi, and leave the motorway at the Cozze/Converano exit. Then take the SP121 to Conversano.
WHAT TO SEE AND DO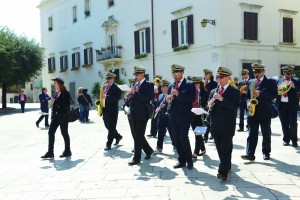 Hang out on Piazza Castello
The is the real centre of the action, and if you do nothing else on a weekend in Conversano, you will not have wasted your time. There is plenty to do in the area, but if you decide that what you want to do is very little at all, you are well within your rights! Just spend the weekend sampling all the bars and cafés on the square and watch the world go by.
Take an early morning walk around the Centro Storico
The early morning light shows the town off at its best, and if the town is busy with tourists at the time of your visit, this is the time to do your sightseeing. Visit Conversano's many churches, the Castle Museum, and don't miss the Civic Museum in the Benedictine Monastery.
Take a bike ride
Cycle out to the Chiesa di Santa Caterina d'Alessandria, an 8th century Byzantine rural church shaped like a four-leafed clove. The ancient watch tower and ruins of Castiglione date right back to the 14th century BC.
Visit Castle Marchione
This was once the lodge of a hunting estate belonging to the counts of Conversano Acquaviva of Aragon. In its day it was surrounded by oak grove and shrubland that covered more than 1,000 hecatres. According to legend, the castle is linked to the castle of Conversano by a secret passage.
Have an ice cream at Mario Campanella's Super Mago del Gelo
Piazza Garibaldi 22, Polignano a Mare
+39 080 424 0025
Take a ride down to Polignano a Mare, have a swim at Cala Paura Beach (unless it's the middle of winter!) then visit the old town, and finish off the excursion by having an ice cream at Mario Campanella's Super Mago del Gelo, established in 1935 and still serving the best in town.
Take the train to Castellana Grotte
In Conversano you are within range of the Caves of Castellana, one of the most important visitor attractions in all Puglia. Since they opened, the caves have attracted more than 15 million visitors, but that's just in recent times. Given that they started forming about 90 million years ago, one can imagine that a few others have been here before us. Book the two-hour English tour.
WHERE TO STAY
Hotel Corte
Vico Goffredo Altavilla 8, Conversano
+39 080 495 9668
www.cortealtavilla.it
A 4-star 'Hotel de Charme' in a former medieval palace opposite the cathedral, right in the heart of the centro storico of Conversano. Secret yet sought after, tucked away as it is among the medieval vicoli of the old town. Friendly staff, and a little wellness centre. Great rooftop dining too, as well as complementary use of the beach club at Cozze. Rooms cost from €69 with breakfast included.
Palazzo d'Erchia
Via Acquaviva d'Aragona 116, Conversano
+39 080 495 0350
www.palazzoderchia.it
A charming and popular little 3-star hotel located in a palace on the outskirts of the old town. Built in the 17th century, when the town was expanded and the district of Casalnuovo was built. Restoration work in 2002 gave the building back its original beauty by enriching its ancient surroundings with modern facilities, transforming it into a 3-star hotel with every comfort. Rooms cost from €52 with breakfast included.
Casale Delle Volpi
Via Cellini 14, Conversano
Book through www.booking.com
If you need your independence, Casale delle Volpi offers self-catering accommodation with exposed stonework and ethnic-style furnishings. A one-bedroom apartment for two adults in a 14th century building in the heart of the old town will cost you from €41 per night.
Hotel San Tommaso
Casa da Bagiolaro, Polignano a Mare
+39 080 426 5573
www.santommaso.net
An historic building full of old world charm and elegance on the road between Conversano and Polignano a Mare. All the elegance of 19th century hospitality combined with 21st century presentation. Prices range from £62 per night for a junior suite, with breakfast included.
Hotel Covo dei Saraceni
Via Conversano 1a, Polignano a Mare
+39 080 424 1177
www.covodeisaraceni.com
4-star elegance in a stunning location sheltered by the cliffs above Cala Paura Beach. Excellent food at il Bastione restaurant, and a wellness centre. The comfort and service of an international-level 4-star hotel but with an atmosphere typical of the Puglia region. Double rooms £91 with breakfast included.
WHERE TO EAT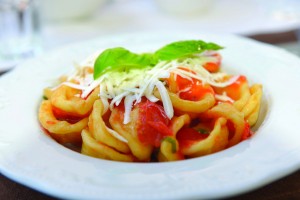 There are a great many excellent and reasonably priced places to eat in Conversano. Just to keep it simple, I have selected those on Piazza Castello in the Centro Storico.
Pashà
Piazza Castello 6
+39 080 495 1079
A personal favourite. Chic and fancy food are offered in the restaurant, while drinks and simpler food are available in the bar, all with the best view of the castle on the square. A welcoming and unpretentious atmosphere, but the food is very good. And they do great orecchiette, the local ear-shaped pasta, which you simply have to try at least once while you are in Puglia. Here is the place to do that.
Price range € €
Goffredo Ristorante
Vico Altavilla 8
+39 080 495 9668
Dine on the roof of Hotel Corte Altavilla in the heart of the old town. Being on top of this former medieval court, you look out over the roof-tops of Conversano, with glimpses of the bell tower of the old cathedral in one direction and the shimmer of the Adriatic in the other. Try the local speciality menu. Reservations required.
Price range € €
Cliché
Piazza Castello 15/16
+39 080 246 2749
Contemporary design and excellent food within the medieval walls of Conversano Castle. The name may be Cliché, but nothing else about the place is. Full of character and contrast, and serving the most fantastic Pugliese cuisine.
Price range € €
Medieval Pizzeria
Via Cardinale Casimiro Gennari 10
+39 080 495 9093
Very small and not always open when you would expect it to be, but a really good place to stop and eat when it is. It's just off the Piazza Castello – simply head for the main entrance of the cathedral and you will find it. Dinner for two with wine can be from just €20.
Price range € €
Pizzeria Terrarossa
Corso Domenico Morea 14
+39 080 495 7208
A really good value pizzeria with a nice lively atmosphere, inside the castle, with more than 70 pizzas to choose from. It is located at the front of the castle, on the seaward side.
Price range €
Images 

© 

Jane Gifford