Jon Bickley makes his way to the slopes of mid-Italy, where he discovers the area offers a surprisingly satisfying ski break to rival its northern counterparts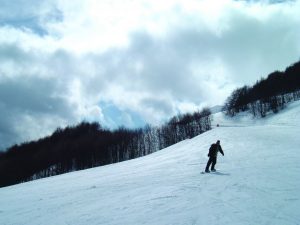 As we entered the final few miles of our transfer from Rome Ciampino to Roccaraso in the L'Aquila province of Abruzzo, my slight concern turned to mild panic. We were barely five minutes from the hotel we'd be staying at for our midweek ski break and we hadn't seen a flake of snow. Not even a slushy mess at the roadside to hint there had been a fall in the past month.
I've always played safe with skiing. High as possible. Mid-January to mid-February. Alps. So when the offer came up to sample Abruzzo's midweek ski breaks in early March it all seemed counter-intuitive. South of Rome… early spring… only 2,100 metres high, you say? But with grandparents willing to look after the kids, the chance of a mini-break in the mountains for Cathy and me seemed too good to miss. "If there's no snow, we'll just go for mountain walks and enjoy the hospitality," we reasoned. But deep down I so wanted to have snow!
Reaching the final mile, grins finally crept across our faces. Just like walking through the wardrobe into Narnia, the moment we turned off the main road into Roccaraso itself we were met by swathes of snow all around us. Seldom have I felt such surprise or relief at somewhere living up to its promise.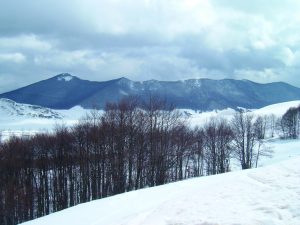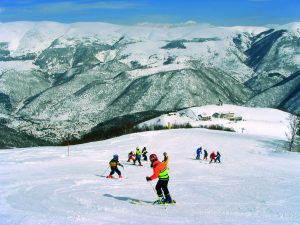 Ski Playground
The '5 Miglia' plain is the weekend ski playground for Naples and Rome. Spanning 112 km of piste across 83 trails and a decent lift network, it's Italy's seventh largest resort – and the biggest ski area south of the Alps. But situated closer to Sicily than the Alps, you'd be forgiven for sharing my fears about its geography, although as our driver explained, all the weather comes straight over from the Balkans. Nevertheless, its success as a weekend resort doesn't translate to weekdays.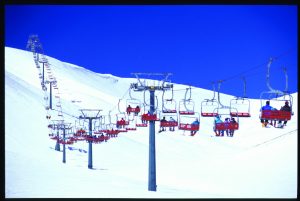 While every hotel room is booked out Friday to Sunday from December to March, as few as 20 per cent of rooms were occupied for our midweek visit. Which is where the logic comes in – and why I have no hesitation in overcoming my ski snobbery to recommend a short trip here. The very lack of visitors means foreigners can enjoy cheap accommodation, no queues for ski-lifts and the freedom of the slopes. And if you have skiers among you who are learning, then all the better. I took advantage of the peace and quiet to try to develop my snowboarding, though after two days, my bruised backside demanded a return to the civilised world of skiing.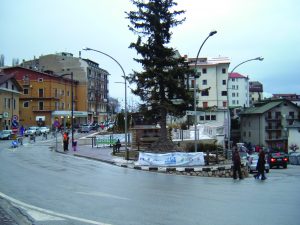 Our base for our break was Roccaraso. It's a smallish town with a smattering of bars, restaurants and cafés. We stayed at Hotel Iris, which provided us with good quality accommodation and a relaxed dining and breakfast base. We were welcomed by Mirko Ballone from the local hotel consorzia, the driving force behind the bid to attract foreign visitors to fill up midweek spaces. With a package of €330 for airport transfer, hotel, ski pass and ski hire, you can see how compelling the deal is. Throw in a budget flight to Pescara and you've got yourself an all-in ski holiday for comfortably under £400.*
Our days settled into a pattern of a leisurely breakfast before an easy 15-minute coach transfer to the slopes. Collecting our skis and getting on the first lifts was a cinch as there was barely anyone around. I can't over-emphasise how refreshing it was to be so unflustered in a ski resort – at times the experience was more akin to mountain hiking than skiing, with the time and freedom to enjoy the environment without hordes of other visitors jostling for the queues or cutting you up on a descent.
As a ski resort I found the area just right for what we were doing. Four days spent on the snow here would be fine for any beginner or intermediate skier/snowboarder. I don't consider myself an expert by any means, but will take on pretty much any slope on skis, so the decision to try boarding gave me a way to better enjoy the resort without exhausting the possibilities too quickly. Cathy, who can tackle reds and blacks but is no thrill-seeker, was happy with the range and variety of slopes, but I wouldn't suggest coming if you're all competent red/black skiers and want that kind of experience for the full four days of your stay.
A Spot of après-ski
Back from the pistes, we enjoyed the informal dining and bars in Roccaraso. For a touch more glamour, though, head to the next town along. Pescocostanzo is rumoured to host the holiday home of Fabio Cannavaro, captain of the Italian World Cup winning football team, among other luminaries. It is dotted with classy boutiques and picture-postcard houses. But the town is perhaps most notable for its fine lacework, produced in silk, silver and gold. We were welcomed into a hushed workshop-cum-boutique where the owner carefully talked us through the lace techniques and styles that continue to be produced here.
There is time and freedom to enjoy it without hordes of visitors jostling for the queues or cutting you up on a descent
Further down the valley, we were able to indulge our senses in a more physical sense with a visit to the Sport Village Hotel in Castel di Sangro. Initially unprepossessing, set amid a sports stadium and industrial estate, this new hotel is home to a wonderful wellness centre. After the bumps and bruises of my snowboarding escapades, its sequence of plunge pools, steam rooms, saunas and scented showers was precisely what the doctor ordered. We'd never used a spa on a skiing holiday, but having experienced this end-of-week therapy, I can't imagine a snow break without one now.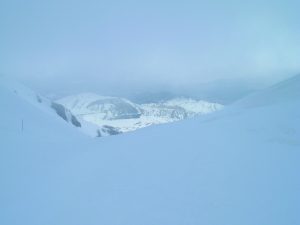 Both exhilarated by the mountain sports and relaxed by the spa and delights of Pescocostanzo, it was time to wend our way home. We'd travelled via Rome, due to the convenience of flights from Bristol, and spent the last few hours of our holiday looking out of the window of our train as it snaked through Abruzzo and up past Monte Cassino. The whole experience of midweek skiing had been a relaxing delight and I would happily go back for more.
Helpful contacts
Getting there and away
The closest airport to Roccaraso is Pescara, from which it is an easy transfer to the ski resort. It is also possible to get to this area by train from Rome airports and is also easily accessible from Naples.