All you need to know when planning your trip to Italy's Puglia: Read our Puglia travel guide…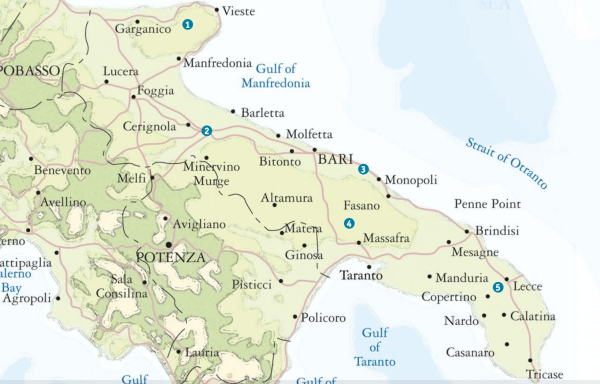 Puglia dips its heel into both the Adriatic and Ionian seas.
The climate is reliably sunny, and hot and dry in the summer, with low rainfall year round.
The land away from the coast's golden sands offers wide plains and hillsides, while Brindisi and Bari have airports that are well served by budget airlines, and public transport is generally reliable, certainly around the larger towns.
Puglia's profile is growing, but while demand for property is increasing, prices have yet to become unaffordable.
North: Gargano Promontory
This headland is a nature-lover's paradise with its National Park and ancient forest. The beaches are also a magnet for sunworshippers from northern Italy. So the area is busy in high summer, particularly in the resorts of Vieste, Mattinata and Peschici, but less so out of season, although it's still beautiful, so you can still expect to make good rental returns. There's also the possibility of renting to the visitors who make religious pilgrimages to inland destinations such as Monte Sant'Angelo and San Giovanni Rotondo.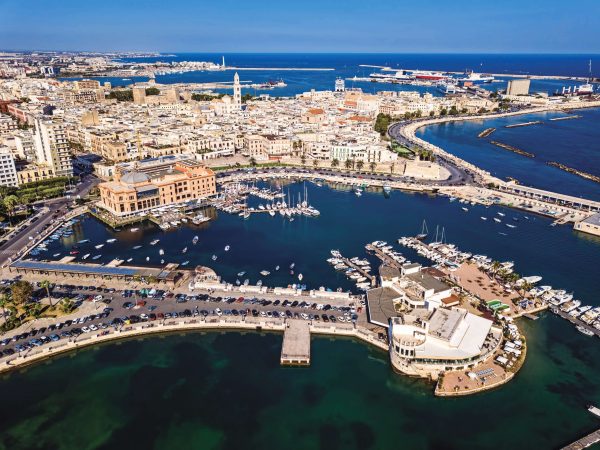 Central: Foggia to Bari
The landscape around the small city of Foggia is fl at and very fertile and responsible for providing the ingredients for some of Italy's best pasta.
The homes in and around Foggia tend to be low and solidly built – a testament to the fact that this is the only part of Puglia prone to the occasional earthquake.
The land grows hilly again as you move west and south of Foggia, and there are some very attractive but rarely visited villages, like Lucera, above the plain.
Moving south along the coast there are yet more appealing towns – such as chic and prosperous Trani and historic Molfetta, for example.
Then you reach Bari, Puglia's capital city and rival to Brindisi, a few miles further south, with its lively passeggiata and colourful festivals.
A particular attraction is its Saracenic kasbah-like quarters where you will see women sitting together at tables on the street chatting and rolling orecchiette, the typical pasta of the region.
Such areas can be found in many of the towns and cities of Puglia, but Bari's are the biggest and most atmospheric.
The coast: Bari to Brindisi
South of Bari, the coast changes from craggy cliffs to flat, fertile scrubland and back again, interspersed with short, pale wisps of sand.
Polignano a Mare is a charming cliff top town, while further south is the 'white city' of Ostuni, where there is much interest from foreign buyers and visitors alike.
The city's centro storico is an astonishing pile of white buildings set on high, overlooking olive trees that stretch all the way from here down to the sea. From afar, it really does look like a fairytale city.
It's small, but with plenty of good restaurants, and it has a surprisingly lively calendar of public events.
Further down the coast, you arrive at Brindisi, a thriving seaport city since ancient times with a superb natural harbour.
You'll enjoy great local food here and an exuberant passeggiata in the evening. Bari and Brindisi both have international airports.
Central: The Itria Valley
This picturesque area is 'trullo central' with these cute, cone-shaped dwellings scattered right across the rolling green landscape of the Itria Valley, which forms the hinterland behind the Bari to Brindisi coast.
Towns like Fasano, Ostuni, Martina Franca and Locorotondo flourish all year round and are not particularly dependent on seasonal tourists.
And the World Heritage town of Alberobello, with over 1,000 trulli, is always popular, whatever the time of year.
Properties in this area are now much sought-after by foreign buyers – the area is easy to get to from Bari and Brindisi airports.
Move east from the Adriatic coast towards the Ionian coast and this gentle landscape breaks into crags and grottoes.
Either side of the industrial port of Taranto there are dreamy white sandy beaches backed by cool pine woods.
South: Salento Peninsula
Draw a line between Taranto and Brindisi and you more or less have this appealing peninsula, which has some quite distinctive cultural peculiarities that differentiate it from the rest of Puglia, including Greek influences in architecture, language and cuisine.
The attractive coast is rocky and cliffbound and riddled with caves, and the sea is clean, calm and shallow.
A few low-key beach resorts serve the occasional stretch of sand here, but elsewhere the rugged and uninhabited spaces are empty and elemental, with the best beaches either side of the iconic town of Gallipoli.
There are some appealing towns down here too, like Otranto, Castro and Galatina, and baroque Lecce.
The Salento Peninsula area can get pretty quiet in the winter, but the middle-of-nowhere atmosphere it exudes is also part of the sub-region's charm.