Looking down on this energetic scene as gallons of water crash against the rocks, it's hard to believe this river's final destination is the tranquil Lake Orta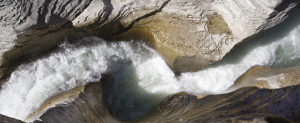 A truly imposing sight, this cavernous ravine contains the rushing waters of the Nigoglia river, Lake Orta's tributary. The river leaves Lake Orta at its north end, flowing through the city of Omega, then joining the river Strona.
Lake Orta is the smallest of the northern Italian lakes. Just eight miles long and two miles wide, its secluded, peaceful position makes it a great destination despite being lesser known than many of its counterparts.
Orta San Giulio is the main town and features stone buildings encasing narrow lanes, which travel down the hill to the shoreline looking out onto Isola San Giulio. The little island is shrouded in mystery, legend saying that it was occupied by a giant snake until St Giulio banished it. Now a Benedictine monastery lies at the centre of the island with a path offering two different meditational walks winding around the outside.