Two decades ago Rachael Martin arrived in Italy, exploring the country by rail and dreaming of rooms with a view. Twenty years, one Italian husband and two kids later, she still has the memories of those first voyages of discovery…
Photos by Rachael Martin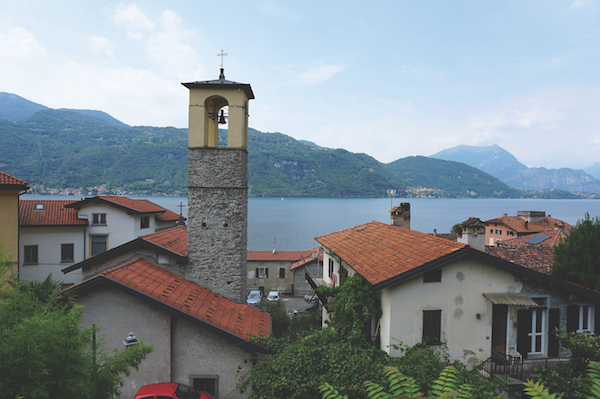 I start off in Lecco, at the southern tip of Lake Como's eastern leg, the part of the lake that is known as both Lake Lecco and Lake Lario. The setting is spectacular, a whole town framed by the dolomitic Grigne mountain range with its two peaks – Grignone, or Grigna settentrionale, and Grignetta, or Grigna meridionale – and most distinctively by Mount Resegone, with its saw-like profile that towers over the town.
Lecco is a town that offers many opportunities for climbing and its Lecco Spiders mountaineering group is internationally renowned. It's also the setting for Alessandro Manzoni's The Betrothed, the famous 19th-century novel describing the love story of Renzo and Lucia, and compulsory high-school reading for many an Italian teenager.
I take the regional train to Sondrio, although I'll be getting off at Colico. The train is old and rather noisy and I have to pull the window down to take photos. We're travelling above the lake, past Abbadia Lariana (literally, the Abbey of Lake Lario), named after its Benedictine abbey. The abbey has gone now but there's a long, white, stony beach that attracts plenty of holidaymakers and locals out for the day.
On we go along the mountainside, into tunnels and out of tunnels, rejoining the views of the lake below; a view of cypresses, red-roofed houses, church bell towers, clusters of yellow and ochre-coloured buildings and villas with fine gardens. We pass stations with their station houses, their doorways and windows emphasised in a darker shade of ochre brick, and the familiar blue station signs with their white writing.
There's Mandello del Lario, home to Moto Guzzi since 1921. Then Olcio, Lierna, Fiumelatte, Varenna and its tourists – or rather Varenna-Esino Perledo as the train station is actually slightly above Varenna in the village of Perledo; and Esino comes from Esino Lario, which lies above in the Northern Grigna Regional Park.
A woman in colourful African dress and carrying two huge bags gets off the train at Bellano and goes to wait at a bus stop. A girl on the train continues to read the book on her knee. A few people get on with rucksacks and walking sticks, along with a mother and her children. We move onto the plain of Pian di Spagna against a backdrop of the mountains of the Valtellina and stop at Piona, famous for its abbey that's home to Cistercian monks.
Lake Como has many moods; moods that change with the weather, moods that convey certain sadness; and colours that change accordingly. Virgil called it "our greatest lake". Byron, Shelley, Rossini, Stendhal and others all visited and loved it. Today it's windy, slightly cloudy, but when the sun's out it's hot. A brown, utterly uninspiring apartment block is a reminder that Lake Como is more than the sum of its celebrities, desirable holidays and picture-postcard blue skies. Varenna station may wear its very best, yet forgotten stations such as Dervio are covered in graffiti.
The lakeside square in Colico is wide, open and windy, with a small marina. "There aren't many tourists this year," I'm told at the gelateria. "Fewer than last year. But then I suppose there isn't much here. It's not as if there's a golf course." No, it's just as it is, and it's beautiful – although that doesn't help the local people. A table of men are whiling away their afternoon behind me over coffee and possibly Braulio, the local digestif. I order a coppa di gelato with a lakeside view and syrupy Amarena cherries on top.
The train going home is one of the fast ones, with just a few stops and then straight on to Milan. A young woman sits opposite me. "Sorry if I've put my feet up. My legs are killing me. I've got veins already, and I'm only twenty eight. I'm a waitress." She tells me she's from a small village above Morbegno, in the Valtellina, that she has moved to Switzerland and is hoping for a better future, "although I'm already twenty eight."
Across the carriage from us are two girls with long dark hair and a boy with a head of peroxide blonde; they are working out what they've spent and who owes what to whom. I would say they are in their early 20s, the age I was when I first came to Italy. In those days I'd get the train up the lake and sit and eat ice creams in cafés. I could barely speak any Italian – none when I first arrived. I hadn't yet learned this language that attracted me with its sounds and gestures, or developed my own identity within it.
We travel back towards Lecco, past people on beaches under umbrellas. We stop once more at Varenna, where Japanese ladies with sun-protective headwear join us, along with tourists with suitcases, while other tourists get off and make their way towards hotels, guest houses, stereotypes and their own dreams.
Click here for more of Rachael's train journeys…
Tags:
Italian Holidays
,
Italy by train
,
Italy Travel
,
Lake Como
,
Train
,
Travel