Mark Nicholls delves into Sicily's striking architectural heritage and discovers an island of medieval hilltop towns, cathedrals and artistic inspiration…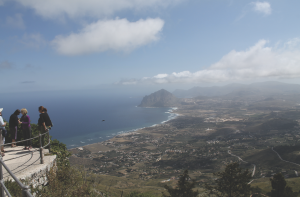 Sicily is an island that has been stamped by the indelible imprint of all those who have conquered, settled and passed through over thousands of years.
It finally became part of Italy in 1860, but before that, the Greeks, Romans, Saracens, Normans and Spanish all left their own legacies on the island. Here you will find, often in close proximity, colossal Greek temples, stunning Roman amphitheatres and villas, Arab-era fortresses, Norman cathedrals and Spanish plazas. Indeed, these features sometimes uncannily merge. For example, at the great Duomo of Ortygia – on the island linked by two bridges to the city of Syracuse, and that city's centro storico – look closely at the long side wall: embedded in it are the colossal pillars of an Ancient Greek temple.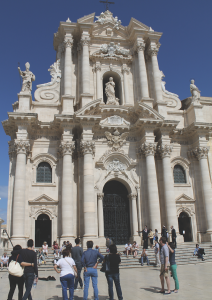 With this unique architectural heritage – combined with a wonderful landscape, delicious cuisine, delightful villages and towns, guaranteed-sunshine coastal resorts, and the backdrop of the volatile Mt Etna, Sicily becomes an irresistible island to visit. I joined a group from Explore – a company specialising in small-group adventure, activity and cultural holidays – for a tour of Sicily and was mesmerised by its Norman ecclesiastical legacy. Palermo's cathedral – which, some may argue, looks like a blend of the façades of St Pancras railway station in London and the CST railway terminal in Mumbai – has an exterior to behold, but it is the décor of Monreale Cathedral a few miles away that will truly mesmerise.
Founded in 1174 by William the Good, within are 9,000 square metres of glittering mosaics using 1,000 kilogrammes of gold, including a startlingly dominant image of Christ above the altar. Nearby, the atmospheric cloisters where Benedictine monks walked between services are also a true work of art, with hundreds of thin columns looking like giant sticks of seaside aniseed rock.
Yet while the Normans left a notable Christian legacy, it was the Greeks and the Romans who were the first great architects to shape the Sicilian skyline. My tour of Sicily started in the UNESCO World Heritage Site city of Syracuse, notable as the birthplace of the mathematician Archimedes, for a Greek amphitheatre that once held 18,000 people, and for the island of Ortygia.
Nearby, too, is evidence of the limestone quarries from which the amphitheatre was built and an intriguing cavern 23 metres high and 65 metres long from where further stone was excavated. Known as the Ear of Dionysius (after the Greek ruler Dionysius I) for its acoustics – and its shape – it was to prove an inspiration almost 2,000 years later to the renowned Counter Reformation artist Caravaggio.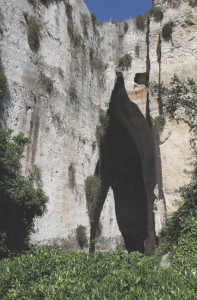 "When he saw the cave he noted it was very dark inside, but after mid-day the sun shone through a small opening and this proved an inspiration for his use of light," explained my guide, Carmine Corsa. "With Caravaggio, everything was black or white, dark or light. He saw the cave in this condition and reproduced what he saw and used it as the background in a number of his paintings." That much is most visible in the Burial of St Lucy, which currently hangs above the altar in the church of Santa Lucia, near the Duomo, on the island of Ortygia.