It's famous for Venice and other captivating cities, but this prosperous northern region has rural delights aplenty. Buyers seeking good investment or great value for money should take a closer look, says Fleur Kinson.
Sophisticated, romantic and beautiful – these words might or might not describe your partner, but they certainly describe Veneto, a lovely, affluent region tucked into Italy's northeastern corner.
Pronounced 'VE-ne-to,' with stress on the first syllable, the name might not be terribly well-known to you, but you're sure to be familiar with some of the region's contents: Venice, Verona, eastern Lake Garda, the villas of architect Andrea Palladio and the glitzy Dolomite ski resort of Cortina d'Ampezzo. Spaced in between these famous assets, Veneto also offers countless charming small towns and glorious rural spaces to discover – places that arguably should be better known.
Visually, Veneto is often characterised by elegant drama and dreamy enchantment. The architecture is highly decorated, the countryside is soft and pretty, and there's shimmery water everywhere – except in the far north where the fantastical golden needles of the Dolomites pierce the sky. Like many Italian regions, Veneto offers an impressive diversity of landscapes. Its long, sandy coastline fractures into warm lagoons, the great Po Valley unfurls fertile fields, dome-shaped hills rise unexpectedly from flat surrounds, and pleasant countryside climbs swiftly toward the eerie majesty of the Dolomites.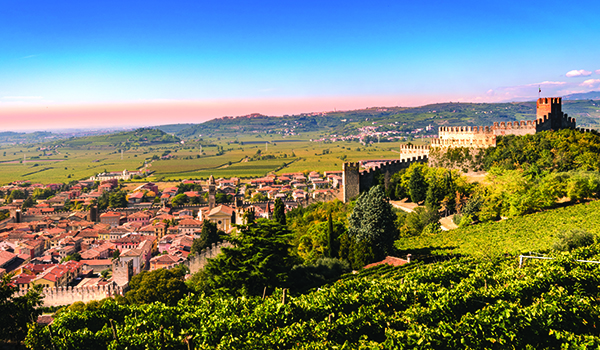 The region's cities, meanwhile, are small and gem-like. Famous places like Padua, Vicenza, Verona and Treviso are packed with history and charm, but so are Veneto's many small towns and hamlets. Culturally, Veneto is a well-run and orderly sort of place, with an evident taste for the fine things in life and a flair for good living. The region's five million inhabitants are a creative and hard-working bunch, but like Italians everywhere they enjoy a very healthy work-life balance and take time to stop and smell the roses. What's the point of affluence if you have no leisure to enjoy time with friends, slowly savour fine meals, attend the opera or sit at cafés and watch the world go by?
Tourism is a significant part of Veneto's economy, as you might imagine. Verona, Lake Garda and the Dolomites are perennially popular destinations, while Venice alone receives a whopping 13 million visitors every year. This is a popular – and populous – section of Italy, with much for the visitor and resident to see and do.
Historically situated at a meeting point of the Eastern and Western worlds, welcoming international trade for centuries, and today welcoming holidaymakers from across the globe, Veneto is a cosmopolitan-minded and very outward-looking place where you'll quickly find yourself warmly embraced into the fold.
Why buy here?
Ease of access is one of Veneto's many strong points, especially for travellers coming from northern European countries such as Britain, for whom journey times are very short. There are several international airports in Veneto, and once you're on the ground the network of rail connections are great.
Another good reason for buying a home here is that Veneto shows no sign of waning in fascination or appeal. Thus property values are quite robust and tend not to suffer dramatic tumbles; meanwhile, holiday rental prospects only ever climb. People are always interested in spending time in Veneto, and they're not going to stop in the foreseeable future – because there's too much beauty and history here, too many exquisite buildings and lovely landscapes, too much good food and fine weather.
Veneto certainly isn't one of Italy's cheapest regions, but it offers very good value for money and you might be surprised by what small prices you can find if you look around and away from the very
best-known locales.
Andrea Redivo Zaglia of Veneto-specialist agency Properties in Italy rightly says that, "Veneto offers property within the reach of any pocket." He continues, "Of course the most expensive places are Venice and posh locations like Cortina d'Ampezzo, but property in the countryside can be extremely cheap. Thinking of Venice, one-bedroomed apartments might start at €200,000 and two-bedroomed ones at €250/300,000, but if you look on the nearby island of Burano, a small townhouse with a colourful façade can be bought for only €100,000. Meanwhile, Veneto hides hundreds of historic hamlets where you can own a piece of history at a bargain price – walled towns such as Montagnana, Cittadella, Este, Soave and others. In Montagnana you can buy a converted medieval tower for just €110,000!"
As Andrea suggests, small-town and rural property represents especially good value for money in Veneto. You might pay as little as €120,000 for a fully restored farmhouse in the hills less than an hour from one of the region's many handsome little cities.
Meanwhile, well-situated two-bedroom apartments in one of these little cities – places such as Padua, Vicenza, Verona and Treviso – start at about €150,000/€200,000, depending on the city. Note that holiday rental prospects in these small cities are good – especially in popular Verona. Queen of the rentals, of course, is still Venice, where the weekly rental rate can be anything from €600 to €6,000 and you can fill your rentals calendar for perhaps ten months of the year.
Where to buy?
Chances are you know already whether you're after a city bolthole or a rural retreat. But if you haven't yet thought that far, you'll obviously want to start by considering how much quiet or busyness you want, how far you want to have to go to get food and regular supplies, how many people you want to mingle amongst every day, and so on. You should also ask yourself what you mostly want the property for.
If you're looking for an investment and want holiday rental returns to be a big feature of what you get out of your property, then you should consider a well-situated apartment in one of Veneto's cities. (Venice if you can afford it, elsewhere if you cannot.)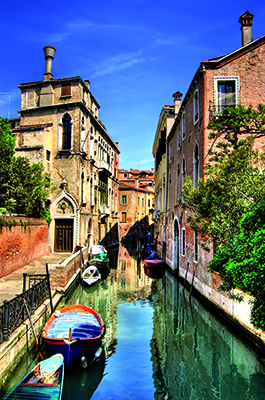 If you like to take lots of short city-breaks and having great rental returns would come as an additional bonus, then obviously a city apartment is also a good idea. Because you can often fly straight to the city you've chosen, or can at least get a swift connection there from another nearby city with an airport, urban homes are very convenient for making lots of short visits.
If you're seeking lots of traditional waterside holidays for yourself plus good holiday rentals when you're not there, think about the shores of Lake Garda, or a home in one of Veneto's many beach resorts. And if you mainly want a country getaway to enjoy yourself, but with the option of moderate holiday rental prospects too if you'd like them, then you'd do well to consider a rural area such as the Euganean Hills, the Lessini Hills, the Berici Hills or somewhere in the Dolomite foothills in the north.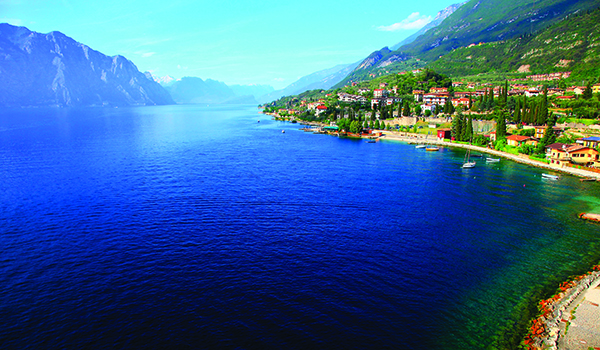 Let's look at each of these potential locations in a little more depth, going from the urban to the rural. We've established that unique, enchanting Venice is expensive but that it also offers fantastic holiday rental prospects. It also makes a good investment because it offers strong property re-sale values – people are not going to stop wanting to have a home here, and as new property can't easily be added to the city, demand is always going to outstrip supply. As mentioned earlier, a cheaper way to get a foothold in this magical watery city is to buy on one of its smaller satellite islands – places such as Burano, where property is much more affordable.
Alternatives to venice
If the costliness of Venice puts you off, but you still like the idea of a city apartment with safe re-sale value and strong holiday rental prospects, consider Verona – a magnet for Shakespeare fans, romantics and opera lovers. Apartments in Verona are almost half the price of similar properties in Venice, and rentals prospects are very good for about seven months a year. Or you could try under-rated Padua, which is within easy rail day tripping distance of Venice. Or handsome Treviso with its canals, or charming Vicenza with its wealth of Palladian architecture. Each has good-value property and pretty good holiday rental prospects.
Beaches and hills
But maybe you're not a city person and much prefer instead the delights of watersides and open landscapes. Veneto's coastline is wide, flat and full of strands and lagoons. There are plenty of nice beach resorts, and you should note that prices generally drop as you get further from Venice.
Freshwater-lovers, meanwhile, should know that Lake Garda, Italy's largest and most-visited lake, lies half in Veneto and half in Lombardy. Its wide, clean water and reliable breezes are much loved by sailors and windsurfers. Extremely pretty little towns dot the lakeside, the terrain of which grows steeper and more dramatic the further north you go. Much of the lake's eastern shore, which lies entirely in Veneto, is heavily touristed, but there are still serene and lovely settlements such as Malcesine and Torri del Benaco. Property prices tend to be higher in the lake's northern stretches than along its more southerly shores. Holiday rental prospects are good everywhere on the lake.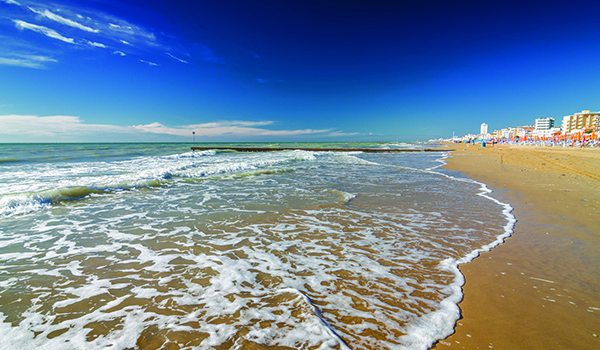 When it comes to lovely rural hills, Veneto really ought to be a bit better known. In particular it has three beautiful ranges handily positioned not far from some of its charming small cities which each make excellent – and very reasonably-priced – places to buy a country home. Investigate the Berici Hills south of Vicenza, the vineyard-striped Lessini Hills northwest of Verona, and the wonderful domed Euganean Hills south of Padua – famous for their spas and restful atmosphere. Quite a few British buyers have found their dream retreat in these leafy hill ranges and their charming villages over the last 15 years or so, and you could easily join them for a surprisingly small sum. €110,000 or so for a farmhouse obviously represents very good value for money!