A spectacular example of 19th-century architecture, this elegant arcade in Milan had a central part to play in the birth of the modern-day malls in which we shop today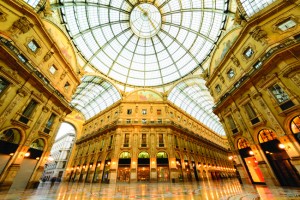 Gazing up through the central octagonal glass dome of Milan's Galleria Vittorio Emanuele II to the blue skies above gives a whole new twist to the term 'window shopping'. Just as Milan is the shopping capital of modern Italy, it seems fitting that these arcades formed one of the world's earliest examples of a covered shopping centre. This double arcade, laid out in a cross-shaped formation, with the mighty dome intersecting its centre, was a pioneering example of ambitious 19th-century architecture. Its name even influenced the 'galleria' title given to shopping malls and arcades across the globe today. 
Milan's Galleria was named after Vittorio Emanuele II, the first king of united Italy. Originally designed in 1861, it was built shortly after by Giuseppe Mengoni, who decided to fashion the stunning street coverings from glass and cast iron. The building connects two of the city's most famous landmarks: the Duomo and the Teatro alla Scala. Standing four storeys high, many of Milan's most important fashion houses, plus numerous restaurants, cafés and other vendors still sell their wares under the Galleria's beautiful glazed ceilings. 
Tags:
Fashion
,
Galleria
,
Galleria Vittorio Emanuele II
,
Milan
,
shopping