The striking black and white cathedral of Orvieto in Umbria is well worth further investigation, enjoying a long and varied history and rare aesthetic appeal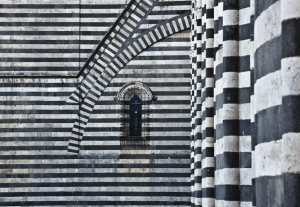 The remarkable medieval city of Orvieto in Umbria is home to one of Italy's most spectacular cathedrals. This architectural treat sits majestically on a hill of golden volcanic tufa, standing tall at 1,066 feet with eye-catching black and white stripes made of basalt and marble. And this duomo certainly goes back a long way. The building was designed in 1290 in a Romanesque style.
However, as the corrosive tufa began to weaken, structural updates were needed, so new architects of a new era were called in and fresh, Gothic features were incorporated. Several years later, more structural issues arose and architect Lorenzo Maitani was called in to stabilise the duomo for good – as well as carrying off a remarkable redesign of the façade that incorporated intricate sculptural detail. Today the cathedral's architecture reflects the various styles of its different historical contributors in a way that not only blends beautifully, but which also enhances the effect of the edifice as a whole.
Tags:
Cathedral
,
Orvieto
,
Umbria