What are the essential things to do on a visit to the historical city of Pisa? Here are some of our favourite destination suggestions
Tower of Pisa
Everybody has heard of the leaning tower, but did you know that this freestanding bell tower wasn't intentionally designed to tilt? During its construction between the 12th and 14th centuries, it was left slanting to one side due to unprecedented soft groundwork foundations and as a result, now leans at 3.99 degrees and stands at 183 feet tall. It's architectural beauty and uniqueness make it one of Italy's most iconic tourist landmarks as tourists flock to photograph themselves attempting to 'right' the tower. If you're going to Pisa, make this one of your first stops!
 Arno Promenade
The streets that line the Arno river are dotted with beautiful buildings that date back to the Middle Ages, including towers and bridges. One of the more well-known streets is the Medicean, which hosts a great number of historical buildings including the de'Medici Palace and Toscanelli Palace. You can also find dozens of bustling pubs, restaurants and bars and if you're lucky enough to be here on 16 June, you'll find the streets illuminated by beautifully eerie candlelight in honour of the Patron Saint Rainerius.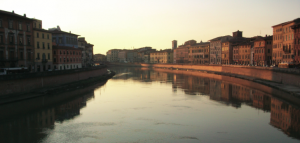 L'Ostellino
Choosing somewhere to eat in Italy is always going to be a difficult task, but the L'Ostellino is the Number One restaurant in Pisa, according to trusted source Trip Advisor, so it could be a good place for you to start! This small, cosy yet unpretentious bistro is perfect for light lunches and quick stops, with paninis galore and more wines than you could possibly wish to choose from! Their selection of cheeses and meats is extensive and you can guarantee you'll be making more than one visit here while you're in Pisa.
 Gelateria De' Coltelli
What's a trip to Italy without trying some famous Italian gelato? The gelato at Gelateria De' Coltelli is frequently visited by both tourists and locals alike due to its use of natural ingredients and huge variety of flavours, including liquorice, pear and black pepper, and intense dark chocolate.
Tags:
Pisa