Traveleyes is a company that offers holidays for visually impaired people. Rachael Martin went with them to join a group of sighted and visually impaired tourists on a trip to Verona and Lake Garda.
It's a Sunday morning in Piazza Bra, in the heart of Verona. The square is full of people taking their morning stroll, having coffee and maybe a brioche at the cafés along one side of the square.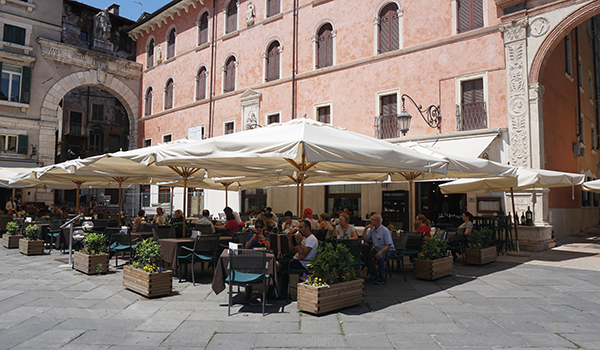 Piazza Bra is the largest square in Verona. It is home to the city's world-famous 1st-century Arena, once the site of gladiatorial combat and since 1913 the theatre for spectacular operatic performances. It's seen artists such as Maria Callas, Luciano Pavarotti and Andrea Bocelli, and in May last year hosted an Adele concert.
I've been to Verona several times before, so this is very much a revisit, and this time I'm with a group of people from Traveleyes, a holiday company that offers visually impaired travellers the opportunity to take their holidays independently.
The holiday I'm joining is 'Lake Garda – An Italian Romance', which took place in June this year. It's a six-night holiday based in Peschiera del Garda, on the southern shore of Lake Garda, and includes two optional wine tasting trips. It takes in a tour of Verona, a trip to the estate of the famous Italian writer, poet and journalist Gabriele D'Annunzio, and various other opportunities to explore the lake.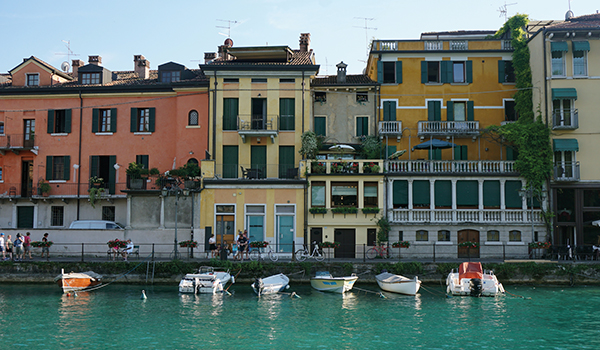 It's just one of many holidays that Traveleyes offer. The company was founded by Amar Latif in 2004 as a result of his own experiences as a visually impaired traveller. Thirteen years later, and Traveleyes has a team of travel experts all specifically trained and all sharing the same love of travel.
Knowledgeable guide
And so here we all are in Verona, on a walking tour of the city with Katia, our friendly and very knowledgeable guide. Verona is beautiful, as most Italian cities are, and despite the tourists it still has a feeling of being very liveable. Walking is a great way to get a taste a city's highlights; later in the afternoon we all go back to the hotel in Peschiera del Garda.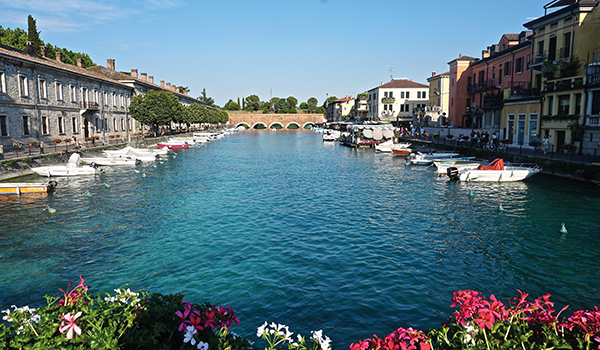 I asked tour manager Diana Shackleton about her experiences of Traveleyes holidays. Diana found out about the holidays when her daughter sent her a link for a holiday to Rome. She went, and enjoyed it. She'd already been a tour guide in France, and so welcomed this new opportunity.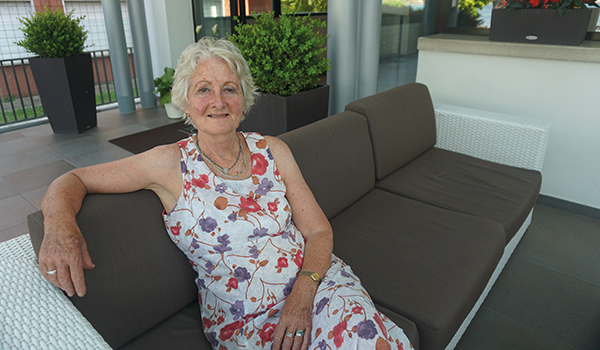 She tells me how a visually impaired traveller and a sighted traveller are paired up every day. "I think the concept of changing partners every day is brilliant. There's usually a ratio of more sighted guides on the holidays so there are always some 'extra' guides who aren't obliged to come on the trips but usually do." Her other experience as a tour manager was in Tuscany.
Steve and Debbie, a couple from Bristol, both have impaired vision. It's their third Traveleyes holiday. They went to Finland, and to New York a few months ago. Debbie enjoys the social aspect of the holidays. They've met lots of people and made lifelong friends.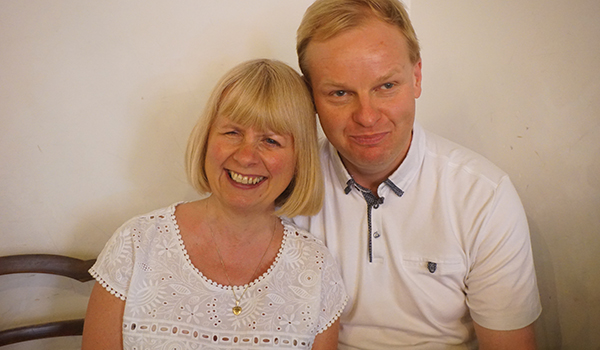 Steve tells me how, "It just enables us to do stuff that we struggle to do otherwise. We have assistance as we do these things. We get to see the world and we don't have to worry. We went husky sleighing in Finland in minus seventeen degrees. It was excellent!" Steve thoroughly recommends the holidays. "They're almost unique. There isn't really anything like it that I've found. Traveleyes lets you have a one-to-one guide. This doesn't happen with other companies."
A positive experience
For Sue, a sighted woman from Liverpool, it's the first time she's been on a Traveleyes holiday. "I chose this one because it was a shorter break," she tells me. "I was a bit apprehensive at first, especially at Gatwick airport, when I was reading the Sighted Persons' Guide. Would I do the right thing? But after meeting everyone it's been a really positive experience. I enjoyed being partnered with Brett the first day. We finished up drinking cocktails in the local bar and getting home at half past one in the morning! I think that's what it's all about. Seeing new places having fun together. Now I'm choosing which one to go on next."
"Yes, we had a good night," Brett, a software engineer from Reading, confirms. "In fact, every night's a good night!" Brett's been on about seventeen holidays. His first one was to Cape Town. Brett hasn't let his visual impairment stop him. He's been to Greece, Iceland, Malta, Croatia, Slovenia, Egypt, Tunisia, Turkey and other places. He's going to Cambodia in October. Brett and Sue have struck up a great friendship and are planning to go on one of the holidays together again.
Free days
Gemma, another sighted holidaymaker, was already aware of the difficulties visually impaired people can face through her work. She tells me she really enjoyed the tour in Verona today. "It gives you a good idea of the place. There's a lot to take in but it gives you ideas for going back." Sighted holidaymakers always have a couple of free days during the holiday so they can revisit places if they wish. "What's nice is that when we've had our free days, we've chosen to spend our time within the group," Gemma says. "We've all stayed together. For me, that was what I signed up for, to be within a group."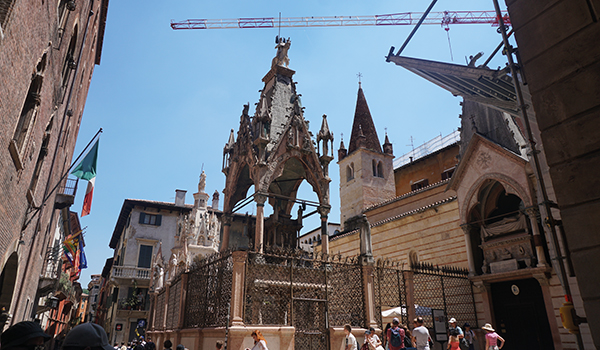 John from Thornbury, Bristol, went to Rome with Traveleyes last autumn, enjoyed it and booked another. "Certainly with the Rome holiday, I think, you have to look at everything much more carefully. The Sistine Chapel was very interesting. One of the unsighted people in Rome had no idea of colour or distance. Most people have some memory of sight in the past so you have some reference points: you tell them something is blue, and they remember what blue is. This guy didn't have that, but he was able to run his hands over the Roman ruins and the walls."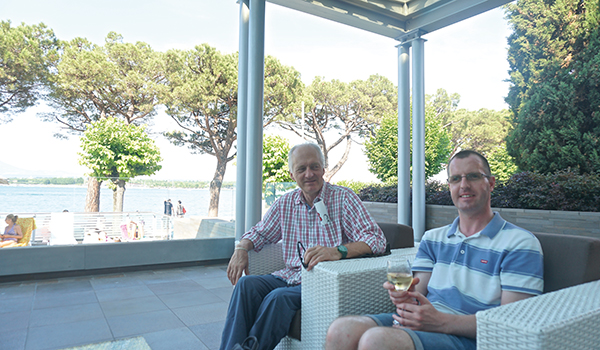 I ask John what he feels he gets out of the holidays. "Mainly it's good company. It's about sharing experiences. In Rome, like here, you're with a different person every day. Some were more interested in history, others in food, while some were just generally interested. Here, the lake is so beautiful. We went on a ferry across to Sirmione, up to the castle. And the food's very good because we go to a different restaurant every night, recommended by previous tours."
John found out about Traveleyes via the internet. "Of the two holidays I've experienced, the groups have been very cohesive. Everyone gets on together. We're all working towards the same end, which I think makes for a stronger group."
Hearing the sounds
Revisiting Verona and Lake Garda made me reflect on my own experiences of the places in the country in which I live, and also what Italy means to me personally. It isn't just ochre-coloured buildings in pretty squares, although they are very beautiful. It's hearing the sounds, and for me personally that's the language its people are speaking.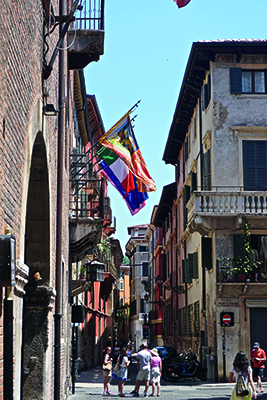 It's what I remember most about being here at the beginning, this beautiful language that I didn't yet understand. Today, it was touching the walls of the Arena in Verona and feeling the history. It's feeling the history everywhere as you're walking round. And it's the smells as we walked past the trattoria under the portico of Via Sottoriva, just as it was at a fish market in Gallipoli where the housewives were buying lunch for the day many years ago.
It was mid-afternoon. A few of us were hungry, and tired, particularly from the early summer heat. We found a bar up a side street, away from the square, and had lunch together and chatted. It seemed so very apt for a country that's so very linked to its food, a country that truly loves its food and is so very proud of it. "Italian food is the best in the world!" the Italians will happily proclaim, and that genuinely does spring from an appreciation of and pride in their own cuisine.
It's easy to overuse the word 'typical' while trying to describe the architecture: the wrought-iron, the cafés with their huge canopies shading people having aperitivi from the sun, and the colours I love so much. Not that it seems to matter. We'd reached the heart of Italian culture, sitting around a table and enjoying good food together. Language, food, history. It's quite a nostalgic way to love a country, but it's extremely seductive.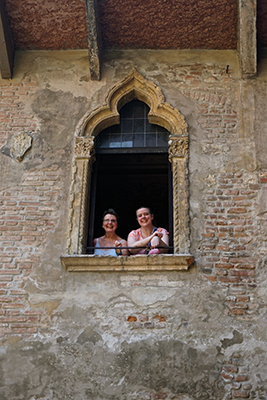 Whether it's Verona and Lake Garda, skiing in Bormio, walking along the Ionian Coast or exploring the Bay of Naples with Ischia as your base, Traveleyes are certainly making Italy, and indeed the whole world, accessible in the most enjoyable of ways.
SaveSave
SaveSave