The expression 'Grand Tour' was coined by Richard Lassels, a 17th-century Roman Catholic priest and travelling tutor, in his book The Voyage of Italy, Or a Compleat Journey Through Italy.
Lassels included many northern Italian towns and central locations, but the remarkable region of Puglia does not get a mention. Perhaps lost to him were the incredible Pugliese delights of the 13th-century citadel, the octagonal Castel del Monte, on a hilltop in Andria, or the Basilica di San Nicola in Bari, built between 1087 and 1197, which has contained the reliquary of St Nicholas's bones since its foundation. In the many accounts, from aristocrats to budding artists and architects, intent on a guided grand tour, very few considered travelling to Apulia (if you prefer the British spelling) but what a cultural indulgence they missed.
Today's experts recognise that Puglia is more than the sum of its unique dry-stone trulli houses: it has stupendous castles, palazzi, churches, art galleries and the most beautiful small cities. Visit Bari or Bitonto, or Trani or Lecce, or Polignano or Martina Franca, to experience a beauty that envelops you.

Favourable location

The city of Bari is often a starting point for present-day tourists, due to its favourable location near an international airport. The city has much to show those who choose to linger within its city walls, including the spectacular port ruins. Hiring a local guide eliminates the culture-stress of what not to miss; they will take you to the most precious sites, or some lesser-known curiosity. Through the local guide's storytelling of bygone legends one can 'see' the Italian sailors, soaked, hungry and risking their lives to bring St Nicholas's bones from Myra, in what is now Turkey, to Bari. The saint is honoured on May 8th every year.
Atmospheric Charm
Martina Franca has an atmospheric charm that makes you want to linger in its narrow alleyways and beautiful squares. Its origins date to the 14th century but it is also a must-see today for its stunning Baroque architecture, exemplified by the Basilica di San Martino, dedicated to the town's patron saint, Saint Martin, Bishop of Tours, who lived in the 4th century. San Martino is depicted everywhere, in paintings, sculptures and architectural detail, renting his cloak in two with his sword to give clothing to a poor man. A most striking example of him stands above the door of the Basilica.
Focusing on the centro storico of Martina Franca, one can begin at Piazza XX Settembre and walk under the Arco di Sant'Antonio (also known as the Porta di Santo Stefano), the triumphal arch to the Palazzo Ducale. The building was built for the wealthy Caracciolo family, on the site of 14th-century Orsini Castle. The architect was Giovanni Andrea Carducci, from Bergamo, and the richly-decorated exterior leads to an interior enfilade of frescoed rooms of Biblical, mythological and local scenes by local artist Domenico Carella.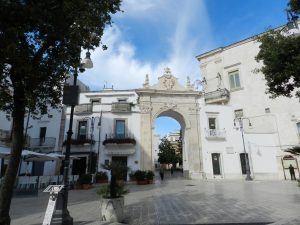 Alberobello should be on every modern-day grand tourist's list, with the sight of over 1,000 trulli houses – cone-shaped houses built from limestone, without using cement – amassed within the town. One can visit the interiors of some, to see how families lived of old. Today, many are rented out for holidays. After the visual feast of trulli as far as the eye can see, a perfect place to stop to eat is Il Trullo d'Oro (Via Felice Cavallotti, 27), with its superb menu of local dishes.
After a day of cultural sightseeing it is perfect to conclude at Polignano a Mare, a coastal town of 4th century BC Greek origin, unrivalled for its spectacular cliff-top location. Polignano a Mare, between Bari and Brindisi on the 'Costa dei Trulli', is the birthplace of singer Domenico Modugno, who wrote, and sang, the global hit-song Volare. A walk through the pretty centro storico should include the Museo Pascali, an art gallery dedicated to regional artists (Via Parco del Lauro, 119), plus a visit to the beautiful Chiesa Maria Assunta, a cathedral and bishop's seat from the 7th to the 19th century. In addition, one should try the local speciality drink, the speciale, a delicious coffee made with almond milk and a dash of amaretto liqueur.
Outside the cities, everywhere you turn there is a vista of the sea, or hills covered in vineyards, and olive groves. Inside the city walls walks through the pale, honey-coloured limestone streets, with visits to treasures such as the frescoed interior of the 1668 Palazzo Ducale in Martina Franca, bring you close to the art and architectural taste of the region in the 17th century. Baroque buildings tempt you with their intricate, festoon-covered façades. Arched doorways lead through to scented courtyards of fountains, or to happen upon neighbours sitting in the sunshine swapping stories, catching up on news. Martina Franca is one of the città bianche towns in the slim slip of land known as the Valley of Itria, so-called because of their predominantly white buildings. If you have time, they are a delight to visit – the whitest, perched on a hilltop, being Ostuni.
More details: Art Tours Ltd ( 020 7449 9707, www.arttoursltd.com) specialises in bespoke cultural travel for private clients, museum patron groups, clubs and societies. They offer guided art tours of Puglia from £2,699 pp including return flights from London, four nights at the Masseria San Domenico, three days touring with a local guide and vehicle, any entrance tickets, and airport transfer.
Hiring a local guide through Art Tours Ltd. eliminates the culture-stress of what not to miss. For travellers who want the ultimate cultural trip, Art Tours Ltd is the way to go. They will make sure to take you to the most precious sites, or some lesser-known curiosity"
Tags:
Tours