Say hello to the late-night tour at the Colosseum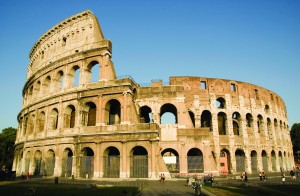 Following a major restoration, the Colosseum in Rome more polished than it's been in 2,000 years and now visitors can be taken through the ancient arena and underground at night! You can wander around the 50,000-seat gladiatorial arena, which dates back to the year 80.
This used to be a opportunity for private tour groups only, but now as the sun sets over the historical amphitheatre, visitors can explore after hours with a general admission ticket.
The CoopCulture will run 75-minute tours, walking you through the main floor of the arena and taking you to investigate the underground space, known as the hypogeum, where gladiators waited before entering for battle. The company has English, Spanish, and Italian-speaking guides available who will escort you, telling stories of what life was like during the Roman Empire.
Tickets cost €18 (about $19.50)—six euros more than regular hours—but, unlike daytime ticket holders, you'll also be able to visit a portion of the underground where lions and bears were caged before being released into the arena.
In 2016, there was a another special tour on offer, visitors got to make the gladiator march, passing through an entrance in the heart of the stadium to the arena floor.
Local officials are hoping to keep the landmark in this pristine condition as they spent 33 months cleaning it up however they continue to face problems such as vandalism and damage by tourists.
The Colosseum isn't the only site in Italy to have had a revamp. The Spanish Steps and Trevi Fountain were recently restored, with Fendi hosting a fashion show at the famous fountain to mark the completion of the project. Milan, Florence, and Venice also renovated some of their most famous attractions like Galleria Vittorio Emanuele II, the Uffizi, and the Rialto Bridge.
The night tours will run every Saturday in March (and December); every day except Tuesdays and Sundays in April, May, and October; daily from June to September; and Fridays and Saturdays in November. They start at 8 p.m. and the last one begins at 11 p.m.
This story first appeared on CNTraveller
Tags:
Rome
,
Tours